With the US economic growth remaining sluggish and the world entering into a manufacturing contraction, the S&P 500 index is near five year highs as a result of stimulus boost from the ECB and the Fed.
It is not really difficult to understand that the current rally is a liquidity driven rally rather than a rally supported by strong fundamentals. I also don't see robust economic growth in the near-term, which the markets can discount.
On the contrary, corporate profits might have peaked out in the near-term and will decline in the foreseeable future. I had discussed the reasons for decline in corporate profit in one of my earlier articles. It primarily relates to sluggish economic growth in the US, a recession in Europe and a sharp decline in growth in China and India.
This article discusses the reasons for believing that equities might be in for a 10-15% correction in the next 2-3 months. In line with this expectation, it might be a good idea to book some profits.
Before I discuss the reasons for the near-term bearish outlook, I would like to emphasize here that I remain bullish on equities in the long-term. Therefore, I would look at any meaningful correction to buy the index and some quality stocks.
Also, before talking about the near-term outlook, I must mention that the rally lead by liquidity can last longer than expected. The markets can still go higher by 3-5%.
However, fresh exposure to equities at these levels is not advisable as it is associated with higher risk than the prospects of returns at current levels.
One of the first reasons for believing that markets will correct in the near-term relates to over bullish sentiments currently prevalent. These sentiments are reflected in few market indicators reaching a point beyond which correction has been witnessed in the past.
The S&P 500 bullish percent index is currently at 79 and has fallen from levels of around 85 in the past. The RSI index for this indicator is at levels of 66 and the RSI has declined in the past on reaching near 70 levels. As mentioned before, over exuberance can last longer than expected. It would however not be a good idea to buy at these levels.
images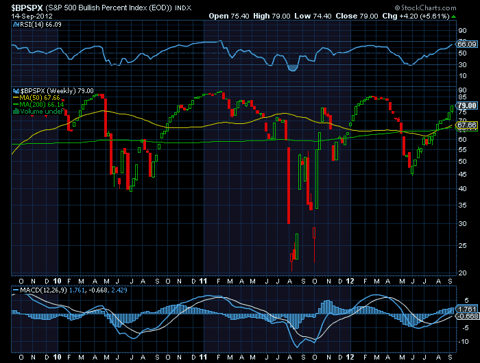 The S&P 500 high-low index is also trading at high levels indicating near-term overbought conditions. The markets did show first signs of weariness on Friday trade with pretty sluggish movement for the day after the initial gap up.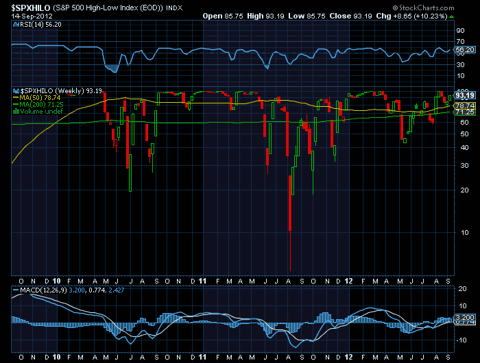 The percent of stocks above the 200-day moving average is also at a significantly high percentage of 81.8. It can be considered to be positive from one perspective. At the same time, it also indicates near-term overbought conditions. Like the previous indicators, this indicator has also declined after reaching levels it is at currently.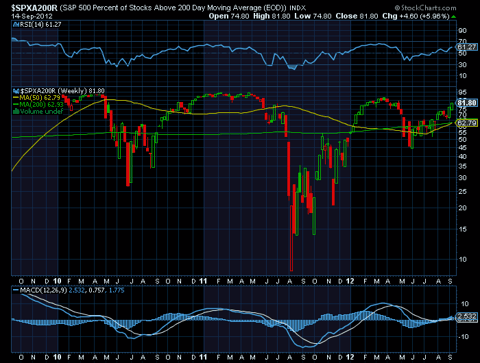 I shift my attention to the VIX index, which is near five year low. In general, the VIX has bounced back from lower levels in the past and this has coincided with meaningful market correction.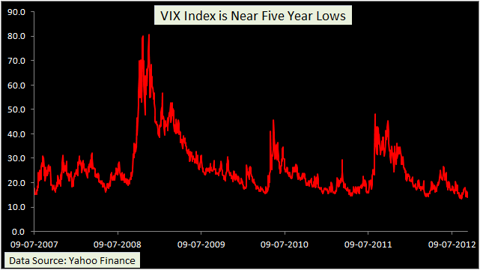 The following lines from an article on Yahoo finance might be suggestive of the near-term trend in the VIX index (and hence the markets):
One side effect of the Fed's bond-buying should be to reduce volatility in markets. That means the CBOE VIX volatility index (.VIX) should remain close to the five-year lows it hit this summer. In August it fell as low as 13.30.

Yet activity in the options market shows some very bold bets that volatility could sky rocket in the months ahead. Call option buying on the VIX - bets the index will rise - is close to a record high at 5.182 million contracts, according to Schaeffer's data. The record is 5.249 million set in August.

The most actively traded VIX calls on the Chicago Board Options Exchange were October calls with a strike price of 60. Those also had the highest open interest. The VIX would need to rocket more than 300 percent by mid-October, hitting its highest level in about four years, for that trade to break even.
Moving away from these indicators to the real economic activity, economic growth in the US is likely to be sluggish in the second half of 2012 as indicated so far by the manufacturing and consumption sector activity.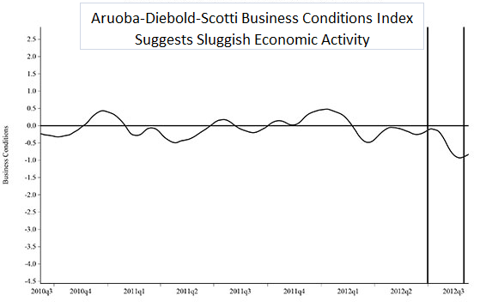 Further, a recession in Europe is likely to impact profits for the corporate sector. To a lesser extent, sharp decline in growth in China and India will also impact corporate profits. The global PMI is suggestive of the fact that the current slowdown is global in nature and is a relatively sharp slowdown.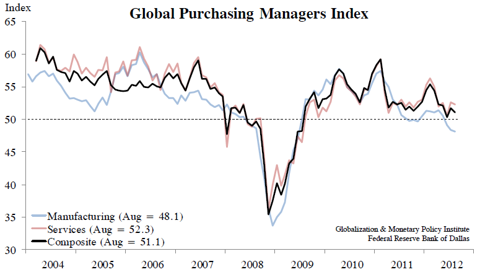 Clearly, there are reasons to be concerned from an economic perspective. It also needs to be understood that QE3 is primarily targeted towards easing the scenario in the mortgage market and lowering government bond yields.
There is no direct impact of QE3 on the job market or the real economy. As the initial excitement fades out, market participants will realize that QE3 will do little to create jobs or spur a more sustainable growth. This will lead to a decline in equity markets.
Considering all these factors, it is very likely that we are closing on near-term highs for the S&P 500 index. Investors can consider easing on their equity portfolio and buying later on market correction.
I again emphasize that the equity markets will continue to do well in the long-term. Corrections would therefore be a buying opportunity for investors who have missed out on the current rally.
Finally, in terms of investing ideas, I would prefer index investing. For this, considering exposure to the SPDR S&P 500 (NYSEARCA:SPY) ETF would be a good idea. The ETF seeks to provide investment results that, before expenses, generally correspond to the price and yield performance of the S&P 500 Index.
Amidst an environment of quantitative easing, I am also bullish on the energy sector for long-term. The Vanguard Energy ETF (NYSEARCA:VDE) might be a good investment option for exposure to the energy sector. The ETF will give investors exposure to the commodities (energy) sector. The fund has a low expense ratio of 0.19 and had 43% exposure to integrated oil and gas companies, a 26.4% exposure to oil and gas exploration and production, and 16.6% exposure to oil and gas equipment and services.
I would also prefer to have some quality high dividend yield stocks in my equity portfolio. Johnson & Johnson (NYSE:JNJ) is a good investment option in this category. I like the highly diversified healthcare company with a product as well as regional diversification. Further, the sector catered to by JNJ is not very prone to economic shocks. JNJ has been a good dividend payer in the past with a dividend yield of 3.6%. In my opinion, the stock is excellent for a long-term portfolio. It also commands a higher rating than the U.S. sovereign rating.
Disclosure: I have no positions in any stocks mentioned, and no plans to initiate any positions within the next 72 hours. I wrote this article myself, and it expresses my own opinions. I am not receiving compensation for it (other than from Seeking Alpha). I have no business relationship with any company whose stock is mentioned in this article.