According to the folks from YCharts, there are over 40k different economic indicators available in the system. I recently discovered an indicator which may be very useful to mortgage REIT investors - a graphic representation of the 10-year to 2-year Treasury yield spread.
SA contributor Regarded Solutions has been leading the discussion concerning Treasury yields and mREIT returns with this article and another recent article. The first article specifically discussed how the Treasury 10-2 yield spread can be a profit indicator for the mREITs. There is room for discussion concerning the actual types of securities funding the two sides of mREIT spreads, but the use of the spread information is valid.
To the yield spread chart I added the Dow Jones U.S. Mortgage REITs Index, showing the value change of these stocks. Here is the chart for the last year (click to enlarge images):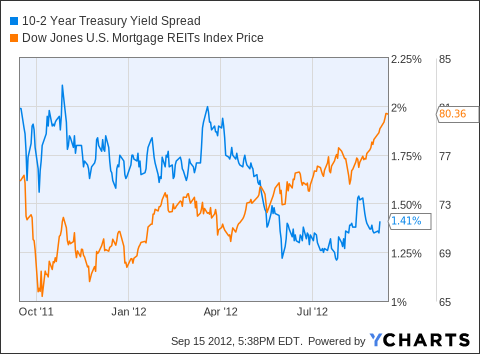 10-2 Year Treasury Yield Spread data by YCharts
The chart graphically illustrates how the yield spread continues to tighten and that the mREIT values have benefited from higher MBS prices due to falling mortgage rates as well as continued investor interest in double-digit yields.
For my next chart trick, I added the 30-year mortgage rate data and switched to a percentage change frame of reference - using percentages gives some different insight and makes the resulting graph more readable. The chart: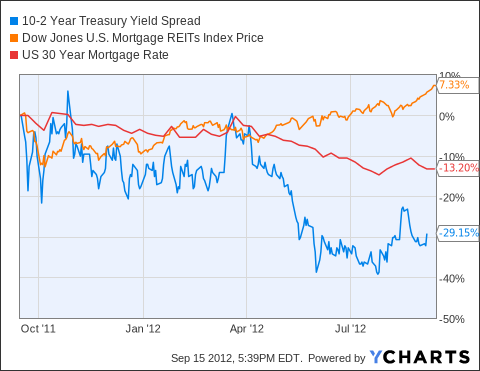 10-2 Year Treasury Yield Spread data by YCharts
My take away from this chart is that while mortgage rates have dropped by 13% over the last 12 months, the yield spread which fuels agency mREIT earnings has tightened by nearly 30%. As you can see, most of the spread erosion has occurred in the last 6 months, matching the drop in mortgage rates.
Conclusions
The recent announcement of QE-forever by the Federal Reserve is expected to push mortgage rates even lower. The Fed will be competing directly with the mREITs to buy MBS. I would expect the spread to continue to tighten. Today we will make a note that the 10-2 Treasury spread is at 1.41%. We - meaning me and all you readers - will revisit these charts after the quarterly earnings reports on the agency focused mREIT companies like Annaly Capital Management (NYSE:NLY), American Capital Agency (NASDAQ:AGNC) and CYS Investments (NYSE:CYS) are released.
Disclosure: I have no positions in any stocks mentioned, and no plans to initiate any positions within the next 72 hours. I wrote this article myself, and it expresses my own opinions. I am not receiving compensation for it (other than from Seeking Alpha). I have no business relationship with any company whose stock is mentioned in this article.