One week after the European Central Bank introduced its Outright Monetary Transactions program, the Federal Reserve released its own, well telegraphed, new monetary easing initiative. The open ended program to buy mortgage bonds, coupled with an extension of the commitment to suppress short term rates out to mid-2015, helped risk asset extend their rally to a second week. We saw a number of significant price and yield levels broken across a variety of asset classes. Let's break down the numbers:
Perspective
Stocks: U.S. equities paused early in the week, following the prior week's ECB inspired global rally, in anticipation of the Fed. Chairman Bernanke and company did not disappoint, and equities immediately shot higher. Several of the major indexes recorded new 52 week highs: the Dow Industrials, S&P 500, NASDAQ, and Russell 2000. The Dow Transports, while not making a new high, gained nearly 3% to outpace the broader indexes for the week, eclipsing their 200 day moving average.
S&P sector action reflected the expected market reaction to monetary easing: the financials and materials logged gains of more than 3.5% for a second week, while energy stocks moved to the front of the class with a gain of more than 4%. Once again the defensive sectors lagged, with the utilities and consumer staples actually posting weekly losses, and healthcare stocks only managing a small fractional gain.
Eleven of our twelve major foreign indexes joined in the global equity rally for a second week, led by Brazil's Bovespa and Russia's RTS Index. The RTS paced the pack with a gain of nearly 7.7%, while the Bovespa gained nearly 6.5%; both of the energy and natural resource heavy indexes crossed above their respective 200 day moving averages. Hong Kong's Hang Seng, the Bombay Sensex 30 and Seoul Composite all gained more than 4%. Only the Shanghai Composite failed to extend the prior week's rally, as investors realized the announcement of the RMB1T infrastructure spending program only pointed to initiatives that for the most part were already underway.
Bonds: U.S. Treasury yields continued to move up at the longer end of the curve, with the 30 year bond seeing 3% for the first time since early May. The benchmark 10 year note nearly reached 1.9% and closed above its 200 day MA. Yields on investment grade corporate and municipal bonds followed Treasuries higher in the broad bond selloff, but junk bonds were bid higher in the rotation into risk assets. The two popular junk bond funds HYG and JNK, which had previously made 52 week highs, extended those moves yet higher - driving the yield spread to a new low.
Commodities: The CRB commodity index pushed its run of weekly gains to seven, and eleven in the last twelve. Gold and silver continued to run, the former adding another 2%, the latter more than 3%. Copper advanced more than 4.6%. Crude oil came late to the commodity party, as the spot price of West Texas intermediate finally pushed through the 200 day MA and briefly topped $100 on Friday, before settling just over $99 at the close. Natural gas went above $3 but could not hold that level into the weekend. The grains again were mostly flat, having made their big moves earlier in the summer, while the softs began to show some strength, with sugar coming off what looks like a possible double bottom, and coffee making an 11% move.
Currencies: The U.S. Dollar Index continued its precipitous plunge after breaking near term support the prior week, and is back in the vicinity of the February - May low. In the space of eight weeks it has moved from above 84 to under 79. The euro topped $1.31, Sterling moved above $1.62, and the Canadian dollar went to another new year to date high. The euro and Swiss Franc both moved above their 200 day moving averages. The Aussie tested its early August high at $1.06 and failed to hold it, while the Japanese Yen was slightly lower for the week.
Outlook
By now most readers are familiar enough with "QE3" so we won't go into that here. Elsewhere in the economic news we had August industrial production come in at -1.2%, and capacity utilization fall short of expectations. July business and wholesale inventories ticked up, while August retail sales matched admittedly low forecasts. We saw CPI and PPI numbers that were low, but positive. Initial unemployment claims ticked back up. Next week's economic calendar will bring housing sector data, as well as Empire Manufacturing, Philly Fed, and Conference Board leading indicators. In corporate news, the consensus view of Apple's unveiling of the iPhone 5 seems to have been lukewarm, though the share price did make a new high just shy of $697.
Stocks: My overall outlook on equities in recent weeks has been "don't fight the Fed" (or the ECB). We have seen the S&P 500 gain more than 4% in the last two weeks, reaching its highest level since December 2007, with an even larger 6% gain coming from the small cap Russell 2000. Sector rotation has strongly favored cyclical stocks. In last weekend's article I wrote that I was bullish on bank stocks in this environment; Bank of America (NYSE:BAC), one of our holdings, is up over 16% in the last two weeks, and more than 35% since mid-July.
images
While my view on equities remains positive, at this point many stocks are rather extended to the upside, so investors should be careful about entry points. In some cases it might make sense to be a little patient rather than chasing stocks that have already made big moves. If this rally is real - and I suspect it is - many will come back toward their breakout points and then continue to move higher. Stocks that fall back below their breakouts should be viewed as suspect. In this way the market will begin to separate the winners from the losers in the coming weeks.
Bonds: The correction in bond prices has in some sectors been quite dramatic. The iShares long term Treasury fund (NYSEARCA:TLT) crashed down through its 200 day MA last week on surging volume, and is now down year to date. Even at this point it yields less than 3%. I have been urging investors to stay away from Treasuries, and still do not see them as an attractive option. TIPS on the other hand saw yields fall, as bond investors sought inflation protection. I find it difficult to get too worried about inflation, but given the moves in commodity prices, bond buyers obviously see a need to buy protection.
Treasuries aren't the only sector that gives me pause. In last weekend's article I expressed concern about the crowded junk bond trade. Yield spreads have continued to collapse to near 5.5%. While we have seen the spread this low - indeed lower - in recent years (see accompanying chart), this should give investors reason to proceed carefully. The iShares junk fund (HYG - disclosure: I am long) now has a 30 day SEC yield well under 6%. Investors are receiving very little compensation for taking on risk. Moving into higher quality, the corresponding investment grade fund (LQD - disclosure: I am long) has a 30 day SEC yield just over 3% - less than the dividend yield on a number of blue chip stocks. Bond investing for income is a tough business these days.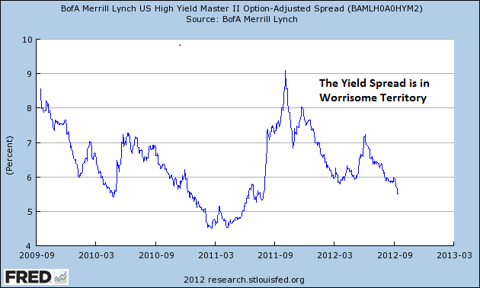 Commodities: Since bottoming in June the CRB commodity index has seen a strong move higher, led first by the grains, then by oil, and more recently by the metals - both precious and industrial. Clearly central bank policy and a falling U.S. dollar is bullish for the commodities, and in the case of oil, unrest in the Middle East is helping to support prices. Like equities, gold and silver both look extended, and the dollar index is back to previous lows, so it looks a bit dicey to get in now. In the longer run, we'll see.
One of my preferred strategies to play commodity strength is to forego futures based positions in favor of common stocks of firms that stand to benefit from increasing resource prices: selected energy and materials stocks in particular. A number of the mining stocks have been making big moves; one former holding that I continue to watch, Pan American Silver (PAAS - disclosure: no position), has come off a bottom on building volume.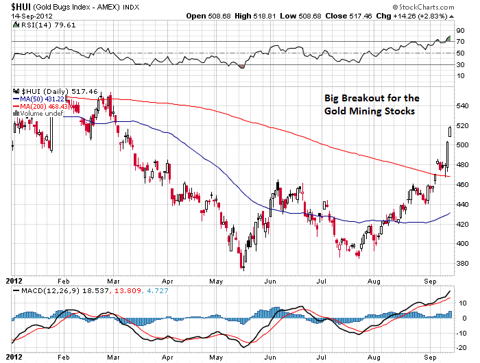 Currencies: The U.S. Dollar Index, already extended to the downside in the short term, has continued to plunge back toward the lows of the first half of this year. A large part of this move can be attributed to the bounce in the euro, which has benefited from a series of developments that the market sees as positive. The most recent, this past week, was the German Constitutional Court's refusal to block the European Stability Mechanism. While in the long run the ESM, EFSF and OMT have not dispatched Europe's debt crisis once and for all - they do nothing to restore competitiveness - in the short run the market likes the euro, which has broken out of its 18 month downtrend. If we see a dollar bounce, it could arrest the risk asset rally, but technically, there may be more downside ahead. A further drop in the dollar index should provide a continuing bullish environment for stocks and commodities.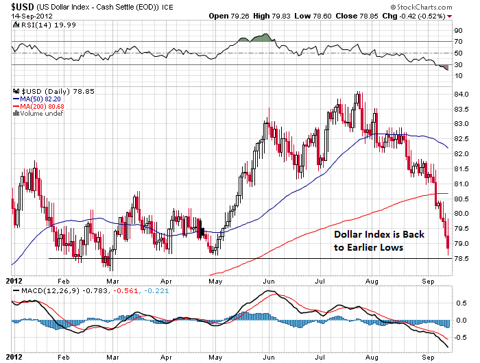 Disclosure: I am long BAC, HYG, LQD. I wrote this article myself, and it expresses my own opinions. I am not receiving compensation for it (other than from Seeking Alpha). I have no business relationship with any company whose stock is mentioned in this article.