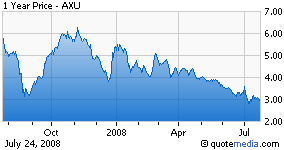 I had the opportunity to attend the corporate presentation by Mr. Clynton Nauman, President and CEO of Alexco Resource (NYSEMKT:AXU) [TSX: AXR]. Alexco Resource was incorporated in 2004 and is headquartered in Vancouver. They engage in the exploration and development of mineral properties in the Yukon Territory, Canada. The company's primary project is their 100% ownership of Keno Hill Silver District, an area of 20 miles by 10 miles, which consists of 35 mines with historic production of 217M ounces of silver at average grades of approximately 40 ounces per ton, one of the world's highest grade silver districts.

The company has recently released an economic assessment on one of the past producing mines, the Bellekeno project, with average annual production of 3.3M ounce silver, 30M lbs lead, 25M lbs zinc, at cash costs of ($0.33) per oz of silver net of byproduct credits. This mine project has 5 year mine life, and a payback period of less than 2 years. By using 8% discount rate, the NPV is around $100M with current commodity prices, about the same size of the market cap of Alexco. And we are only talking about one mine! Even if we use a more conservative set of commodity prices of silver at $12.25, gold at $700, lead at $0.5, zinc at $0.75, the NPV is still at $87M with a payback period of 1.6 years, and revenue of over $70M per year starting 2010. With fully diluted shares of only 41M right now, the net cashflow is likely to be over $1 per share at that time.

Currently Alexco has about $17M cash, and a major capital need of $61M in order to put Bellekeno into production. Alexco is considering combination of various financing options. If financing and subsequent construction go smoothly, production is expected at the 1st quarter of 2010. In addition, Alexco owns a few other late staged properties such as the Brewery Creek gold property; and holds 100% interest in the McQuesten property, a gold property contiguous to its Keno Hill ownership. Their exploration in the Keno Hill district is also going well, potentially increasing their reserves substantially in this high grade silver area.

At the same time, Alexco also runs an environmental services business for permitting and regulatory management, environmental remediation, reclamation and cleanup at old mine sites. It is a high-margin and very profitable business, expecting to bring in $5M of revenue this year. Alexco expects this business to grow rapidly in the current commodity boom and the needs of the Canadian government who are responsible to pay Alexco to clean-up the historic Keno Hill district.

Alexco has a strong shareholder base with NovaGold holding 18%, insiders holding 15% with Mr. Nauman as the largest shareholder, which gives management less incentive to dilute their shares.

I don't own Alexco shares yet, but I think Alexco is a good candidate for a diversified portfolio of junior miners which should offer high potential for long term capital gain.