The market had a major rally over the last few months that was punctuated by a surge on the back of QE3 late last week. I have taken some profits here on some of the energy positions I bought in the window dressing selloff at the end of the second quarter as they (especially the refiners) have had major run ups recently. I sold out of my position in Tesoro (TSO) completely as it had gone up 80% since I profiled it in June. I am also looking to slowly increase my shorts in a prudent manner as I think the market is overbought but could still go higher as money managers try desperately to catch up to their benchmarks. However, I believe this latest "sugar high" from Helicopter Ben will be short lived and 2013 is looking to be a very tough year. I think highflying restaurant stocks are a good source of new short possibilities. Ironically, they are better shorts because some of the impacts of QE3.
New challenges for the restaurant industry:
The country is going through the worst drought in fifty years. This should cause grain and food prices to move up hurting margins. Money flowing into the commodity complex should also increase due to QE3, which corresponding lift food costs.
Gas prices should also be impacted by QE3 enabled flows into oil and possible instability triggered by Iran or expanding violence from the continued impacts from the "Arab Spring". Gas has moved up almost a dime in the two days since QE3 was announced. This will hurt discretionary spending on the margin (AKA, less eating out).
QE3 also improved the prospects of President Obama's re-election chances and the last chance to repeal his vision for the expansion of health care entitlements. I don't think investors have clued in yet to what a significant hit this will be to large low profit per employee businesses such as restaurants that traditional do not provide health insurance to the majority of their workers. Starting in 2014 all organizations over 50 people will have to provide a government mandated level of health insurance or pay a fine. Most will opt to pay the $2,000 per year fine for each non-covered employee as it will be the cheaper option.
To demonstrate what a significant impact this will be to profitability, let me provide an example. My favorite local watering hole is a large Irish pub within walking distance from my residence. It is a nice place. Good food, solid service (rare in Miami) and a great place for a happy hour with friends or a business lunch. The owners are nice and personable and have built up 14 establishments in 14 cities over the past 15 years. Their restaurant in Miami does $4mm to $5mm in gross revenues annually, employs around 70 people and has a net profit margin of between 6% to 8% of sales. This means this pub makes between $250,000 to $400,000 in net profit currently.
With the new healthcare law, they will have to cover the approximately 60 employees that currently do not get health insurance. This will increase costs by $120,000/year. This also will reduce margins by 30% to 50% (a little less after taxes as insurance will be deductible). The same math will apply to national restaurant chains, the majority of which do not provide coverage for most of their workers. Have investors factored this into their investment decisions in the sector? I don't believe they have and it makes the industry vulnerable to a significant selloff when this becomes more apparent. Here are two high PE restaurant stocks that I would avoid or consider for shorting depending on one's investment style.
Buffalo Wild Wings
Business description from Yahoo Finance (see here):
Buffalo Wild Wings (BWLD) engages in the ownership, operation, and franchise of restaurants primarily in the United States. It offers chicken and various food and beverage items, as well as serves bottled beers, wines, and liquor.
4 reasons BWLD is overbought currently at over $83 a share:
Even as the stock has run up some 20% over the last two months, consensus earnings estimates for both FY2012 and FY2013 have come down over same time period.
Insiders have sold over 15% of their shares over the previous six months.
20% of the company's operating costs are chicken wings. They buy at market and the worse drought in 50 years is a substantial risk with its associated impact on chicken prices.
The stock is getting close to levels where it has stalled out at several times over the past six months (see the chart below).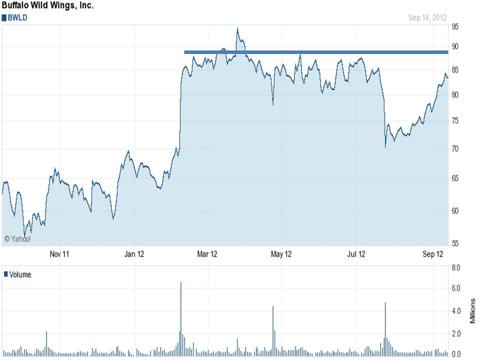 Panera Bread Company
Business description from Yahoo Finance (see here):
Panera Bread Company (NASDAQ:PNRA) owns, operates, and franchises retail bakery-cafes in the United States and Canada. Its bakery-cafes offer fresh baked goods, sandwiches, soups, salads, and custom roasted coffees.
4 reasons PNRA has little upside $170 a share:
Insiders have sold over 20% of their shares in the last half year.
The stock is selling near the top of its five year valuation range based on P/E, P/B, P/S and P/CF.
PNRA is selling at 33 times current earnings, higher than its five year average (27.0). It also has a five year projected PEG of 1.54, above its five year average (1.30).
The stock is higher than S&P's price target of $168 a share. The stock is up more than 20% over the last two months but consensus earnings estimates for FY2012 and FY2013 have only improved 2% to 3% in that time span.
Disclosure: I am short PNRA. I wrote this article myself, and it expresses my own opinions. I am not receiving compensation for it (other than from Seeking Alpha). I have no business relationship with any company whose stock is mentioned in this article.