Last week, I demonstrated how the timing of QE2 provided a useful reference point for buying Freeport-McMoran (FCX) as part of a coming revision of the commodity crash playbook. In this piece, I show how the QE2 reference price can be used to separate the stronger from the weaker plays on iron ore and metallurgical coal (also called coking coal). The QE2 reference price has not served as a floor for most of the stocks in this space. This behavior served as an important reminder that the QE2 reference price served as the starting point for buying into a crash/sell-off. The good news is that using this reference price significantly improved the risk/reward of trading these stocks given all but the hottest agricultural stocks eventually gave up all their QE2-inspired gains by 2012. In a future piece, I will use this important lesson in revising the commodity crash playbook for the QE3 regime.
According to Jeremy Grantham last year, iron ore, coal, and metallurgical coal were the least likely of his list of commodities to return to previous secular downtrend in prices. For example, iron ore had a 1 in 2.2 million chance of returning to its previous downtrend. Thus, the current crash in prices has my full attention. With constant headlines about the plunge in prices and the debt squeeze facing major producers like Australia's Fortescue, it was nearly inevitable that the next bounce in related equity plays would be sharp and swift. Even before the Federal Reserve announced QE3 on September 13, stocks were rallying.
On September 5, BHP Biliton Limited (NYSE:BHP) closed at $63.48, a few percent above its QE2 price. It is now up 14% from that point and trading above its 200-day moving average (DMA) for the first time since the summer of 2011 swoon began. The horizontal line below shows BHP's QE2 reference price.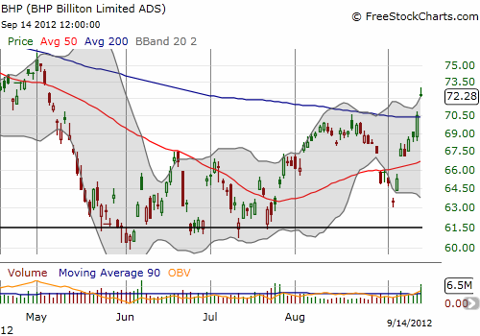 BHP bounces as its QE2 reference price now looks like firm support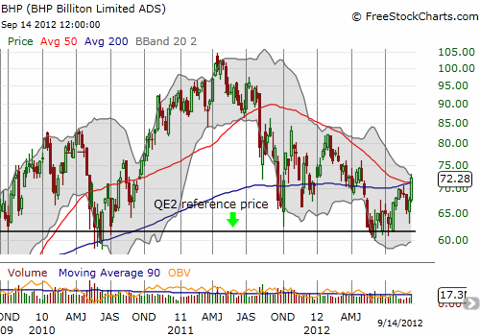 The weekly chart helps show how well the QE2 reference price has held up
BHP's relative resilience likely comes from its well-diversified mining operations across many commodities and many countries. So while I sold off a few commodity-related plays into Friday's rally, I decided to hold firm to BHP. Iron ore players Rio Tinto plc (NYSE:RIO) and Vale S.A. (NYSE:VALE) have not fared as well as BHP. RIO is not on my list of preferred commodity crash buys, but VALE is. Like BHP, RIO closed Friday above its 200DMA, but RIO has traded briefly above this level several times since the swoon of 2011. RIO's QE2 reference price did not hold nearly as well as BHP's did. VALE remains well below its QE2 reference price.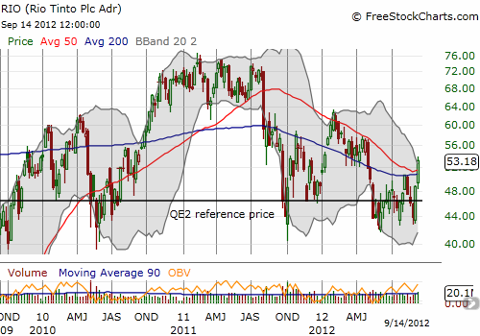 RIO finally bounces away from its QE2 reference price
Given my longer-term bullishness on Brazil, I continue to build my position in VALE. The company has very diversified business interests throughout Brazilian industry, including transportation and infrastructure. I anticipate holding this one for a long time. However, if your primary interest is iron ore, then based on QE2-related performance, BHP is the play to make.
While BHP has operations in metallurgical coal, the companies in focus for met coal are Cliffs Natural Resources Inc Co (NYSE:CLF), Alpha Natural Resources, Inc (ANR), Walter Energy, Inc. (NYSE:WLT), and Consol Energy (NYSE:CNX). Of this list, only CNX has survived the QE2 support test, thus making it the best pick of the bunch. The weekly charts below show the dramatic differences across these stocks.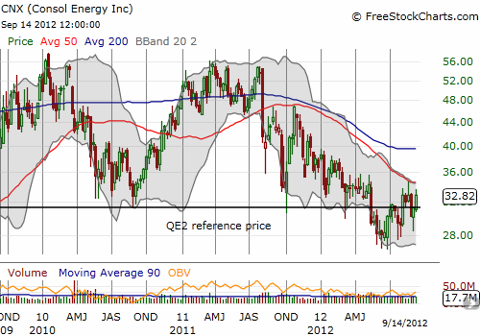 Consol Energy bounced nicely off its QE2 reference price in 2011 but has struggled to remain above support in 2012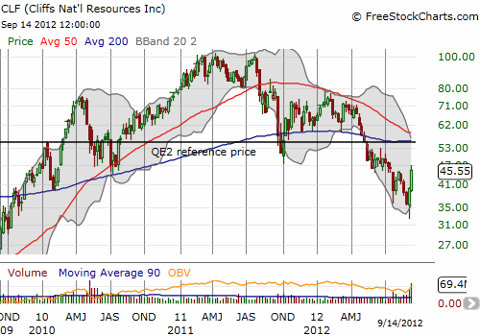 Cliffs dropped as much as 40% below its QE2 reference price this year before bouncing over 40% from the lows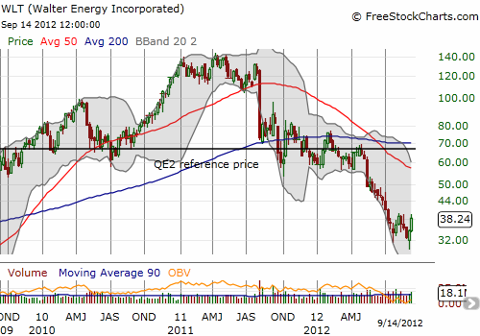 Walter Energy has 'only' jumped 27% off recent lows after plunging 56% below its QE2 reference price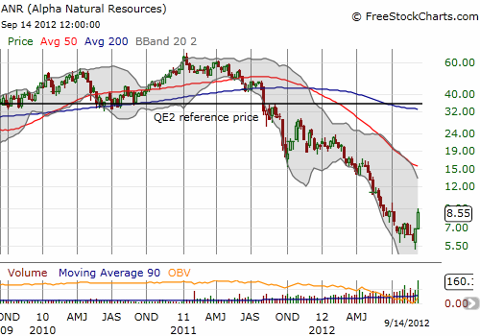 Alpha Natural Resources has been a complete disaster, breaking through the former all-time low in May of this year
Notice that with the exception of the disaster that is ANR, the first QE2 purchase for each of these iron ore and met coal plays eventually yielded great gains in 2011. At the time, I sold all of them because the anticipated crash in Chinese demand had not yet come. Today, China's growth is slowing, but it is still not crashing (the Reserve Bank of Australia claims China is gliding in for a soft landing). Thus, I sold several recent commodity-related purchases into last week's rally, including FCX. This frees up cash for making new purchases in the future in case the crash in iron ore and met coal resumes its downward pull. (I keep a small position in commodity-related stocks as part of Grantham's recommended "no regret" portfolio. If Chinese demand never crashes, at least these core stocks will experience tremendous gains as the secular bull in commodities continues. Again, more about this in a future piece).
Last week's bounce in iron prices was historic in magnitude. Reuters quoted Steel Index in noting the bounce on Monday, September 10th was the largest since Steel Index began tracking iron ore prices in April, 2009. Prior to this bounce, iron ore prices dropped to three-year lows and Shanghai rebar futures hit a record low. These plunges occurred even with Chinese imports of iron ore increasing 7.9% in August from the previous month to a 3-month high. The pop in prices came immediately on the heels of China's National Development and Reform Commission approval of infrastructure spending projects such as ports, roads, and underground railways to the tune of $156B in investment. However, the Sydney Morning Herald was able to quote many Chinese skeptics and critics of this program. For example:
He Fan, a senior researcher at the Chinese Academy of Social Sciences and a special adviser to China's Minister of Finance: "…it was unlikely the government would unleash another round of a large stimulus package and any future spending would be carefully targeted. He said the government was concerned about the after-effects of the 4 trillion yuan ($600 billion) stimulus package in 2009, which resulted in widespread waste and corruption."
A senior policy adviser to the State Council - the Chinese cabinet: "…the government would not 'drink poisonous water to quench thirst', alluding to the dangerous policy impetus to apply economic Band-Aid solutions."
Deng Yuwen, a senior editor from the Central Party School - the highest training institute for senior party officials and headed by Xi Jinping wrote in Caijing Magazine: "Local governments are engaging in irresponsible fiscal spending under the pretext of maintaining stable growth…this will worsen the problem of serious industrial overcapacity and drag down the banks as well."
The article concluded by claiming that a "…a consensus among the Chinese economists that another round of stimulus spending by local governments could lead to even worse economic troubles in the future such as overcapacity, unfinished building projects, local debt crisis, and bad bank loans."
In other words, this latest round of stimulus spending is far from a done deal. As a result, I suspect there will still be plenty of dips and spills in the coming weeks for iron ore and met coal stocks.
Shorts are also coming after iron ore plays. Legendary short Jim Chanos is bearish on Fortescue citing unsustainable debt levels. On September 5, Gordon Johnson from Axiom Capital recommended shorting Rio Tinto with a $30 price target, a 43% drop from current levels. Of course, that day just happened to be THE bottom in these stocks for the current cycle. Johnson noted that China is like Japan in the 1990s where everyone believed the government would keep pouring on stimulus to save the economy when all it does is socialize losses from industry. Johnson believes iron ore prices could eventually drop to $50/ton and $70/ton by year-end. This is a downward revision from earlier expectations that the year would end below $100/ton to which current prices have bounced. Note that cash costs to produce iron ore in China are currently at $77/ton!
In the meantime, industry is quickly moving to cut capacity which should help put a floor under future prices. Australian miners are currently slashing planned expansion projects, putting a $206B pipeline of projects in question (net of the $40B in projects already cancelled by BHP). Reuters provides an extended list of projects potentially at risk in "Australia miners slam brakes on huge pipeline of projects." Of particular interest is Roy Hill which signed its first iron ore contract with a Chinese steelmaker just six weeks ago. This deal was critical to providing confidence in Roy Hill's financiers. Roy Hill faces increasing construction costs as it tries to develop a $10B iron ore mine with a projected 55 million tons per year of output starting in 2014.
Finally, metallurgical coal prices are likely to fall further based on current negotiations with Japanese steelmakers. According to Reuters, "the Japanese-Australian quarterly price is still the most important benchmark against which other types and origins of metallurgical coal is sold and a key indicator of the market's strength, despite the growing acceptance of recently-introduced daily index prices." Japan is still the world's largest importer of met coal despite the strong growth in demand from India and China (India has its own troubles with corruption and heavy taxation impacting production). The global glut in steel is forcing marginal met coal operations to shut down. Interestingly, Australia has now moved toward the top of the global cost index, partially due to a strong currency (NYSEARCA:FXA), and Mongolia is eating into Australia's share of exports to China. In other words, the stocks of individual companies in the met coal space should continue to experience large swings in the coming months as the industry struggles to find a new base.
Be careful out there!
Disclosure: I am long BHP, VALE, ANR. I wrote this article myself, and it expresses my own opinions. I am not receiving compensation for it (other than from Seeking Alpha). I have no business relationship with any company whose stock is mentioned in this article.