Back-to-back announcements of new open-ended money printing programs over the last two weeks - first by the European Central Bank and, on Thursday, by the Federal Reserve - have propelled gold and silver prices to fresh six-month highs and this is likely only the beginning of the metals' price moves that should extend well into next year as demand in both Asia and the U.S. has been rekindled after a year-long correction that, once again, has tested precious metal investors.
For the week, the gold price rose 2.0 percent, from $1,735.50 an ounce to $1,770.50, and silver jumped 2.9 percent, from $33.69 an ounce to $34.68. Spot gold is now up 13.3 percent for the year, down 7.9 percent from its 2011 high, and silver is up 24.4 percent in 2012, down 29.9 percent from its peak last year.
As shown below, more compelling evidence has emerged that the gold price action seen since the record high last summer will be looked back upon as just one more in a long series of fairly routine market corrections within the long-term gold bull market that began more than a decade ago.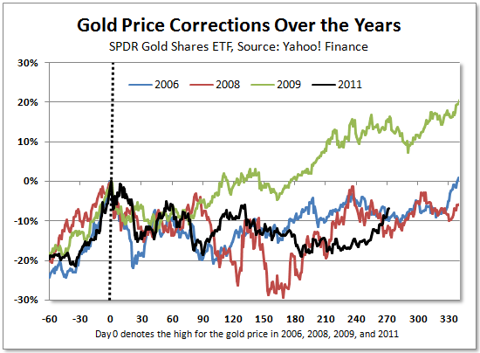 I've been consistent in saying this to subscribers at Iacono Research for the better part of the last year now and, after having broken above both the 2006 and 2008 correction paths just last week, it now seems that recapturing the 2011 high is a matter of "when", not "if".
Central bank actions announced over the last two weeks will, for all intents and purposes, guarantee that outcome, the only important question being the timing and, if you're a long-term investor, the timing really isn't that important at all.
That's the beauty of long-term bull markets - all you really need is keen observation skills, money, and patience.
But, after a rise of nearly $200 an ounce for gold since the summer doldrums and an even more impressive, almost 30 percent increase in the price of silver, don't be surprised if a small correction develops in the period ahead.
A short consolidation for both gold and silver would be natural at this point after a flurry of central bank news over the last month. This would allow some profit taking by traders who bet on more money printing over the summer and a dip in prices would permit more long-term buyers to enter the market.
Strong resistance will be offered for both metals at the February highs and, as noted here previously, the real precious metals price action is likely to take place later in the year, extending into 2013 - what we've seen in recent weeks is likely just the opening act.
Bullion-friendly central bank stimulus is now once again the main driver for precious metals and this was clear to see in recent additions to physically backed gold funds that have set a series of record highs in recent weeks while speculative positions in futures markets have risen to the highest level since February.
As shown below, SPDR Gold Shares ETF (NYSEARCA:GLD) holdings have risen sharply in recent weeks along with the gold price and at 1,301 "tonnes in the trust" (per data at the company's website) are now less than 20 tonnes (or about one percent) below the all-time high reached more than two years ago when the gold price was about one-third lower.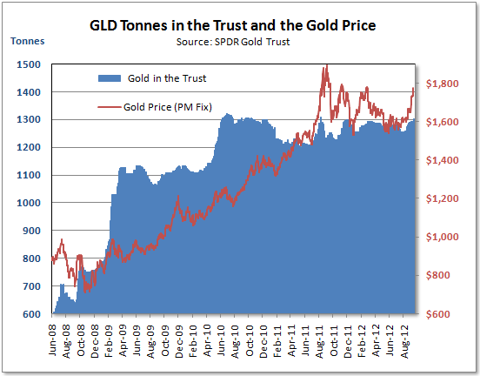 With many more gold ETF choices now available, changes in GLD holdings are not nearly as correlated with the gold price as was the case five or six years ago (and this should be clear in the graphic), however, adding inventory to a gold stockpile now valued at a stunning $74.3 billion can't be bad for the metal.
To be sure, the recent rally has been driven by hedge funds and institutional investors and broader participation will be needed over the fall and winter if new record high gold prices above $1,923 an ounce are to be seen and if silver is to challenge last year's $50 an ounce level.
Demand appears to be stirring in Mainland China where, after a steep decline in gold buying during the second quarter, imports from Hong Kong nearly doubled in July from a year ago. A primary conduit for gold entering China, Hong Kong shipped 75.8 tonnes of the metal across the border in July, the second highest total of the year and reminiscent of the massive gold shipments to China in late-2011/early-2012 that spurred sharp price increases earlier this year.
Importantly, the People's Bank of China is believed to be a major, but very quiet, buyer in the gold market, responsible for taking a large portion of domestic production along with some of the gold imports from Hong Kong, and the disconnect between recently tepid gold demand from the public and sharply higher gold imports suggests that, someday, China's central bank will announce another very large increase to their accumulating gold holdings as they last did in 2009.
That may take some time, however, since China is keen on buying perhaps thousands more tonnes of the metal to replace euros and dollars in their foreign currency reserves and, surely, they would like to do that at relatively low prices, low prices that would quickly disappear after such an announcement was made. In fact, it may take many years for China to tell the world exactly how much gold they've been buying. I suppose if I were a Chinese central banker, I'd take this same approach, particularly after watching what Western central bankers have done in recent weeks.
Disclosure: I am long GLD, SLV. I wrote this article myself, and it expresses my own opinions. I am not receiving compensation for it (other than from Seeking Alpha). I have no business relationship with any company whose stock is mentioned in this article.
Additional disclosure: I also own gold and silver coins and bars.