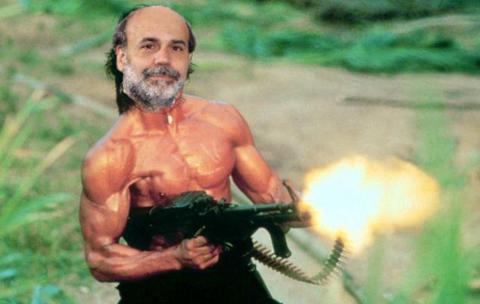 I like Ben Bernanke. I really do.
What I don't like is the effect that his pronouncements might have on my prospects for making profits from my holdings.
So in those cases that most, if not all of my positions are covered and the market reacts wildly to the upside, as it did this past Thursday, I'm not terribly happy. Misanthropic, actually.
It's not that I'm unhappy about the prospect of missing out on some unrealized profits that I probably would have seen vanish into the ether if I hadn't sold calls. It's more the fact that it may give some the opportunity to say "I told you so." Mostly because they would be correct.
Not that it is a valid signal, but late in the trading session, the Barclays Volatility Index ETN (NYSEARCA:VXX), which tends to move up as the market goes down and has fallen by more than 50% over the past couple of months, was offering a one week at the money ROI of 4%. That is ridiculously high, but indicates that people are willing to pay a large premium because they believe that there will be a downward move this coming week. Have you ever known anyone to be wrong if they're willing to put their money on it?
The market expected something, but really had no clue what was to come from the Fed. Well, actually, they sort of knew what was coming, but what they didn't know was which direction the market would choose to over-react. What took everyone by surprise was not the fact that the much anticipated Quantitative Easing 3 was announced, but that the latest version was a new and improved. This one, with an open ended time frame was more like Quantitative Easing Ultra, or as Angela Merkel might say, "Uber QE."
Not only did that send stocks screaming upward, but it also turned the precious markets upside down. In the moments before the announcement, the smart fellows with the big bucks decided to sell gold and silver. That pleased me, as I've been suffering with ProShares UltraShort Silver (NYSEARCA:ZSL) in precisely the same fashion that I did back in March 2012. The fact that I believed the same as the smart guys didn't really make me feel any better, as my faith is being tested with the recent surges in silver.
The initial sharp move downward changed quickly and there was, at one point, a nearly 15% move in ZSL's share value - even more sadistic than Wednesday's 8% round trip (which at least ended on a positive note).
But still, it's not Bernanke that's to blame. It's his actions, or better yet, our response to his actions. In fact, this was just a repeat of last Thursday's scenario when the market responded to Europe's version of Ben Bernanke, and went wild after Mario Draghi put forward his plan to support the European currency.
Every response these days seems to be in waves of paroxysm. Just the week prior, the market did precisely the same as they placed inordinate value on the use of the word "significant" by the Chairman.
Much like those who would create derogatory videos of someone's God or Prophet, they really can't be blamed for the obscene acts promulgated upon innocent targets.
So Dr. Bernanke, love you, but could you be mindful that we're not really capable of containing our behaviors when you are in the room?
I suppose that it might just be easier for me to change my holdings and investing strategy, but I like them as much as I like Bernanke.
Being that short-term pessimist that I am, I just keep wondering what was so bad about our economy that by all appearances the arsenal has been emptied. That can't be good, but it seems as if "Rambonanke" has unlimited ammunition. He's been counted out of the game before.
In those weeks that the market has climbed strongly and left the need to replace stocks that are being assigned, it's always a challenge to find what appear to be bargains. Just a few short weeks ago, as the August monthly option cycle came to its end, instead of going on a spending spree with all of the cash, it turned out to have been good to wait a few days. Sometimes fear and caution are good things, although it did seem unusual spending the bulk of the cash on Thursday and Friday, rather than on Monday and Tuesday, as I usually do before that hole is burned in my pocket.
This coming week, I may be inclined to do the same, especially as we add some Mid-East tension into the equation and realize that for the past 5 weeks, the market has not faced a single challenge. Talk about "priced to perfection." The environment has been perfect and that draws in unwanted elements, including those covering their shorts.
As always, the weekly stocks on the upcoming radar screen are divided in Traditional, Momentum and Double Dip Dividend categories (see details).
Given my exposure to silver, I have some mixed feelings about Tiffany (NYSE:TIF), much as I do about Ben Bernanke at the moment. But in both cases, I know that those mixed feelings will give way to admiration, once the frenetic behavior comes to end. I suppose that in the case of a high end retailer as Tiffany, one could make a case in either direction for the impact of rising silver prices on margin. In the event that discretionary income doesn't keep up with the metal, that would certainly squeeze Tiffany's pricing power, but even slightly tarnished, those cute little charms have their appeal. The fact that shares are going ex-dividend this week helps to put Tiffany in the crosshairs.
I'm always wary of adding a new stock to my list of "Old Reliables" but I think the time has come to add Phillips 66 (NYSE:PSX), the spin off from Conoco (NYSE:COP). Sometimes, the spun off company is little more than just an outcast. Sometimes the child may exceed the parent, although Conoco is a pretty high standard to beat. Although it's not really clear where the price floor on Phillips 66 is, its climb has been impressive and it combines a good premium with a nice dividend.
Although I'm not generally a big fan of investing in technology stocks and my track record will attest to why I'm not a fan, as strong as the financial sector has been of late, witness the performance of Goldman Sachs (NYSE:GS), JP Morgan (NYSE:JPM), Morgan Stanley (NYSE:MS) and Wells Fargo (NYSE:WFC). The tech sector has lagged.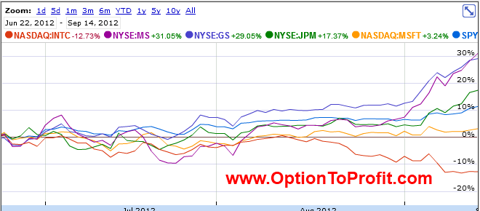 Rather than chasing winners and ending up with losers, I think it's time to look at some relative losers. That may mean adding to an existing position in Intel (NASDAQ:INTC) and opening a new position in Microsoft (NASDAQ:MSFT), no stranger on my radar screen.
The last time I went through that analysis was on August 18, 2012, when facing a similar situation of having many positions being assigned and looking for new opportunities at reasonable prices.
Back then, in "Kicking the Can Down the Cliff," I identified opportunities in United Healthcare (NYSE:UNH), Deere (NYSE:DE), JP Morgan , Starbucks (NASDAQ:SBUX), and Dow Chemical (DOW), because they too, had underperformed the index during the time period being assessed.
As of about noontime on today (September 14, 2012), this is how they fared against the SPDR S&P 500 (NYSEARCA:SPY):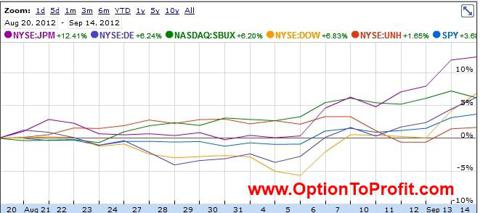 With the exception of Dow Chemical, they all outperformed the S&P 500, but even Dow was a good source of return while selling calls at the $29 and $30 strike levels.
So, when all else fails, go back to a technique that may work, even if you're not terribly comfortable in that neighborhood.
As in recent weeks, I'm having some difficulty identifying momentum stocks that appear to have reward commensurate with risk. Last week, AIG (NYSE:AIG) worked nicely, but unfortunately, I never pulled the trigger on Alcoa (NYSE:AA). This week, Las Vegas Sands (NYSE:LVS), which is helped by the fact that it too is going ex-dividend, may be ready for an investment. As with most momentum positions that I consider initiating, I especially prefer those that have weekly options available, as a month is a long time in the life of some shares.
The final Double Dip Dividend stock is Safeway (NYSE:SWY), yet another pick from the not too distant past that I never ended up purchasing. Back on June 17, 2012, when it was last mentioned, it was trading at about $17, just where it is now. If you sell covered calls, that's exactly what you love to see. It's recovered nicely from an earnings related hit. Unfortunately, you can't act on hindsight.
Traditional Stocks: INTC, MSFT, PSX, TIF
Momentum Stocks: LVS
Double Dip Dividend: LVS (ex-div 9/18), SWY (ex-div 9/18), TIF (ex-div 9/18)
Remember, these are just guidelines for the coming week. Adjust accordingly with market movement, and you'll have the makings of a healthy income stream for the week with reduced risk.
Disclosure: I am long ZSL, INTC, DOW, JPM, UNH. I wrote this article myself, and it expresses my own opinions. I am not receiving compensation for it (other than from Seeking Alpha). I have no business relationship with any company whose stock is mentioned in this article.
Additional disclosure: I may initate positions in LVS, PSX. MSFT, TIF, SWY, VXX