While doing research for my last article on retirement holdings, I was very surprised to learn that the top two holdings in U.S. retirement accounts were Apple (NASDAQ:AAPL) and Google (NASDAQ:GOOG). The reason for my surprise is that these stocks are much more volatile than what I would traditionally think of as retirement holdings. However, it got me thinking. How could a retirement investor use this volatility to their advantage? I'd like to focus on Google, because it is more suited to the strategy I am proposing.
One of the biggest challenges to creating options strategies with Google is simply the share price. At Friday's closing price of $709.68, this means that to even buy enough shares to sell one covered call, an investor must be prepared to put up an initial investment of $70,968. On the other side, to sell a secured put, an investor would need almost that amount in cash or margin, depending on the strike of the option.
According to Fidelity, the average American investor has just over $212,000 in retirement savings. To invest over $70,000 in a single stock is not a wise strategy by anyone's definition.
For the sake of this comparison, let's say the investor is willing to invest 10% of their savings, which would be $21,200 for the average American investor. We can use this money to buy a long-term, deep in the money call option. This essentially creates a "stock replacement" strategy and gives the investor control over 100 shares of stock for a fraction of the price. The January 2014 $520 calls are currently selling for about our budget, so let's say that we pay $212.50 for the option.
In the 16 months until expiration, we can sell out-of the money calls to generate income while we wait. We don't want to be called away, so we are going to sell monthly options that are at least 10% out of the money. Based on Google's historic volatility, these should command a premium of approximately .51% of the price of the stock. I chose 10% out of the money because even though we don't want to get called away, if the stock were to rise over 10% in a month, we would still get that gain, plus the premium collected. 10% of the current share price is $70.97, and 1.28% (the premium collected on the option) is $3.60, this would be a gain of $74.57, or about 35.1% of our initial investment, due to the leverage provided by buying a deep in the money call as opposed to buying the stock outright. Even if the position got called away, I doubt most investors would be too upset after making 35% on their investment in one month.
To provide an unbiased look at this strategy, I want to compare how it would have worked in two different years. I'll look at 2011, when the stock was relatively flat for the year, and 2012, and it is up for the year. Here are the results of the back-test of this strategy for those years: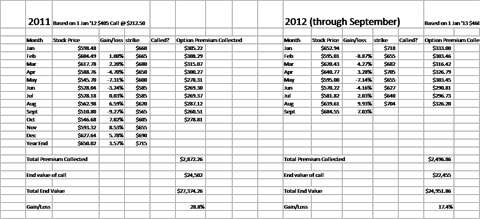 Although coming close twice, in Nov '11 and Aug '12, our 10% out-of the money strike price was high enough to keep us from getting called away. This strategy produced a total gain of 28.8% in 2011 and 17.4% thus far in 2012. Of course, with extra reward comes some extra risk. If the stock price were to go down drastically, the value of your options would decline more rapidly than if you had simply bought stock. Strategies like this are only appropriate for a small portion of your portfolio. There are several ways to make this strategy less risky. An investor could sell calls further out of the money, for less risk of getting called. Also, to lower the risk of a large percentage drop in value, an investor could buy a call deeper into the money, or 100 shares of the stock itself, if he/she had the means to do so.
In conclusion, these types of strategies need to be tailored to the individual investor. This is simply one example of how options can be used to draw a high stream (over 10% annualized) of income with relatively low risk.
Disclosure: I am long GOOG. I wrote this article myself, and it expresses my own opinions. I am not receiving compensation for it (other than from Seeking Alpha). I have no business relationship with any company whose stock is mentioned in this article.