In Sholom Yaffa's first Seeking Alpha article dated September 6, 2012 titled "Market Rewarding Lower-Leveraged REITs," he asserts that Tanger Factory Outlets (NYSE:SKT) "continues to increase leverage, which is already above the average for shopping center REITs." In my article today, I will dispel the allegations and provide facts to support the case that Tanger Factory Outlets is well known throughout the REIT community for having one of the sector's strongest balance sheets and for being one of the least levered mall REITs.
Mr. Yaffa's analysis is flawed for two reasons: (1) His use of an inappropriate peer group and (2) his assessment of leverage using an inappropriate metric. Yaffa compares an outlet mall REIT to a group of shopping center REITs. These sub-sectors vary in a number of ways. Large publicly held retail companies make up the bulk of Tanger's tenant mix, and the company's average rental suite is around 4,000 square feet with very few boxes that are much larger. Here is a snapshot of Tanger's top tenants: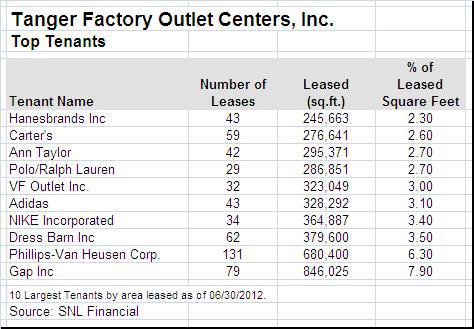 The properties operated by Tanger's comparison group are largely grocery-anchored neighborhood strip centers with "mom & pop" operators taking a much greater proportion of the remainder of the space. As you can imagine, both the rent structure and cost structure of these distinct property types differ substantially from one another.
All REITs must distribute at least 90 percent of taxable income to shareholders in the form of dividends. Dividends reduce equity, so REITs that have a long history of increasing dividends have less equity. Tanger has increased its dividend each year since going public in May 1993, and has paid a cash dividend each quarter since that time.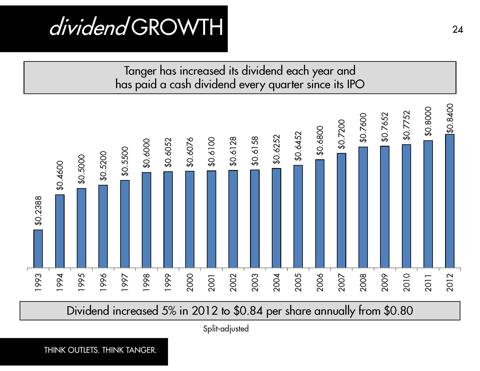 Because of the REIT dividend requirement and related impact on equity, REIT investors typically think of leverage in terms of debt to assets. Accordingly, Tanger and its more aligned peer group of mall REITs compare very favorably and, in fact, Tanger has the lowest leverage of its closest peer group. It is noted that "low leverage is a way of life" for Tanger, and that the company's "stellar balance sheet has supported generally smart historical capital choices."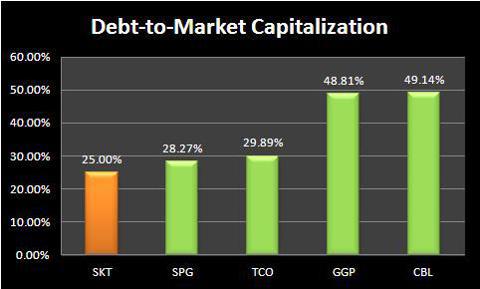 Tanger utilizes conservative use of secured financing (8 percent encumbered) and its limited use (of secured funding) has allowed the "best in class" brand to enjoy conservative interest coverage of 4.4x and an unencumbered asset to unsecured debt ratio of 204 percent. Tanger has an S&P rating of BBB and a Moody's rating of Baa2.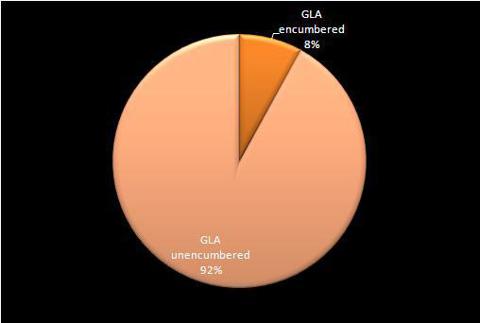 Using Yaffa's metric of choice, debt to equity, for comparison to mall REIT peers, Tanger compares favorably. The two peer mall REITs that compared most closely with Tanger in terms of leverage are Taubman Centers (NYSE:TCO) and Simon Property Group (NYSE:SPG). Taubman Centers has negative equity. Simon Property Group, an S&P 500 company, has a debt to equity ratio of 3.15.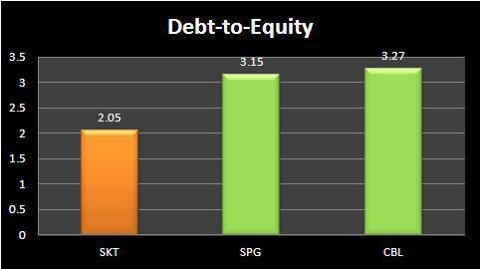 Tanger Has Plenty of Runway Remaining
Tanger Factory Outlets has 39 properties in 25 states, coast to coast, and in Canada. With a growing portfolio of around 11.9 million square feet, Tanger has considerable growth opportunities in site.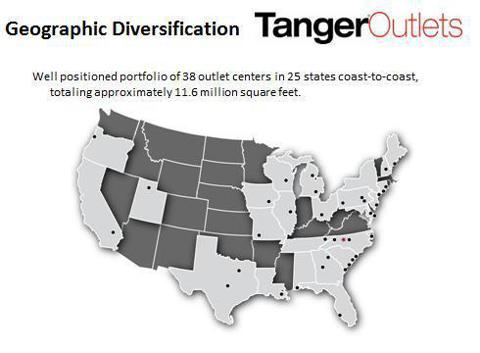 The outlet industry is small - about 50 million square feet - which is smaller than the retail space in the city of Chicago. The attractive supply dynamics and strong tenant demand make Tanger one of the few disciplined public REIT developers that have access to capital and the expertise to deliver new projects.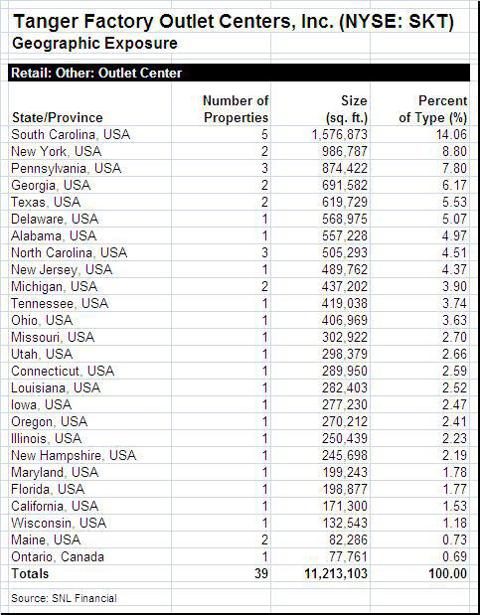 With considerable runway for growth, Tanger has been busy growing its brand across the US and Canada. New Tanger projects underway are in Houston and Glendale (AZ) as well as predevelopment projects in Washington (DC), Scottsdale (AZ), and Mashantucket (CT). Also, Tanger has begun to tap into the Canadian pipeline with announced projects north of Toronto in Cookstown. There is compelling reason for growth north of the US border as Canadians are driving the demand (16 retail sf/ person in Canada) fueled by limited retail outlet options (the US market has 24.5 retail sf / person).
Clearly, the outlet model is sustainable as Tanger's average sales per square foot (platform) has attracted many "best in class" retailers to locate at Tanger facilities. Here is a snapshot of Tanger's historical average sales per square foot: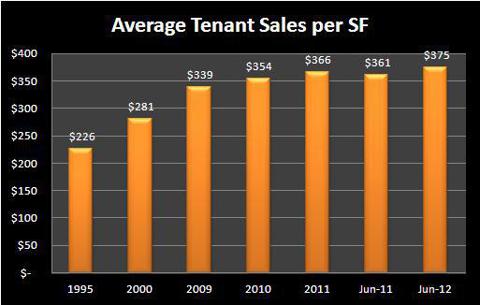 Furthermore, Tanger has been a magnet for many top brands to lease space and the current occupancy rate of 98.8 percent is a true indicator of the company's success. In fact, Tanger has never dropped below 95 percent occupancy since the company's IPO in 1993.

Tanger has a current market capitalization of $3.187 billion and the company hit an all-time high of $34.07 last week (September 14th). The dividend yield is 2.47 percent and, as evidenced by the chart below, Tanger has been reinvesting a considerable amount of its capital into growing the brand.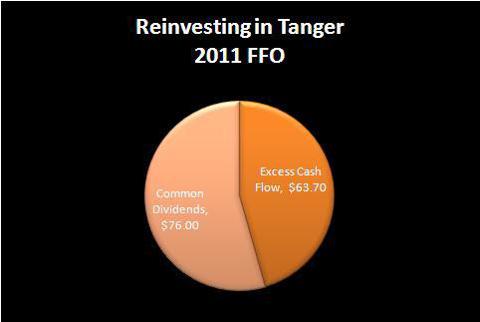 Tanger is ranked #1 among the mall REITs in total returns for the 5 year (81 percent) and 10 year (831 percent) categories. In addition, Tanger is ranked #2 among ALL REITs in the 15 year total return. The company's year-over-year total return is 28.12 percent, and the snapshot below illustrates the company's 5 year total return (compared with the SNL US REIT Equity REIT Index):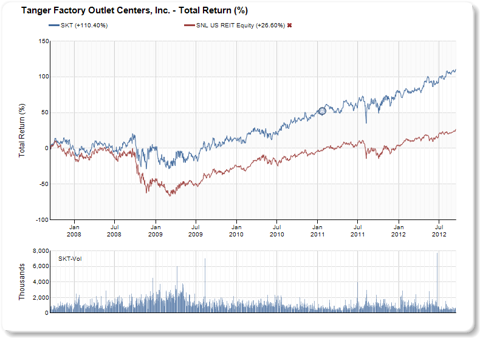 For most REIT investors, dividends are essential and also they are the primary reason for gaining access to repeatable sources of income. In terms of sustainability, Tanger is certainly considered a durable income alternative as the company is one of just ten REITs that have maintained and increased their dividend for 10 years or longer.
In addition, Tanger, with 19 years of dividend consistency, has the 5th best track record for repeatable dividend performance, and the company is set to join the exclusive S&P Composite 1500 Dividend Aristocrat club (a company that has managed-dividend policy of consistently increasing dividends every year for at least 20 years). The four REITs already included are Federal Realty (NYSE:FRT), HCP, Inc. (NYSE:HCP), National Retail Properties (NYSE:NNN), and Universal Health Trust (NYSE:UHT). (see article I wrote on REIT Dividend Aristocrats)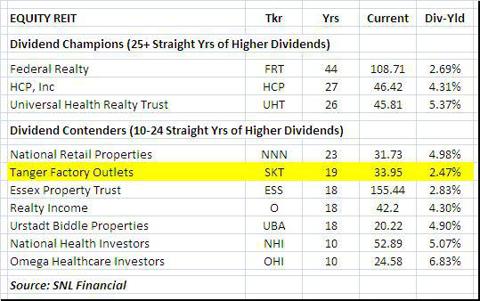 Clearly, Tanger has positioned its balance sheet to provide strategically aligned growth to its recession resilient platform. Furthermore, Tanger's extraordinarily strong sources of differentiation will allow the company's "wide moat" brand to sustain its almost two decade long dividend record while also exploiting its highly repeatable "crown jewel" outlet platform. The essence of Tanger's repeatable platform is best explained by the company's CEO and President, Steven B. Tanger:
In good times people love a bargain, and in tough times, people need a bargain.
Sources: SNL Financial, Tanger Investor Presentation,
Disclosure: I have no positions in any stocks mentioned, and no plans to initiate any positions within the next 72 hours. I wrote this article myself, and it expresses my own opinions. I am not receiving compensation for it (other than from Seeking Alpha). I have no business relationship with any company whose stock is mentioned in this article.