RBC Capital is out very positive on Potash Corp. (POT) noting that not withstanding the potential for short-term share price volatility, they believe Potash Corp.'s current valuation represents an excellent buying opportunity for investors with a longer-term perspective. Strong earnings growth potential, a 2009E P/E multiple of 8.9x and 2009E free cash flow of $7.3 billion ($24.13/share) represent a few of Potash Corp.'s many attractive investment attributes. Based on its long-term growth potential and the implied all-in return to their price target, they view Potash Corp. as extremely attractively valued.
Based on their supply and demand outlook, they generally expect fertilizer market conditions to remain robust through the medium term.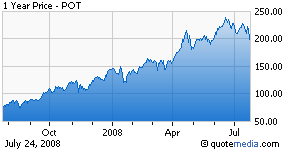 With respect to concerns over the sustainability of high fertilizer prices, Potash Corp.'s management indicated during the Q2'08 conference call that they have not seen any signs of demand destruction under the current fertilizer pricing environment.
Potash Corp. is currently trading at a 2009E EV/EBITDA multiple of only 5.4x. This is at the low-end of the historical trading range even though (1) interest rates are at historically low levels; (2) the company's future earnings outlook has never looked better; and (3) there are no obvious signs that the fertilizer industry is heading for a cyclical downturn anytime soon. The firm also believes the market is not assigning any value to Potash Corp.'s future potash expansion projects, which they estimate could add $90-$95 per share of incremental value.
Reiterates Outperform rating and $375 target.
Notablecalls: Can you say $200 POT?