Just because an enterprise is in the business of producing products that help society in general does not necessarily mean that it can meet free market investment criteria. Consider three investment pure plays in the "socially responsible" segment:
---Imagine the cost advantage that a manufacturer could gain by substantially reducing the need for platinum, palladium and rare elements in its catalytic converters, while more efficiently controlling pollution.
---How big is the market for software and systems that can dramatically improve learning of challenged students and the teaching efficiency of underperforming schools?
---The market dominance should be overwhelming for a company with technology to manufacture solar collector components that make previous processes obsolete, facilitating U.S. energy independence.
Although these companies have developed genuine technological advances in their niches, they are struggling with historically low prices and muted investor interest. Each one of these enterprises is greatly dependent on the winds of political influence to either set sail or die in the water. This article attempts to analyze the effect of government involvement on these companies and their investment prospects.
Clean Diesel Technology Inc. (NASDAQ:CDTI) is a micro-cap stock that has developed technology to reduce the precious metal content of catalytic converters in cars and trucks. It manufactures its products globally and is greatly dependent on the strict environmental posture of the State of California that require trucks to operate with high-efficiency converters.
In the 1990's, "socially responsible" investing was fashionable. The stock market was enjoying a phenomenal bullish rise, and investors were running out of compelling investment stories. Brokers discovered that the concept of buying shares in something that helps the environment was a story they could sell. CDTI was flying high with "feel good" investing, but has since lost more than 90% of its value as profitability is the top investor priority.
On the positive side, CDTI is selling only slightly above book value and has managed its balance sheet well, despite lack of profitability. It appears that the company may break into the black in 2013, thanks to a recent agreement with Honda (NYSE:HMC) to provide catalytic converters for new Accords in North America.
An important consideration for CDTI is whether the state of California will back off on enforcement of the existing regulations, and if the California standards will be adopted in other states or even nationwide. Such an event would create a huge demand for CDTI products, although its current manufacturing capacity would need substantial expansion.
My personal opinion is that the California posture will remain in place. I do not think that these restrictions will become the law of the land in the immediate future. In California, CDTI has had to develop financing options for truckers to be able to afford the systems, which cost up to $10,000 in some cases to assure compliance. This is to partially relieve the serious burden on cash flow for some of these small businesses. Some transport businesses are having to idle some of their rigs, as they cannot afford to convert all of them at one time. This is at a time when the trucking industry is enjoying a boom (see our article on the trucking industry).
While I do think that pollution is a problem that the U.S. needs to regulate for the good of all of us, with the U.S. in a slow economy growth mode, now is not a good time to stifle businesses with new regulations. I think ultimately this opinion will prevail in the short term, regardless of which political party gains an edge. For the long-term I think that the CDTI technology may become the standard in vehicles, and it remains on my watch list. As a beneficiary of an election bounce, I think that would be short lived.
Cambium Learning Group (NASDAQ:ABCD) is a small, niche provider of supplemental educational products for the growing market serving underperforming and special education students. It has invested in developing internet-based products for the "intervention" market which draws heavily on federal funding, accounting for roughly one-half of revenues. It consistently is awarded high grades for effectiveness in turning around underperforming students and schools.
Like CDTI, the stock is selling at about book value, but it is operating in the red for the foreseeable future due to funding cuts at federal, state and local levels. ABCD had also been supported by the stimulus program that expired in September 2011.
Typical of the challenges that ABCD faces is the situation in South Carolina. That state incorporated ABCD's systems to improve its mediocre secondary education rating. Test scores dramatically improved to the point that billboards appeared, announcing the state's success in this initiative. However, the shadow of the Tea Party in the South Carolina legislature assured that the program was collateral damage of governmental spending restrictions. The legislature cut special education spending in its 2011 budget disproportionately, triggering a $111MM cut in funding from the Department of Education. Faced with this embarrassing dilemma, the politicians partially increased the funding, but are still resisting Federal compliance. To show their support for education, these SC politicians did prioritize a bill to allow citizens to put their favorite high school's name on their state's license plate, as well as the Tea Party insignia. It is likely that a general Republican victory in November would kill most education initiatives, whereas the Democratic party is openly in support of these subsidies.
When it comes to education, I part ways with my usual laissez faire attitude. My personal opinion is that education improvement is essential to prepare our economy for 21st century competition, and wider and improved education and re-training are the keys to employment prosperity. I was educated by a scholarship from private donors to my university, and I greatly believe in private support of education. Unfortunately, the problem of students with learning disabilities is epidemic, and probably requires a solution at the federal level.
Although Vegas bookies make Obama a heavy favorite to win in November, the states with the lowest educational ratings are heavily influenced by the anti-government element. These states have a history of refusing aid with "federal strings attached." Unfortunately, it appears that the Cambium systems will not get a chance to go to work where they are most needed. ABCD's debt was just downgraded by S&P to "CCC," and the long-term prospects do not favor this company. However, a Democratic success in November could provide a good trading bounce for ABCD. Probably the best long-term hope for ABCD investors is a buyout or merger, as its patents and properties have real value.
GT Advanced Technologies (GTAT), a down trodden solar stock, popped 3% on Friday as House Republicans passed a bill that would phase out federal loan guarantees like the $535 million given to the now-bankrupt solar firm Solyndra. Although this is a political and symbolic move to draw attention to the failure of Democratic policies to support alternative energy, I totally agree that it is time to let companies in this industry stand on their own. The solar, wind and nuclear enterprises have been coddled for more than 50 years, yet fossil fuel continues to account for all but a tiny percentage of our energy generation.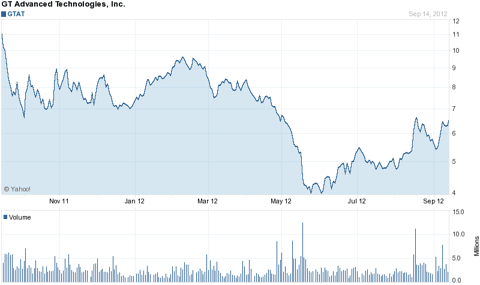 GT Advanced Technologies Inc. provides leading-edge polysilicon production technology and crystalline ingot growth systems. It is an important distinction that GTAT is not a manufacturer of solar components, but provides state-of-the-art systems that enable those manufacturers to lower the cost of manufacturing. The phasing out of federal subsidies to start-ups will protect the existing industry leaders. If solar companies are to be competitive, they must invest in low cost production systems, such as those from GTAT.
Even after the recent pop, GTAT sells at about 5 times analysts earnings estimates for the year ending March 2013. It has a history of exceeding analyst expectations, even during the solar doldrums. GTAT is diversifying into the LED lighting market with a sapphire crystal production system. The current stock price is only a little over double the book value, a traditional value metric.
The passage of the "No More Solyndra" bill is likely to fail in the Senate, and alternative energy will continue to be supported by the Democrats in an effort to control the U.S. energy dependence on foreign oil and reduce pollution. In this case, GTAT may actually face more competition from startups. As an investor, I am betting that there will continue to be a "survival of the fittest" weeding out of solar firms, and it is the right time to dip into this poor-performing segment.
I think that alternative energy will get little more than lip-service even if Democrats are successful in November. While I am on a soapbox, if you believe in Federal infrastructure spending as a stimulus for job growth, the priority should be on natural gas infrastructure. The U.S. has an abundance of cleaner-burning natural gas, and the Federal government could subsidize nat-gas fueling stations across the country and require auto manufacturers to produce natural gas cars. In my opinion, this would be better than the administration's highway bill and new requirements for gas mileage on automakers.
Conclusion.
Although we may have differing ideas about what the USA should look like, as investors, we need to analyze our investments according to the reality of what the USA is, or is likely to be. Of course, some have the luxury of investing in stocks that make them feel good about supporting a cause, but in the current battle for stock market profits, most of us must rely on earnings and fundamentals. It seems that the concept of "socially responsible" investing has become blasé.
In July, Huntington launched the Huntington EcoLogical Strategy ETF (NYSEARCA:HECO), which invests in "equity securities of ecologically-focused companies." Last week a little over 1000 shares traded, a super low volume for an ETF. According to its criteria, companies like EBAY (NASDAQ:EBAY), Walt Disney (NYSE:DIS) and Johnson & Johnson (NYSE:JNJ) are major holdings. It is a bit of a stretch to include these huge blue chips, given the stated goal of the ETF; however, it probably is good that HECO has some flexibility since pure plays in the "socially responsible" segment are not doing that great.
The three companies in this article all have invested in developing meaningful technologies. These are very speculative by nature, so do your own investigation, even if you do agree with the causes they represent. It is hard to argue that the products that they produce do not contribute to a better country: cleaner air, better educated children and energy cost efficiency. Nonetheless, Cambium Learning may not survive without government help and Clean Diesel Technology may not thrive without supporting government policy. In our opinion, GT Advanced Technologies is the one that probably can survive whichever political tide.
Disclosure: I am long GTAT. I wrote this article myself, and it expresses my own opinions. I am not receiving compensation for it (other than from Seeking Alpha). I have no business relationship with any company whose stock is mentioned in this article.