Excerpts from Gilford Securities analyst Ashish R. Thadhani's recent note to clients on Wipro Limited (NYSE:WIT):
• • •
WIT: Trimming Estimates
Investment Conclusion. Based on a more cautious revenue outlook and significant non-operating adjustments (interest income and tax- rate) – mitigated by better near-term operating profitability – we are reducing our estimates as follows: fiscal 2009 EPADS to $0.59 on revenue of $6.056 billion (22% YoY growth) from $0.60 on revenue of $6.177 billion; and fiscal 2010 EPADS to $0.70 on revenue of $7.418 billion (23% YoY growth) from $0.73 on revenue of $7.686 billion. Our estimates imply 24%/11% compound revenue/EPS growth in calendar 2007-09 – after factoring a one-year extension in the "STPI" tax holiday to March 2010.
Recent price weakness can be attributed to subdued guidance and renewed concern over the U.S. IT spending environment (59.8% of revenue). Nonetheless, we are maintaining our $14.50 target price. In 12-months, this would correspond to 20x forward EPS of $0.72 – a premium to the current valuation (18x). While recent deterioration in the macro environment does present short-term challenges, we believe that this scenario could also serve to accelerate offshoring initiatives.
1Q09 Results. EPADS of $0.13 vs. $0.12 a year ago on revenue of $1.389 billion (35% YoY growth) matched our $0.13 estimate on revenue of $1.379 billion. Results included a sizable $16 million net currency translation/hedging loss (-0.9 cent EPS impact) and a higher- than-projected tax-rate. Still, operating income rose 35% YoY and exceeded our estimate by 8%. Highlights included 3.5% QoQ organic revenue growth in the IT Services segment (based on realized and not quarter-end exchange rates); resilient growth in the U.S. region (+4.2% QoQ and +36% YoY) and Financial Services segment (+5.6% QoQ and +47% YoY); improved operating metrics such as price realizations (+5% YoY attributed to performance on fixed-price projects and non- linear initiatives) and employee attrition (-350 bps YoY); and aggregate TCV of ~$500 million that should enhance intermediate-term visibility, including three wins in the $50-100 million category.
Takeaways. Wipro noted significant economic uncertainty and ongoing turmoil in the Financial Services segment while providing 2Q09 IT services revenue guidance of 2.0% QoQ and 27% YoY growth; uninterrupted activity for "business-as-usual" work (55-60% of revenue), client circumspection on discretionary projects (20%) and greater receptiveness toward cost rationalization and transformational initiatives; a better outlook for 2H09 vs. 1H09 driven by ramp-up of recent wins and a healthy deal pipeline; stable pricing with increased interest in outcome-based models (six clients); and likely moderation of annual offshore salary increases to 8-9% vs. 12-13% in prior years.
Revenue at the core Services segment advanced 35% YoY to $1.039 billion but fell short of our $1.058 million estimate due to a currency distortion. Growth was driven by the Infrastructure Management practice (76% YoY), Manufacturing & Healthcare vertical (48%) and non-U.S./European regions (60%). Operating income of $228.0 million (16.4% margin) surpassed our $211.2 million estimate (15.3% margin) driven by a higher margin in the Services segment. Profitability on a QoQ basis was hurt by seasonal visa expenses and a new RSU program (50 bps). In the reclassified IT Services segment, operating margin dropped slightly to 19.3% from 19.5% a year ago. Near-term, Wipro expects a stable operating margin in spite of annual offshore salary increases in 2Q09. Available levers for offsetting annual wage pressure comprise pricing, employee/offshore-mix, utilization and acquisition performance.
Hourly price realizations averaged $70.12 for onsite work (up 3.9% QoQ and 5.4% YoY) and $23.79 for offshore (up 3.0% QoQ and 4.5% YoY). Billed volume rose 2.2% QoQ and 24% YoY. Utilization (excluding trainees) stood at 78.3% vs. 75.2% a year ago. Higher-margin offshore work contributed 46.1% of service revenue vs. 45.8% in the March quarter. Global headcount rose just 0.1% QoQ and 16% YoY to 95,675 in June. Attrition improved to 16.6% from 20.1% a year ago.
By vertical, Technology, Media & Telecom ranked largest (31% of IT Services revenue), followed by Financial Services (25%), Manufacturing & Healthcare (19%), Retail & Transportation (16%) and Energy & Utilities (9%). Top-10 clients accounted for 20.9% of IT Services revenue, up from 20.8% in the March quarter. Wipro has 14 clients (vs. 11 in March) with an annual revenue run-rate of $50+ million, 33 (vs. 33) with $20-50 million and 33 (vs. 36) with $10-20 million. Wipro added 31 new IT Services clients – including four from the Fortune-1000 – compared with 48 in the immediately prior period. It exited the quarter with an active roster of 928, up from 927 in March.
Wipro generated CFFO of $231.5 million (or $0.16 per ADS) in the quarter. Major outflows comprised capital expenditures ($98.8 million). Wipro exited the quarter with net cash of $158.9 million, down from $187.5 million on March 31. Accounts and unbilled receivables slipped to 80 DSOs from 76 in March.
Highlights from Analyst Day Presentation in New York
Indian IT+BPO exports ($40 billion) represent only 2.3% of global technology spending ($1.8 trillion).
Wipro Differentiators:
Newer service lines. These comprise Testing, BPO, Infrastructure Management and Package Implementation, which recorded 36-49% YoY growth in fiscal 2008 and contributed 48% of total revenue vs. 38% in the preceding year.
The largest third-party R&D business worldwide (18K employees). Wipro caters to the design and innovation needs of leading wireless, imaging, computer and semiconductor manufacturers.
Wipro Infotech, a pioneer in the emerging Indian and Middle-East markets with annual revenue approximating $1 billion.
Recent acquisitions valued in excess of $1 billion that have substantially enhanced domain competence and global reach.
Wipro Priorities:
Assemble a comprehensive portfolio of outsourcing services.
Increase focus on larger, more complex engagements.
Enhance near-shore capabilities in response to client requirements.
Leverage consulting to accelerate growth.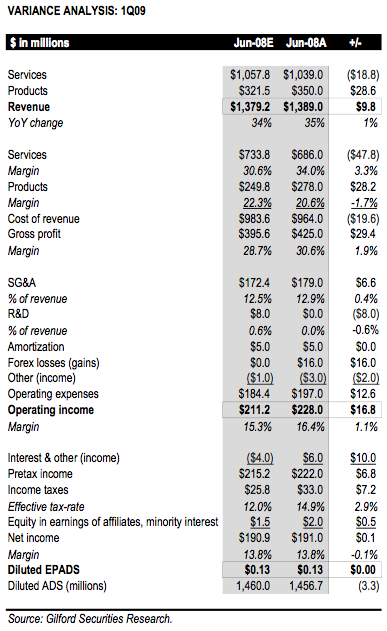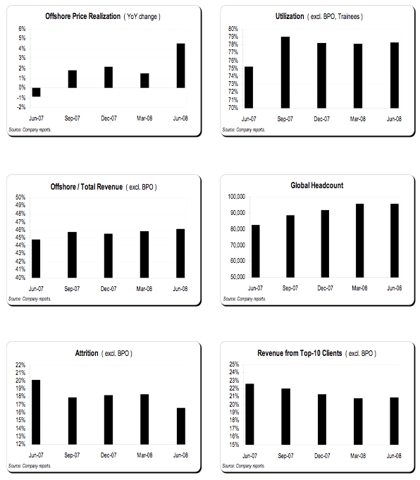 WIT shares are suitable for aggressive investors. In our opinion, principal risks include the following: U.S. slowdown; rising offshore salaries; appreciation of the Indian currency, which would translate into higher expenses incurred in rupees; correction in the Bombay Stock Exchange and/or U.S. markets; political opposition in the U.S.; and geopolitical uncertainty in the Indian subcontinent.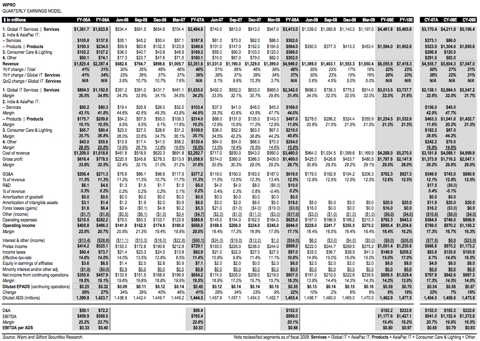 ANALYST CERTIFICATION
I, Ashish Thadhani, certify that all the views expressed in this research report accurately reflect my personal views of the subject companies. I certify that I have not and will not receive compensation with respect to the issuance of this report.