Edited By Marianna Avilkina
Corning Incorporated (NYSE:GLW) is one of the largest producers of glass. The company gained fame from its development of scratch-resistant glass, also called 'Gorilla Glass,' which is used in the production of cell phones and laptops. In addition, Corning is a leading supplier of glass substrates used in liquid crystal displays, as well as the manufacturer of high-temperature and force-resistant glass for windows on the space shuttles.
As of September 16, 2012, Corning stock was trading at about $13, with a 52-week range of $10.62 - $15.75. It has a market cap of about $20 billion. The trailing twelve-month P/E ratio is 9.17, whereas the forward P/E ratio is 9.24. P/B, P/S, and P/CF ratios stand at 0.9, 2.7, and 6.1, respectively. The operating margin is 18.8% while the net profit margin is 28.6%. The company has minor debt issues, as the debt/equity ratio of 0.2 is far below the market average.
Corning pays solid and consistent dividends; the trailing yield of 2.29% is the same as the forward one. Upcoming dividends are expected to amount to $.075 per share in Q4 2012. Since 2007, the company steadily paid $.05 every quarter. However, in Q4 2011 Corning boosted the dividend amount by 50% and has been holding dividends at the increased level during this year. The five-year dividend history suggests that Corning is a solid and steadfast dividend payer.
Corning has a 4-star rating from Morningstar. Out of five analysts covering the company, three have a "buy" rating, and the other two have an "outperform" rating. This is good reason to suppose that Wall Street holds positive opinions about the company's future. The average five-year annualized growth forecast estimate is 3.8%. What is the fair value of Corning given the forecast estimates? We can determine Corning's fair value using the discounted earnings plus equity model, as follows.
Discounted Earnings Plus Equity Model
This model is primarily used for estimating the returns from long-term projects. It is also frequently used to price fair-valued IPOs. The methodology is based on discounting the present value of the future earnings to the current period:
V = E0 + E1 /(1+r) + E2 /(1+r)2 + E3/(1+r)3 + E4/(1+r)4 + E5/(1+r)5 + Disposal Value
V = E0 + E0 (1+g)/(1+r) + E0(1+g)2/(1+r)2 + … + E0(1+g)5/(1+r)5 + E0(1+g)5/[r(1+r)5]
The earnings after the last period act as a perpetuity that creates regular earnings:
Disposal Value = D = E0(1+g)5/[r(1+r)5] = E5 / r
While this formula might look scary for many of us, it easily calculates the fair value of a stock. All we need is the current-period earnings, earnings growth estimate, and the discount rate. To be as objective as possible, I use Morningstar data for my growth estimates. You can set these parameters as you wish, according to your own diligence.
Valuation
Historically, the average return of the DJI has been around 11% (including dividends). Therefore, I will use 11% as my discount rate. In order to smooth the results, I will also take the average of TTM EPS along with the mean EPS estimate for the next year.
E0 = EPS = ($1.43 + $1.42) / 2 = $1.43
Wall Street holds diverse opinions on the company's future. While analysts tend to impose subjective opinions on their estimates, the average analyst estimate is a good starting point. Average five-year growth forecast is 3.8%. Book value per share is $14.33. The rest is as follows:
Fair Value Estimator

V (t=0)

E0

$1.43

V (t=1)

E0 (1+g)/(1+r)

$1.33

V (t=2)

E0((1+g)/(1+r))2

$1.25

V (t=3)

E0((1+g)/(1+r))3

$1.17

V (t=4)

E0((1+g)/(1+r))4

$1.09

V (t=5)

E0((1+g)/(1+r))5

$1.02

Disposal Value

E0(1+g)5/[r(1+r)5]

$9.26

Book Value

BV

$14.33

Fair Value Range

Lower Boundary

$16.54

Upper Boundary

$30.87

Minimum Potential

26.15%

Maximum Potential

135.43%
(You can download FED+ Fair Value Estimator, here.)
I decided to add the book value per share so that we can distinguish between a low-debt and debt-loaded company. The lower boundary does not include the book value. According to my 5-year discounted-earnings-plus-book-value model, the fair-value range for GLW is between $17 and $31 per share. At a price of about $13, Corning is trading at a solid discount. The stock has at least 25% upside potential to reach its fair value.
Peer Performance
While Corning does not have a direct competitor regarding the quality glassware it produces, it does have 3M (NYSE:MMM) as a rival in the entire product range of displays and equipment. Corning has a TTM ROE of 10.5%, while MMM's rate of 25.7% is more than twice as high. The TTM EPS of Corning is $1.43, whereas MMM's EPS of $6.12 is far above than GLW's. However, 3M stock is trading at a price of $94 that matches its fair value price range according to my fair value estimates. While both companies are offering respectable dividends, MMM currently does have a better outlook in terms of its profitability.
Another competitor, TE Connectivity (NYSE:TEL) has a P/E ratio of 14.7 compared to Corning's ratio of 9.2. TEL's TTM ROE of 13.6 is slightly above GLW's. However, TE Connectivity has a debt/equity rate of 0.4, which is twice as high as Corning's. This comparison revealed that TEL was more aggressive in financing its growth with debt. However, that debt philosophy can cause increased interest expense and volatile earnings. In addition, TEL stock is also undervalued and has at least 21% upside potential to reach its fair value.
The chart below shows Corning's performance against its main competitors over the last five years: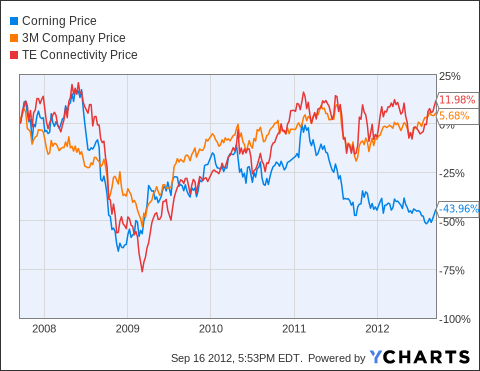 Current Economic Outlook
Corning operates in a cyclical industry, as the success or failure depends on the demand of these products. Gorilla Glass provided 13% of the company's earnings in Q1 2012 and 15% in Q2 2012. GLW has developed a newer, thinner, lighter version known as "Gorilla Glass 2." The company is expected to push out a new breed of glass in next generation of smartphones. At the moment, the cell phone and television cycle has ended, and this has been a factor in Corning's price cut. The display industry for televisions remains a concern for Corning as lower sales trends continue. The company is weathering 2012's storm and waiting for new tech gadgets to be unleashed in 2013.
Summary
While the company attempts to retain investors by increasing dividends, expect Corning's current stock price of about $13 to remain stable for now. Holding onto Corning's stock - or perhaps buying more shares - might be a wise move; the stock is expected to rebound in 2013 as series of technological products greet consumers. Fears of bottoming and burning seem unfounded, given the trends of Cisco (NASDAQ:CSCO) and HP (NYSE:HPQ), which rebounded as the new cycle began for the industry.
Nevertheless, based on historical valuation metrics, Corning is undervalued. The stock has at least 25% potential to reach its fair value. With a single digit P/E ratio, Corning sounds like a good deal. It is trading at attractive ratios. The stock has gained almost 15% in the last month alone, but I think it is primed to move higher.
Disclosure: I have no positions in any stocks mentioned, and no plans to initiate any positions within the next 72 hours. I wrote this article myself, and it expresses my own opinions. I am not receiving compensation for it (other than from Seeking Alpha). I have no business relationship with any company whose stock is mentioned in this article.