When seasons change, so do opportunities in the market. Particularly when winter hits in the U.S., some companies switch into top gear and become money-making machines. Aside from the obvious department stores that harness holiday shopping, there are plenty of underestimated stocks that could outperform as cold temperatures begin to chill our bones. Perhaps I am a bit early on this article, but it's never too soon to prepare our watch lists in anticipation of making money.
Some stocks I feel should be attentively monitored in the coming months are Compass Minerals International Inc (NYSE:CMP), Polaris Industries Inc. (NYSE:PII), and V.F. Corp. (NYSE:VFC)
The Companies
CMP: The company's salt business (80% of sales in '11) produces, processes and distributes salt and is the #1 producer in North America and the U.K.. CMP's most important segment is deicing salt, which accounted for 49% of total salt volume. The 2011-2012 Winter was a mild one, which will hurt CMP volumes due to carry over inventory by suppliers. However, as per the recent Sept. 11 presentation, there may be some opportunity to regain this lost revenue through new contract bidding, and steady price increases of deicing salt, regardless of demand. In addition, experts are calling for a stormy winter season in the North East, perhaps offering an opportunity for this company to prosper in the coming months.
PII: Polaris engages in designing, engineering, manufacturing and marketing off-road vehicles, snowmobiles, and on-road vehicles primarily in the United States, Canada, and Europe. Although a smaller piece of the pie relative to ORV's, its snowmobile sales were up 30% for the second quarter to $8.9 million, which is stunning considering the winter season has yet to hit the U.S. PII has gained the most market share in this segment compared with the competition for 2 years running. Sales were up modestly in the U.S. despite minimal snowfall, but Russia and Scandinavia is booming YTD with 24% sales growth. Perhaps a quality winter season is the catalyst PII needs to boost snowmobile sales and therefore appreciate in value.
VFC: VF Corp is made up of many strong brands, including Wrangler Jeans, North Face, Nautica, and its recent acquisition of Timberland. VFC recently discussed impressive growth metrics in its conference call, as most of its quality brands continue to see growth in a variety of countries. There is no doubt the next several months are a big deal for VFC, as the back-to-school season and the colder months drive apparel sales. Some analysts are expecting EPS to grow at a 25% clip for the 2nd half of 2012 compared with 2nd-half 2011. I will be watching this one closely.
Fundamentals:
| | | | |
| --- | --- | --- | --- |
| Stock | CMP | PII | VFC |
| P/E ttm | 19.06x | 23.14x | 19.44x |
| Dividend % | 2.72 | 1.74 | 1.79 |
| Stock Gain YTD | 5% | 51% | 30% |
| '13 EPS growth forecast | 53% | 20% | 15% |
| PEG ttm | 2.10x | 1.40x | 1.53x |
Technicals: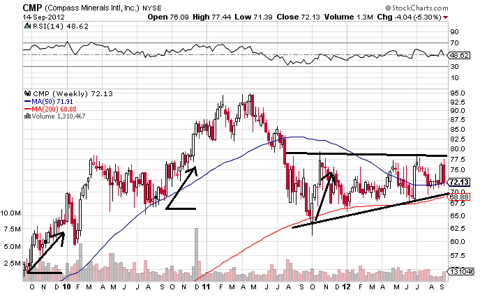 The chart seems relatively safe since the stock has been in a predictable range since last Fall. A pattern I noticed is how the stock usually appreciates starting in October and lasting until December or so. This has happened the last 3 years in a row. Will 2012 repeat this trend?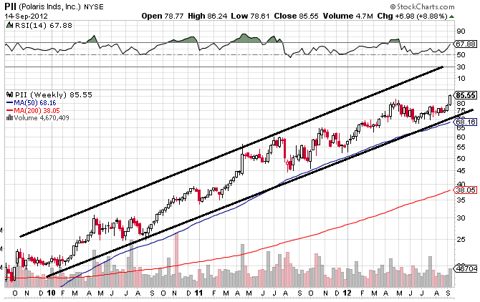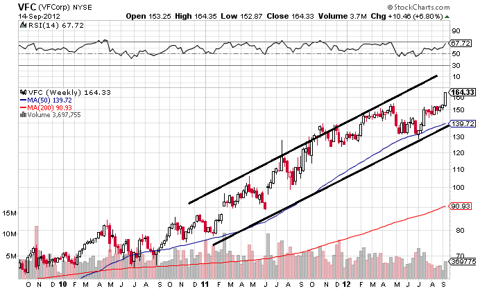 Both VFC and PII seem much stronger technically than the likes of CMP. Experiencing sturdy multi-year runs, it seems these bullet-proof charts are worthy of admiration by investors.
Summary
These three stocks have performed fairly well in the past several years. Recognizing their niche businesses and/or strong brands, it seems these companies have secure business models. More importantly, with their "bread and butter" season approaching, it could be time to reconsider these forgotten winter bellwethers as seasonal strength pushes them higher while 2012 concludes.
Disclosure: I have no positions in any stocks mentioned, but may initiate a long position in VFC over the next 72 hours. I wrote this article myself, and it expresses my own opinions. I am not receiving compensation for it (other than from Seeking Alpha). I have no business relationship with any company whose stock is mentioned in this article.