Investing in small-cap biotechnology companies carries with it great risk but also great reward. It is always exciting to see the stock of a company you own break out and go "parabolic". I have been fortunate to have ridden a few of those rocketships and it is exhilarating. Today I am looking at three high beta liquid small-cap biotechnology stocks that are breaking out. I screened for biotechnology stocks using three parameters:
1. Beta - Beta refers to the volatility of a stock as correlated to a benchmark index, in this case, the S&P 500. A higher beta stock will follow the underlying index but make sharper changes up and down as it follows the index. I specifically screened for Beta greater than 2 so if the S&P were up 3% in theory our stocks would be up at least 6% and vice versa.
2. Quick Ratio - Also known as the "liquid ratio," measures the ability of a company to use its near cash or quick assets to extinguish or retire its liabilities or debt immediately, i.e. quickly. In general the higher the quick ratio the greater the company's liquidity - meaning it has the ability to quickly pay off its short-term debt with its liquid assets. In this case I screened for a quick ratio greater than 3 meaning the companies are solidly able to pay off short term liabilities/debt with cash/assets on hand.
3. Volume - I screened for stocks with an average daily trading volume of greater than 500,000 shares per day.
1) InterMune Inc. (NASDAQ:ITMN)
| | |
| --- | --- |
| Industry | Biotechnology |
| Market Cap | $591.66M |
| Beta | 2.23 |
| Quick Ratio | 9.85 |
| Average Daily Volume | 1.14M |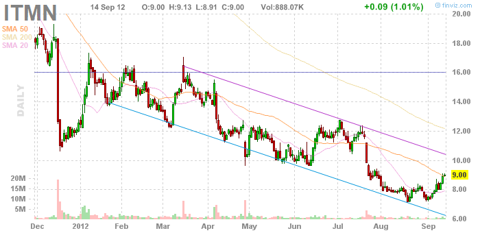 InterMune, Inc., a biotechnology company, engages in the research, development, and commercialization of therapies in pulmonology and orphan fibrotic diseases. The company focuses on therapies for the treatment of idiopathic pulmonary fibrosis (IPF), a progressive and fatal lung disease. It markets Pirfenidone, an orally active small molecule drug for the treatment of adults with mild to moderate IPF under the Esbriet name in the European Union. The company''s Pirfenidone is also in Phase III clinical trials for the treatment of IPF in the United States. In addition, it offers Pirfenidone under the Pirespa trade name for the treatment of IPF in Japan; Pirfenex trade name in India; and Shanghai Genomics in China. InterMune, Inc. was founded in 1998 and is headquartered in Brisbane, California.
2) Savient Pharmaceuticals, Inc. (OTC:SVNT)
| | |
| --- | --- |
| Industry | Biotechnology |
| Market Cap | $134.14M |
| Beta | 2.13 |
| Quick Ratio | 4.96 |
| Average Daily Volume | 2.74M |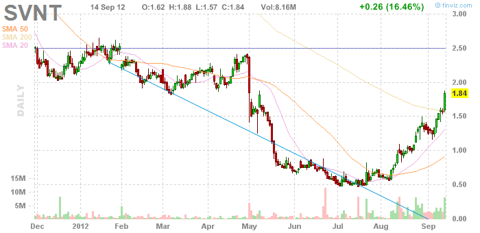 Savient Pharmaceuticals, Inc. operates as a specialty biopharmaceutical company in the United States. It engages in developing and commercializing KRYSTEXXA for the treatment of chronic gout in adult patients refractory to conventional therapy. The company also sells and distributes branded and generic versions of oxandrolone, a drug used to promote weight gain following involuntary weight loss. Savient Pharmaceuticals, Inc. sells its products through specialty and wholesale distributors. The company was formerly known as Bio-Technology General Corp. and changed its name to Savient Pharmaceuticals, Inc. in June 2003. Savient Pharmaceuticals, Inc. was founded in 1980 and is headquartered in East Brunswick, New Jersey.
3) CEL-SCI Corporation (NYSEMKT:CVM)
| | |
| --- | --- |
| Indusry | Biotechnology |
| Market Cap | $103.34M |
| Beta | 2.10 |
| Quick Ratio | 4.77 |
| Average Daily Volume | 1.03M |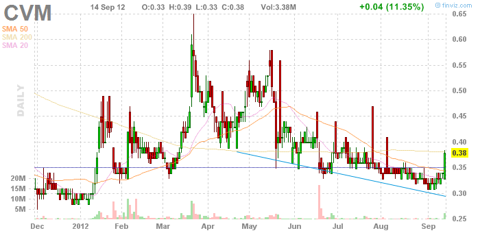 CEL-SCI Corporation researches and develops drugs and vaccines. The company's lead product, Multikine, is under the Phase III clinical trial for the treatment of head and neck cancer. The Multikine is an immunotherapeutic agent consisting of a mixture of cytokines that produces an anti-tumor immune response. It also develops Ligand Epitope Antigen Presentation System (LEAPs), a heteroconjugate technology that stimulates the human immune system to fight bacterial, viral, and parasitic infections, as well as autoimmune, allergies, transplantation rejection, and cancer. The company, through its LEAPS technology, develops a peptide treatment for H1N1 hospitalized patients; and CEL-2000, a rheumatoid arthritis vaccine. In addition, the company offers cold aseptic filling manufacturing services to the pharmaceutical industry. CEL-SCI Corporation was founded in 1983 and is headquartered in Vienna, Virginia.
Company profiles were sourced from Yahoo Finance and financial data was sourced from Finviz on 9/17/2012.
Disclosure: I have no positions in any stocks mentioned, and no plans to initiate any positions within the next 72 hours. I wrote this article myself, and it expresses my own opinions. I am not receiving compensation for it (other than from Seeking Alpha). I have no business relationship with any company whose stock is mentioned in this article.
Additional disclosure: This article is informational and intended to spur thought and discussion. This article is NOT a substitute for your own extensive due diligence and does NOT qualify as investment advice. DO NOT BUY OR SELL STOCKS BASED ON THIS ARTICLE. I do not short stocks nor do I invest in options.