Over the past few months, I have written a decent number of articles on individual bonds such as Hewlett-Packard (NYSE:HPQ), Nokia (NYSE:NOK), Cisco (NASDAQ:CSCO) and Anheuser-Busch InBev (NYSE:BUD) - some I liked, and some I didn't like. It has, however, been nearly five months since I addressed the bond market (or more specifically, the credit market) generally.
In my last macro corporate bond article "Credit (Corporate Bonds) Still Attractive But Headwinds Are Building," I opined:
While there are headwinds facing the credit markets, I believe there is room for additional spread tightening and positive excess returns. As a result, I continue to recommend investors stay overweight credit, especially in the "BBB", "BBB/BB" and "BB" rating sectors.
In May, I wrote an article titled "Why High Yield Bonds Should Continue To Perform Well" in which I opined:
High yield bonds should continue to perform well going forward due to the demand for yield and the supportive credit, economic, and ratings environment. As I have said previously, I continue to favor the "BB" and "5B" ratings segments of the high yield market.
Here we are in September, and the rational question is "have things changed?" The corporate bond market has performed well and investors have been rewarded for being invested in the sector. In the bond market, decent yield is a scarce commodity and treasuries and agency debt have not helped income investors at all. Mortgage debt has tightened due to a price-insensitive buyer (the Fed) and commercial MBS is difficult to buy for individual investors. That leaves us with corporate bonds (credit). Let's have a look at credit by ratings and see if there is any value to be had. In order to gauge this, I will be using dollar denominated option adjusted spreads, as this is the premium over "risk free" that should be used to justify investment (think of stocks and the implied "risk premium" that they must have to invest in them).
First, the credit market generally: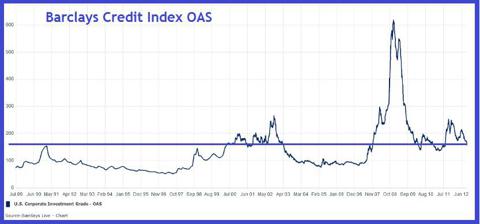 As the above graph shows, corporate spreads have been tightening but they still remain above their "normal" levels (2008 was not a "normal" time). This chart implies that investing in corporate bonds at current spread levels is attractive relative to historical levels.
Now we must look at the spread levels available by credit rating to see if there is value at the various rating categories.
"A" Rated Corporate Bonds: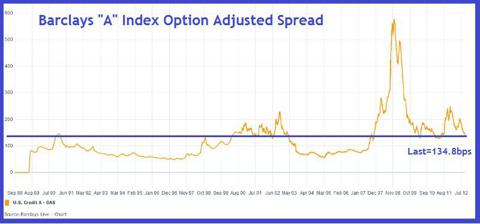 Single "A" rated corporate bonds still appear to have value for investors.
"BBB" Rated Corporate Bonds: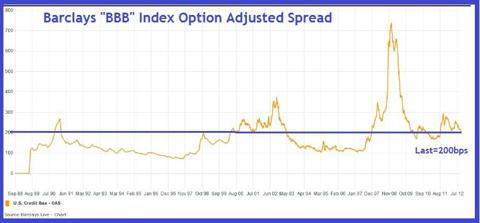 "BBB" rated corporate bonds continue to trade above their "normal" levels.
"BB" Rated Corporate Bonds: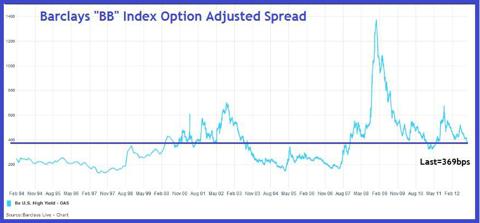 The same goes for "BB" rated corporate debt. And finally,
"B" Rated Corporate Bonds: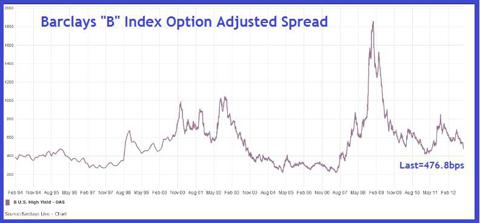 Single "B" corporate debt does not look as attractive as debt within the other rating categories, although it is still trading above its "normal" levels (albeit not significantly).
I am not going to address below "B" rated debt, as debt at or below "B" rated debt has sizable risk in terms of both credit and liquidity.
From the above charts, we can see that "A", "BBB", and "BB" rated debt are attractive from a historical perspective, while "B" rated debt is on the "value cusp." Next, I will address the relationship between the ratings sectors in order to determine if it makes sense to trade down in credit (from "A" to "BBB" and "BBB" to "BB" - "BB" to "B" will be left out as "B" rated debt is not overly attractive). In order to determine value, I will be subtracting the higher rated index from the lower rated index. This will show the spread "pick up" of going down in credit by one rating category.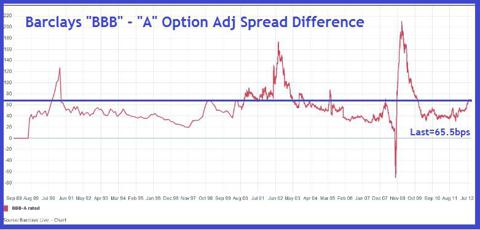 As the above chart shows, it is getting more attractive to trade from "A" rated corporate bonds to "BBB" rated corporate bonds after having been closer to the "normal" spread levels recently. This has been caused by "A" rated debt tightening in (lower spread) faster than "BBB" rated debt.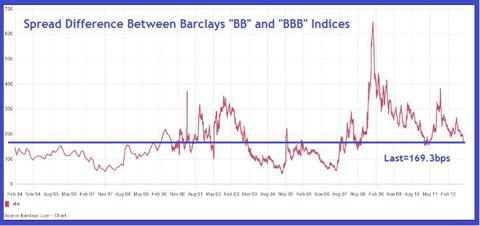 As the chart above shows, the trade down in ratings from "BBB" to "BB" is still compelling, but is not nearly as attractive as it has been recently. This has been due to "BB" rated debt tightening in faster than "BBB" rated debt as high yield has been very popular and flows into the sector directly or via ETF have been strong.
Bottom Line: Corporate bonds are still attractive from a risk premium (spread) perspective relative to their historical levels. While absolute yields continue to be low (although this has recently been changing in the 7-10yr sector due to the treasury sell off), relative yields are still decent and somewhat compelling.
This same sentiment has been echoed by John Bogle in an interview with Olly Ludwig:
But if you're willing to go out about 15 years, have a heavier investment in corporate bonds, because I'm really concerned about governments because they produce such a small income.

So the bond index fund is about 73 percent in government bonds-U.S. Treasury-backed one way or another. And I think that is in fact heavier than most investors should have. So if they can't handle that very small bond yield of 2 percent, you can lift it pretty close to 3 percent if you want to have 50 percent corporates and 50 percent governments.
As well, one of the smartest minds in the markets, Howard Marks, has expressed the same sentiment:

It is also important to understand the risks of corporate bond investing. Bond investing has asymmetric results - there is much more downside than upside. As a result, careful and proper analysis must be done in order to keep afloat (bond investing isn't always about swimming, it is more about not sinking). As well, your credit analysis may be spot on, but the risk-free rate changes and you can sustain price losses due to this (which is no different than treasuries, but at least with corporates you have the "spread buffer").
Disclosure: I have no positions in any stocks mentioned, and no plans to initiate any positions within the next 72 hours. I wrote this article myself, and it expresses my own opinions. I am not receiving compensation for it (other than from Seeking Alpha). I have no business relationship with any company whose stock is mentioned in this article.
Additional disclosure: This article is for informational purposes only, it is not a recommendation to buy or sell any security and is strictly the opinion of Rubicon Associates LLC. Every investor is strongly encouraged to do their own research prior to investing.