Successful "do it yourself" income investors research stocks with common goals. I believe every independent researcher desires a strong management team, stable dividends, and potential for share appreciation. I share the same pursuit. This article will focus upon 2 income stocks to buy today and 1 income stock to avoid.
Newcastle Investment (NCT)
Newcastle Investment is a real estate investment trust (REIT) focused upon a) Residential Servicing and Securities, and b) Commercial Real Estate Debt and Other Assets. The dividend yield is 20 cents per quarter. Based upon a $7.95 equity price, the annual yield is 10%.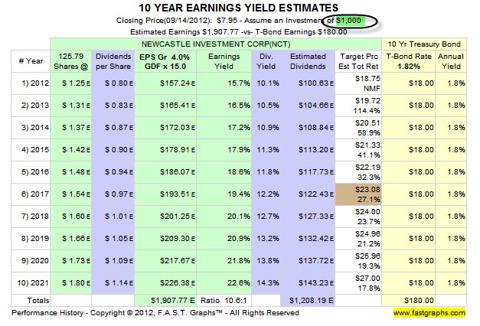 Business Model
Newcastle Investment is involved with Mortgage Servicing Rights (MSR). The company, on June 5, co-invested in a MSR deal with Nationstar Mortgage LLC. Newcastle Investment paid $44 million to receive 65% of the monthly cash flow. Nationstar Mortgage LLC will service the residential mortgage loans in government-sponsored enterprises. Newcastle Investment will not service the $10.4 billion balance of unpaid principal balance.
Another deal included a separate $47.6 billion in unpaid principal balance. The following image highlights the significant cash flow and earnings: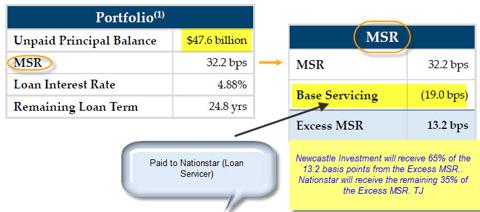 External Management
Newcastle Investment is externally managed and advised by an affiliate of Fortress Investment Group LLC (NYSE:FIG). Fortress Investment Group has a respected financial team in place. Fortress Investment Group LLC, as of June 30, reported $47.8 billion in assets under management.
Newcastle Investment, on September 13, announced positive news. An SEC 8K was filed stating the company sold one of its securitizations. The securitization name is "CDO X". Newcastle Investment sold CDO X, and the equity of CDO X, to Barclays Bank PLC. Newcastle Investment received approximately $130 million for $89.75 million in face value of subordinated notes. This deal should be accretive to Newcastle Investment's book value.
Mortgage Real Estate Investment Trust (mREIT) Compared with a MSR Strategy
American Capital Agency (NASDAQ:AGNC) is an agency mREIT. American Capital Agency has returned an eye-opening 324.5% since the initial public offering.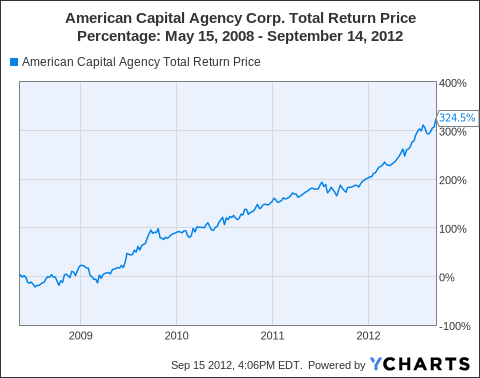 AGNC Total Return Price data by YCharts
American Capital Agency, as an mREIT, borrows at short-term rates. Typically this is via repurchase agreements. Management then buys long-term government sponsored entity (GSE) mortgage backed securities (MBS). The difference is a positive gross-yield spread. Management leverages the spread by an approximate 8x. Gary Kain, the Chief Investment Officer, and staff hedge the MBS portfolio to mitigate losses. American Capital Agency currently yields a 13.8% annual dividend yield.
The mREIT is a different business model than the Mortgage Servicing Rights' business model. Both are appealing and have unique challenges and opportunities.
Kinder Morgan, Inc. (NYSE:KMI)
Kinder Morgan, Inc. owns the General Partner interest of the aggregate Kinder Morgan businesses. As the General Partner, Kinder Morgan receives Incentive Distributions from Kinder Morgan Energy Partners, L.P. (NYSE:KMP). The dividend yield is 35 cents per quarter. Based upon a $36.23 equity price, the annual yield is 3.9%. I believe it is time to buy based upon a growing dividend yield.
Kinder Morgan has returned 23.16% since the February 11, 2011 initial public offering.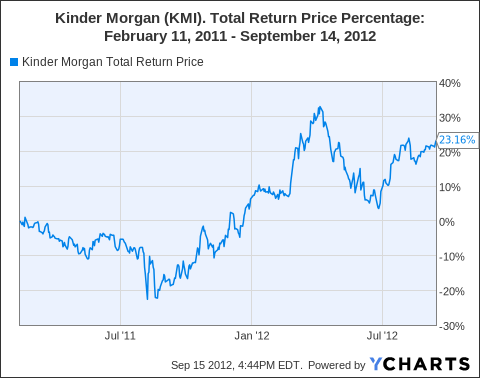 KMI Total Return Price data by YCharts
Positive Business Factors
Richard Kinder, management, and original shareholders own 28%. I respect management with skin in the game. The management team has a financial incentive in the company's success. Its financial well being is aligned with my desire for a growing income flow.
Kinder Morgan's General Partner interest will benefit by the closing of the El Paso Pipeline Partners, L.P. (NYSE:EPB) deal. Kinder Morgan owns 44% of El Paso Pipeline Partners. El Paso Pipeline Partners is a midstream enterprise focused upon the interstate storage and transportation of natural gas. The core locations include Wyoming, Colorado, Georgia, and South Carolina.
Kinder Morgan Energy Partners Distribution Growth
Kinder Morgan Energy Partners, L.P. continues to increase distributions. The growth continues via acquisitions, General Partner drop downs, and capital expenditures. The below chart highlights the proven growth in annual distributions: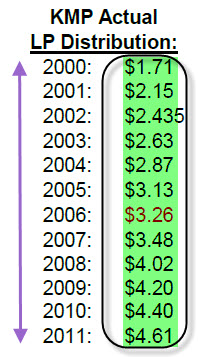 Avoid Kinder Morgan Energy Partners, L.P.
The above distribution growth is the reason to not buy Kinder Morgan Energy Partners, L.P. The June 7, 2011 presentation (pdf) has convinced me to avoid the Kinder Morgan Energy Partners units.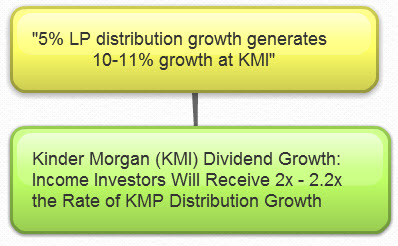 The General Partner dividends will grow 2x - 2.2x as fast as the Kinder Morgan Energy Partners' distribution growth. This is due to the power of Kinder Morgan General Partner Incentive Distribution Rights. The investor presentation, page 24, assumes Kinder Morgan Energy Partners unit holders distributions grow at a 5% per annum rate. A 5% partnership distribution hike increases the Kinder Morgan General Partner distributions at an annual 10-11% annual growth rate. I believe an income investor will benefit by owning the General Partner and avoid the partnership units. The dividend growth is double or more than the partnership growth.
Action
I believe Newcastle Investment is a buy at today's price. The dividend is an attractive 10%. The company has an excellent external manager with ties to the Fortress Group. The Mortgage Servicing Rights business model offers ample opportunities in a low-interest rate environment.
Kinder Morgan, Inc. has proven it can successfully make money year over year. The midstream business model is an attractive toll-booth strategy. Management owns a significant stake. The acquisitions are focused upon providing shareholders dividend growth. I believe the Kinder Morgan General Partner is an excellent buy at today's prices.
Disclosure: I am long FIG, AGNC, NCT, KMI. I wrote this article myself, and it expresses my own opinions. I am not receiving compensation for it (other than from Seeking Alpha). I have no business relationship with any company whose stock is mentioned in this article.