Introduction
I am a retired, self-directed investor with a modest pension that covers my basics, and a small IRA that I'm investing in individual stocks using the U.S. Dividend Champions list kept by Seeking Alpha author David Fish, better known as the Dividend Champions, Contenders & Challengers (CCC lists). This is my version of an old method known as the "Dogs of the Dow" combined with Dividend Growth Investing (aka DGI), a sort of "DGI Lite" method started in November 2011. How this strategy came about is detailed in my previous articles, Confessions of a 'DGI Lite' Investor and Confessions of a 'DGI Lite' Investor - Part 2: Creating The DGI Lite Portfolio.
Meet The Dogs
In November 2011, I bought 5 of the highest-yielding stocks (aka Dogs) over 6% yield from the October 2011 combined CCC lists, excluding Master Limited Partnerships (aka MLPs). Within 2 months, 3 of them failed to raise their dividends, and I held onto them longer than I should have before I sold (mostly at a loss) and replaced them. In August 2012, I decided to go back over the CCC lists to come up with some guidelines and rules for my portfolio creation as I went along. I didn't have this method in place back in November when I started my actual portfolio, doggone it, so my actual portfolio isn't an exact match to this one. However, these are the actual thought processes I went though as I was building my own supplemental portfolio. This method is based on only ONE metric, and that's yield. It completely ignores the business fundamentals, and therefore carries much more risk that things can go south in a hurry, so you know the drill, don't try this at home! (Also known as "Always do your own due diligence.")
These are the rules I developed as I went along:
Rule #1 - Sell and replace any CCC stock that doesn't raise the dividend, the sooner the better. (Kick any Dog out of the kennel that isn't pulling its weight! )
Rule #2 - Don't buy any CCC stock while it's in the red (has red dates) on the CCC lists. (Stay away from any Dog that's in The Big Red Doghouse!)
Rule #3 - Only buy American CCC stocks that pay at least quarterly. (Only buy good ole homebred Dogs that delivered dividend puppies as frequently as possible.)
I set up a hypothetical DGI Lite portfolio using the October 2011 CCC list while following those rules.
| | | | | | |
| --- | --- | --- | --- | --- | --- |
| Stock | Price | Qtr Div | Yield% | Shares | Amount |
| Omega Healthcare OHI | $17.56 | .4000 | 9.01 | 284 | $4987.04 |
| Old Republic Intl ORI | $8.84 | .1750 | 7.92 | 565 | $4994.60 |
| Pitney-Bowes Inc PBI | $20.38 | .3700 | 7.26 | 245 | $4993.10 |
| PennantPark Inv PNNT | $10.72 | .2800 | 10.07 | 466 | $4995.52 |
| Senior Housing Prop SNH | $22.44 | .3800 | 6.77 | 222 | $4981.68 |
| Triangle Capital TCAP | $18.11 | .4700 | 10.38 | 276 | $4989.88 |
| Vector Group VGR | $17.57 | .4000 | 9.11 | 284 | $4989.88 |
| | | Avg Yield: | 8.71 | Total: | $34,940.18 |
Dividend Puppies Are Everywhere!
At the end of March 2012, the DGI Lite portfolio would have $766.76 in dividends, plus $432.85 from the end of the partial fourth quarter of 2011, a total of $1199.61 warm and fuzzy dividend puppies now underfoot. (This is detailed in the previous article.) The Dogs' closing prices looked like this on 3/30/12 according to the March 2012 CCC lists:

More Dogs Per Kennel
Since the aim of this portfolio is to grow the dividend income, what's the best way to accomplish that? Automatic dividend reinvestment (aka DRIP) programs are a good way to do that if your brokerage allows it and if you don't mind dollar cost averaging. My brokerage doesn't offer DRIPs, so keeping those dividend puppies until the end of each quarter and then adding them (reinvesting) is a good way to increase the number of Dogs per kennel. There are several ways to go about that. Since they don't add up to a whole lot yet, it makes the most economic sense to invest it all in one Dog at the moment and only pay one commission. So I could reinvest the dividends into the Dog with the biggest price drop and corresponding biggest improvement in yield, and thereby averaging down on the price and increase the yield a bit. Or I could reinvest into the Dog with the highest yield, regardless of an increase or not. The third alternative would be to trade some of those puppies in and buy a new Dog.
The best improvement in yield comes from Pitney-Bowes. How much would the income increase if dividends were reinvested in PBI? Rounding down from $1199.61 to allow for the commission, so $1180 / $17.58 = 67 shares. Added to the original 245 shares would be 317 shares x .3750 dividend = $117.00, or $25.12 more per quarter over the original $91.88.
The highest current yield is in PennantPark, so how much would the income increase if invested in more PNNT instead? $1180 / $10.40 = 113 shares. Added to the original 466 would be 579 shares x .2800 = $162.12, or $31.64 more per quarter over the original $130.48.
Adding A New Dog To The Pack?
Now what about adding a new Dog to the pack? The highest-yielding Dog on the March 2012 CCC lists above 6% yield (excluding MLPs) that isn't already in the pack is:
Stock Price Qrtr Div Yield
Dynex Capital (NYSE:DX) $9.55 .2800 11.73%
Buying $1180 of DX would be 123 shares x .2800 = $34.44 more per quarter. The highest yield always adds the most income. Maybe it's time to add a new Dog to the Pack! Another easy rule: Always go with the fastest Dog -- add a new Dog to the Pack when it can outrun the current Pack!
Easy Rule #4 - Add a new CCC stock when it will raise the overall yield, otherwise reinvest in the highest yielder.
How does that change the current portfolio? With that change, the current totals as of 9/8/12 are now: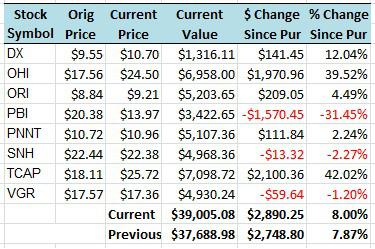 Previous Stock gains: $2748.80 + Dividends: $2328.05 = Total portfolio gain: $5076.85 = Total Portfolio Value: $40,017.03 = 14.5% Previous Total Return as of 9/8/12.
New Stock gains: $2890.25 + Dividends $812.32 from 2nd Quarter + $368.56 so far in September = Total portfolio gain: $4071.13 = New Total Portfolio Value: $40,185.96 = 15.0% as of 9/8/12
Best of all, my dividend income increased from $766.76 in the first quarter to a previous second quarter income of $777.88, and now to a new $812.32 in the second quarter with the addition of the dividend from our new Dog, Dynex. Good Dog!
More Dog Shopping?
At the end of June 2012, I would have $812.32 in dividend puppies to add to my Dogs. Back to the CCC list for June 2012, and it appears the same faithful Dogs are still heading up the high-yielders over 6% (excluding MLPs):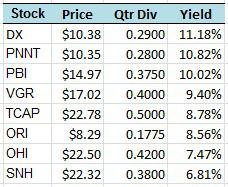 Since there are no new CCC Dogs that qualify, the top 3 yielders are the best candidates for reinvestment. How much Dog for the kibble can I get with each? Dynex has the highest yield, it will most likely be the best choice, but just to be sure (rounded down to $800 to allow for commission and to keep an extra few dollars in cash):
DX would be $800 / $10.38 = 77 shares x .2900 = $22.33 additional income per quarter
PNNT would be $800 / $10.35 = 77 shares x .2800 = $21.56 additional income per quarter
PBI would be $800 / $14.97 = 53 shares x .3750 = $19.88 additional income per quarter
Since the Dynex Dogs kennel has the most room and that Dog has been running the fastest, time to trade in some more puppies to add more Dynex Dogs, bringing the total shares to 200. That brings the new predicted third quarter income to $841.40, up from the original of $783.40, an additional $58.00 per quarter. Who's a good Magic Dividend Dog!
At some point, one of the kennels may get too full, or some of the Dogs may get too fat, and just where are these Dogs headed anyhow? Maybe it's time to set some goals and decide how to manage this Pack of Dogs! More Adventures in Investing are to come in Confessions of a 'DGI Lite' Investor, Part 4: Managing the DGI Lite Dog Pack.
Please note this light-hearted look at my "Adventures in Investing" is not meant as advice for anyone else, nor in any way to demean those who take investing as serious business. I am fortunate that I have a pension and can afford to indulge my adventurous little heart with my investments.
Disclosure: I am long DX, OHI, PBI, PNNT, VGR. I wrote this article myself, and it expresses my own opinions. I am not receiving compensation for it (other than from Seeking Alpha). I have no business relationship with any company whose stock is mentioned in this article.