Due to the financial crisis in 2008, Citigroup (NYSE:C) was forced to sell off assets in order to rebuild its capital ratios and to pay down TARP borrowings. On January 13, 2009, Citigroup and Morgan Stanley (NYSE:MS) announced that the firms had decided to merge each firm's brokerage business into a new joint venture called Morgan Stanley Smith Barney LLC. Citigroup contributed its Smith Barney brokerage for $2.7B in upfront cash and a 49% stake in MSSB, while Morgan Stanley contributed its Global Wealth Management Group (the key business in that division was its retail brokerage operations). As part of the deal, Morgan Stanley had the right to steadily increase its ownership stake in the JV and was looking at acquiring total control around 2014 or 2015. On June 1, Morgan Stanley exercised its right to increase its ownership stake in the JV from 51% to 65%. Citigroup had valued MSSB at $22B while Morgan Stanley naturally valued it at a much lower price. To settle this difference, Perella Weinberg was called upon to provide an independent valuation of MSSB. Considering that Perella Weinberg's Founding Partner Joe Perella was an executive of Morgan Stanley from 1993-2005, we think Citigroup should have asked for a more independent firm to value MSSB. On September 11, Perella Weinberg announced that it valued MSSB at less than $15B. Despite the fact that Citigroup will incur an impairment of $2.93B on MSSB, we modeled the impairment in our August report on Citigroup and were expecting a larger impairment.
Morgan Stanley Smith Barney LLC was formed on June 1, 2009, and so far it has not performed in the manner that we were expecting it to. In 2008, legacy Morgan Stanley generated $1.15B in pre-tax operating income in its Global Wealth Management Group. Despite the addition of Smith Barney to form MSSB, MSSB's 2011 pre-tax operating income was only $1.28B. MSSB's H1 2012 revenue declined by 2% versus H1 2011 levels; however, the firm saw its pre-tax operating profit increase by 18% on the strength of cost cuts in compensation and other operating expenses.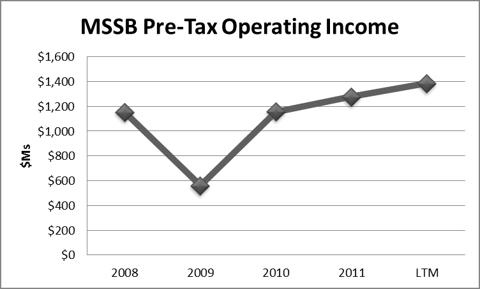 Source: Morgan Stanley's last four earnings releases
While Citigroup will incur a $4.7B pre-tax asset impairment ($2.93B post-tax), at least it wasn't the $6B post-tax impairment that it was looking at if Morgan Stanley's $9B bid was accepted. Citigroup will be receiving $1.89B from Morgan Stanley and will be transferring 14% of its 49% interest in MSSB to Morgan Stanley. It has been confirmed at Morgan Stanley will be dropping the Smith Barney from Morgan Stanley Smith Barney and will rename the venture Morgan Stanley Wealth Management at a later date. While it is a disappointment that the valuation of Morgan Stanley Smith Barney LLC has been set at $13.5B by Citigroup and Morgan Stanley, at least this will avoid the knock-down drag-out tussle that Citigroup and Morgan Stanley had been heading towards with regards to controlling the unit.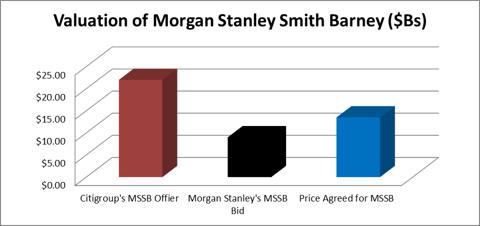 Source: Dealbook
In a way, we were not surprised that Citigroup had long considered the Smith Barney unit to be a non-core asset. Despite the fact that Smith Barney was a large financial services company in its own right before Travelers Group merged with Citicorp, Smith Barney's importance to the new Citigroup was significantly lessened with the addition of Citibank. This was also exacerbated by Citigroup splitting Salomon Brothers off from Smith Barney and merging it with Citigroup's investment banking arm to form Citigroup Corporate & Investment Banking. The next transaction that reduced Smith Barney's size was the sale of Smith Barney's Asset Management operations to Legg Mason in exchange for Legg Mason's brokerage business. As Citigroup has shifted its focus away from investment management and advisory services and towards largest institutional operations like investment banking, corporate banking and transaction services, we can see why Smith Barney had become a non-core asset.
In conclusion, we are never happy to see our portfolio companies incur asset impairments especially on assets that have well-known brand names like (Morgan Stanley) Smith Barney. However, we are also aware of the fact that Citigroup's Minority Interest in MSSB is part of its Citi Holdings non-core bad bank assets. Citi Holdings is the business unit that holds all the assets that Citigroup is looking to unload. While Smith Barney was a gem of an asset when owned by Citigroup and its predecessors, the Morgan Stanley Smith Barney Joint Venture has not performed as well as everyone anticipated. Morgan Stanley's valuation victory is somewhat pyrrhic in that MSSB was supposed to be one of its star performers and to provide steadier performance relative to its Investment Banking unit. We were relieved that Citigroup would only incur a $2.93B after tax write-down rather than a potential $6B write-down if the unit was valued at Morgan Stanley's $9B bid. Now that the valuation of MSSB has been fixed at $13.5B, Citigroup will sacrifice potential upside if MSSB's fortunes improve. If MSSB's fortunes remain weak, however, Citigroup will deal with lower downside to the value of its remaining 35% interest. Citigroup will also take nearly $1.9B in cash for this asset and use it for core business operations.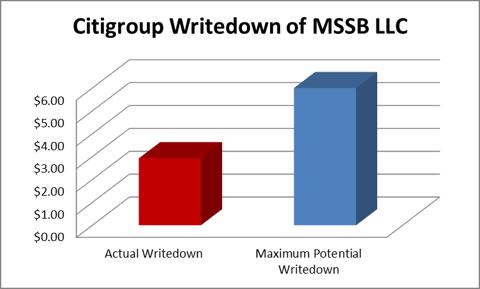 Sources: Dealbook and Bloomberg
Disclosure: I am long C. I wrote this article myself, and it expresses my own opinions. I am not receiving compensation for it (other than from Seeking Alpha). I have no business relationship with any company whose stock is mentioned in this article.
Additional disclosure: This article was written by an analyst at Saibus Research. Saibus Research has not received compensation directly or indirectly for expressing the recommendation in this article. We have no business relationship with any company whose stock is mentioned in this article. Under no circumstances must this report be considered an offer to buy, sell, subscribe for or trade securities or other instruments.