Despite the fact that we were impressed with First Solar's (NASDAQ:FSLR) Q2 2012 recovery with regards to revenues and profits, we're still not fans of the solar companies. As sympathetic as we are to alternative energy sources, we noticed that these companies have been largely spilling red ink despite receiving billions of dollars in direct and indirect subsidies. We had expressed concern that the weakness in the solar industry was beginning to catch up to First Solar before its most recent quarter in which it benefited from the sale of larger scale solar power generation projects to offset the revenue and profit declines from its consumer solar panel business. While First Solar has yet to recapture the momentum it enjoyed from its IPO up until 2010, we can safely say that at least it isn't Trina Solar (NYSE:TSL). We can make this conclusion because First Solar has a significantly larger presence in the solar power generation project segment than Trina, which relies primarily on consumer oriented solar module components. This helped First Solar generate nearly 2.8X as much revenue as Trina Solar in the Q2 2012 period.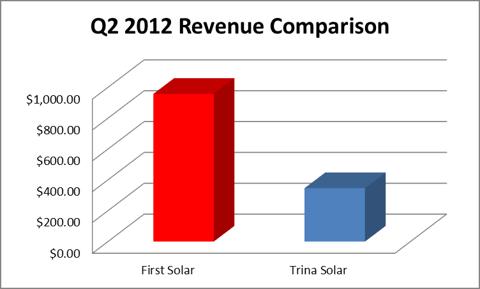 Sources: First Solar and Trina Solar Q2 Earnings Releases
Despite the fact that First Solar had nearly 2.8X as much revenue as Trina, First Solar's operating expenses for the quarter were 3% less than Trina's. Granted, Trina's operating expenses were negatively impacted by a $44.1M provision for accounts receivable written off. Even if we adjust the operating expenses to exclude this expense, First Solar's operating expenses represent a significantly lower proportion of its revenue than Trina Solar. Despite the fact that First Solar has shifted its gears to low-margin, high volume solar power generation projects, it still had a higher gross margin than Trina.

Sources: First Solar and Trina Solar Q2 Earnings Releases
We had also expressed our admiration for the fact that First Solar was probably the only solar company to be able to dramatically shift its focus from solar panels to large scale power generation projects. Notable companies who purchased First Solar's solar farm power plant projects include Berkshire Hathaway's MidAmerican Energy division (NYSE:BRK.A), Enbridge (NYSE:ENB) and Exelon Corp (EXC). First Solar sold Topaz to MidAmerican last year and recognized revenue from the Antelope Valley project sold to Exelon during the quarter. First Solar also delivered the Silver State North Solar Project to Enbridge in May. This project was funded in part by $50M in "stimulus money" and was developed because Nevada's Government requires 25% of power generated in Nevada to be from "green energy sources." NV Energy (NYSE:NVE) signed a 25 year power purchase agreement with Enbridge to purchase all the power generated by Silver State North at 13 cents per kilowatt hour. This is nearly three times the amount the company pays for natural gas and four cents more than it pays for geothermal.
We can see a clear difference in the outlook that each company has given for the Q3 2012 period. Trina Solar has reported an increase in its inventory ($112M on a linked quarter basis and $237M on a year-over-year basis) and cuts to its estimated module shipment volumes for the Q3 2012 and the FY 2012 period. FY 2012 shipments have been guided down from 2-2.1 GW previously to 1.75-1.8 GW currently. In contrast, First Solar has increased its guidance for revenue and EPS. First Solar increased the lower end of its revenue guidance range by $100M to $3.6B and increased its EPS by $.20 from $4.00-$4.50 to $4.20-$4.70.
In conclusion, we are still bears on the solar industry. However, we can safely conclude that First Solar has more upside potential and less downside risk than Trina Solar. While Trina Solar has more revenue and profit from consumer oriented solar panels, we believe that First Solar is engaging in a strategic retreat from this segment. We see First Solar reorienting its operations away from consumer oriented solar modules and towards institutional oriented solar power generation systems projects. This is helping First Solar solidify its position as the solar industry's leader when it comes to profit generation and revenues. Well-known utilities such as Berkshire's MidAmerican Energy subsidiary and Exelon have purchased solar system power generation projects from First Solar.
We would prefer to see if First Solar can generate continued revenue stability and growth before we initiate a long position with our seed capital for our portfolio book. However, we can see that First Solar has better financial performance than Trina Solar, a sturdier balance sheet and is not subject to the new solar tariffs passed by the US government. Also, we like the fact that First Solar has to release its statement of cash flows quarterly whereas Chinese companies like Trina only release it annually. While we can piece together a statement of cash flows from Trina's results, we find it more time efficient to look at an already prepared cash flows statement rather than build it from scratch ourselves. Building a cash flow statement from scratch may be important for college freshman taking their first accounting classes however we are investment professionals and don't need to bother building it from scratch when we have firms that already prepare it for us even though said firms are aware that we can build it ourselves.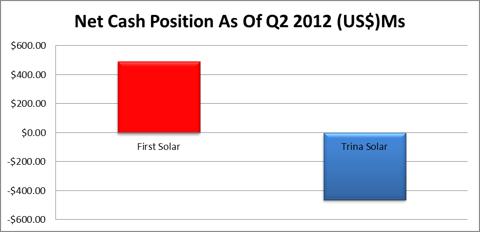 Sources: First Solar and Trina Solar Q2 Earnings Releases
Disclosure: I am long BRK.B. I wrote this article myself, and it expresses my own opinions. I am not receiving compensation for it (other than from Seeking Alpha). I have no business relationship with any company whose stock is mentioned in this article.
Additional disclosure: This article was written by an analyst at Saibus Research. Saibus Research has not received compensation directly or indirectly for expressing the recommendation in this article. We have no business relationship with any company whose stock is mentioned in this article. Under no circumstances must this report be considered an offer to buy, sell, subscribe for or trade securities or other instruments.