Here's a fundamental look at NYSE:IBM.
Warren Buffett has said that he has been reading IBM annual reports for over a decade.
Even if Buffett has read that many annual reports and followed the company for so long, I believe that he doesn't know much about mainframes, servers, other hardware, software and all the technical consulting they do. So what did Buffett see?
I hope to answer that question by going through the fundamentals.
Quick Summary
IBM is worth between $227 to $340 based on a conservative to aggressive valuation. This is still higher than today's current stock price and with great fundamentals, it is clear that this is the type of stock that Warren Buffett loves to invest in for the long term.
IBM Overview
Here's a dashboard of IBM from the OSV stock valuation spreadsheets for you to review.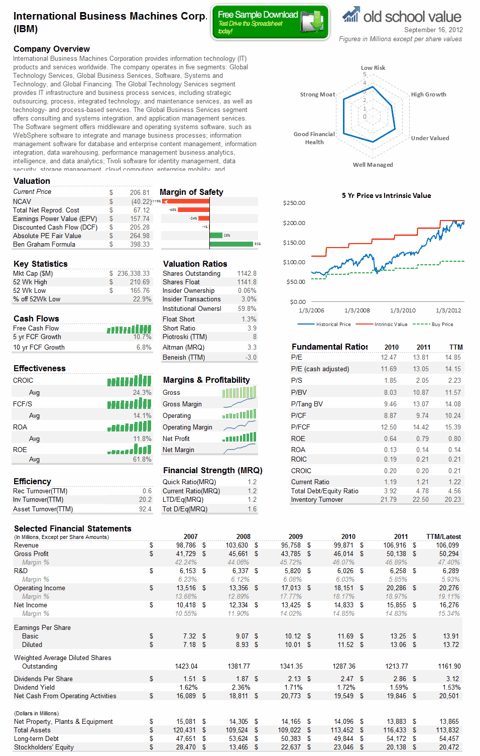 10 Year History
In the business world, the rearview mirror is always clearer than the windshield. - Warren Buffett
Predicting the future is a very difficult task, but for juggernauts like IBM, Buffett's quote is dead on. These companies cannot switch directions or perform a turnaround as quickly as the small companies. Therefore, the rearview mirror is a good indicator or what the future will bring.
Judging from the 10 year historical ratios, IBM has been having its best years since 2008. Even through the financial crisis, IBM has been generating returns that exceed its cost of capital, ultimately creating shareholder value.
Look at how IBM has been consistent with performance and the market has been valuing IBM at consistent levels also. You see that from 2008 onwards, IBM has really kicked it up a notch.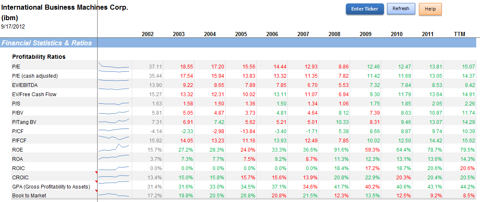 Financially, the company is very well managed. I say this because the balance sheet metrics are very consistent throughout the past 10 years and today.
The quality scores based on Piotroski, Altman Z and Beneish models also show that IBM is a safe bet. Safe, predictable and clean accounting.
DCF Model Shows 9.8% Upside
One reason why I say with confidence that IBM is a better company today than earlier in the decade is because all the ratios that I deem important has seen great improvement.
Take a look at the median over the past 5 years compared to the past 10 years.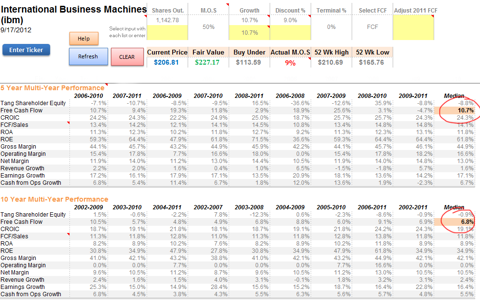 Everything from FCF, CROIC, FCF/Sales has improved.
All up, this brings IBM's fair value based on DCF to be $227.
As an additional check, a reverse DCF shows that the market is expecting 9% growths in cash flow.
Ben Graham Says IBM is $340
A single DCF model should not be the only valuation method you use. You need to use different views and models to get an overall picture and with the Graham Formula, you get to value a stock with earnings.
Using the analyst estimate of $15.14 in earnings, and 5 year earnings expected growth rate of 10.7%, the intrinsic value comes out to be $341.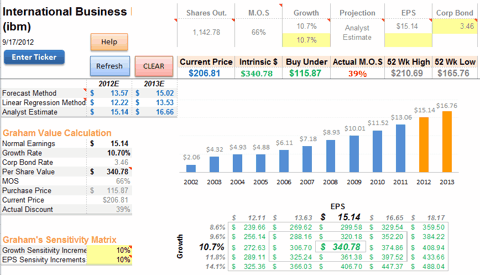 $265 Target Price if Using Adjusted PE Method
The absolute PE valuation model is one that I have been using quite regularly of late and is showing great promise in its simplicity to judge a company.
The current PE is 15 at the time of this writing, but when making adjustments based on the quality of IBM's business, financial status and earnings predictability, IBM scores a fair value PE of 19.31 which makes it worth $265.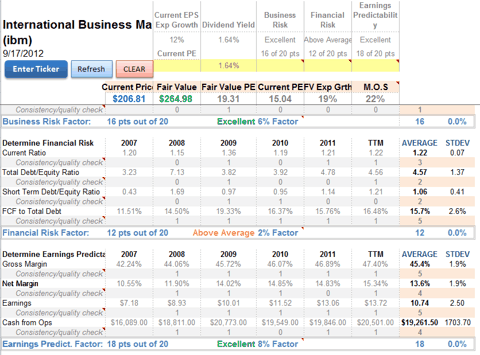 Back to Buffett
Buffett has always made it clear that he wants a company with a competitive advantage and lasting moat.
One way to quickly identify that through fundamental numbers is by using the following method. I won't go through all the calculations, but this graph sums it up nicely for IBM.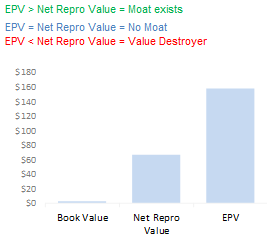 Note that the EPV is much higher than the Net Reproduction Value which means that IBM has great earnings power and a moat exists.
Comparing to Competitors
Compared to its competitors, IBM certainly is not the cheapest stock, but Buffett's methodology changed from buying cheap stocks to great stocks. Looking at the competitors side by side, you get a sense that IBM is a solid company.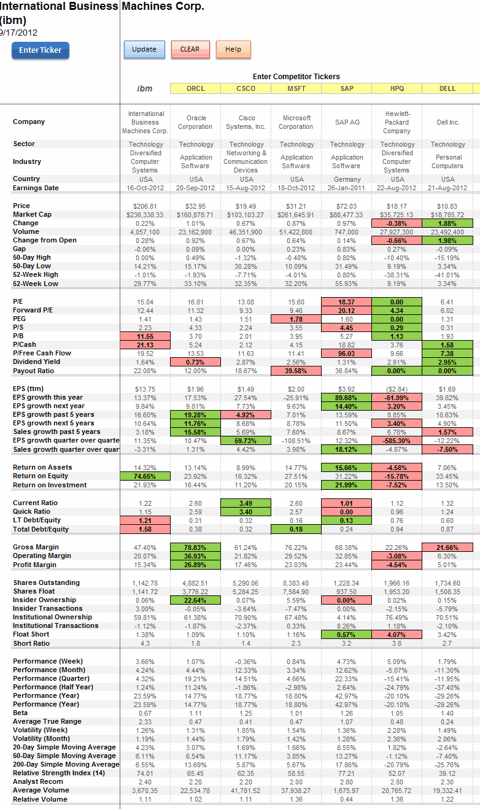 What Did Buffett See?
I believe Buffett saw an improved company with a sustainable moat capable of creating returns that exceed its cost of capital, but most importantly, an investment where Buffett could allocate billions because he is confident that it will continue to compound his money for the long run. Many people believe buy and hold is now dead, but looking at the way chooses his stocks, he doesn't believe so.
Disclosure: I have no positions in any stocks mentioned, and no plans to initiate any positions within the next 72 hours. I wrote this article myself, and it expresses my own opinions. I am not receiving compensation for it (other than from Seeking Alpha). I have no business relationship with any company whose stock is mentioned in this article.