In the last decade or so, various large tech companies have been making the transition from growth to value stocks. Aside from shoring up balance sheets and a slowing of growth, many of these firms now also offer fairly safe dividends. Cisco Systems (NASDAQ:CSCO) is an example of one of these tech value plays. Cisco designs, manufactures, and markets network and communication-related products for the IT industry. Cisco's customers are public institutions, businesses, and private consumers. With a market cap of almost $105 billion, Cisco is the largest manufacturer of switches and routers. At the moment, it is also priced attractively compared to the industry.
According to CNBC, Cisco trades at 13.1x TTM earnings, a substantial discount to the 21.2x industry average. Also, this multiple is historically low at the moment, although this seems to be the case across the sector. The company has a nice 23% operating margin and a very manageable LT debt-to-equity ratio of 31.8. Currently, the dividend yield is at 2.87% which is sustained by a healthy payout ratio of only 18.7%. As such, the stock's dividends seem to be very safe indeed, if one is willing to put up with the stock's 1.25 beta.
Cisco's earnings have been impressive this year, with earnings beats in both quarters. Take into account that earnings expectations have been quite modest as well. Q2 came in especially strong with excellent results in the Asia-Pacific region, although Europe remains problematic in terms of sales. The company also hiked dividends from 8 cents to 14 cents in the last earnings release, and issued a rather upbeat guidance for the rest of the year. The company's cash position is enviable, with about 20% of its total market cap available in liquidity. This allows the firm to continue investing in research and development, which should secure its competitive edge in years to come. The greatest threats to Cisco's sales are increasing competition from cheaper Chinese manufacturers and the cautious outlook of its management amid layoffs and spending cuts.
As its products form a crucial link in internet infrastructure worldwide, Cisco stands to gain from increasing internet penetration across the world, although its growth prospects are far more limited in the saturated markets of the West. As a fairly wide moat company, Cisco has few serious competitors of its size, especially in the upper range segment of its router division, in which it has a market share of over 50%.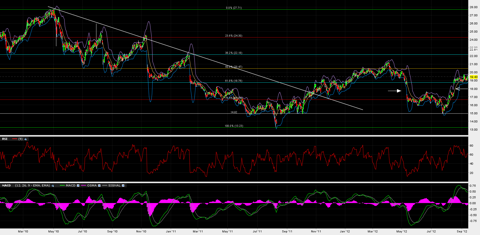 Juniper (NYSE:JNPR), a US competitor, is priced at over 40x earnings at the moment, does not offer a dividend, and is down over 6% in the last 12 months. Qualcomm (NASDAQ:QCOM), another major player in the world of telecommunications equipment, has also been doing rather well with earnings this year, although it is priced at a less attractive 18x earnings. The firm has virtually no debt, and also offers dividends. Qualcomm appears to be another of these telecommunications giants that is making the transition from a growth to a value play.
As the tech industry matures and settles down, it is becoming increasingly interesting to longer-term value investors. With a nice, stable dividend, Cisco seems to offer relative stability in the tech sector, while rewarding investors for their time. Earnings have been coming in well this year, and the outlook for 2012 is a lot better than at the beginning of the year. As such, Cisco may be worthy of consideration for value investors looking to play the tech sector.
Disclosure: I have no positions in any stocks mentioned, and no plans to initiate any positions within the next 72 hours. I wrote this article myself, and it expresses my own opinions. I am not receiving compensation for it (other than from Seeking Alpha). I have no business relationship with any company whose stock is mentioned in this article.