Property & Casualty Insurer Travelers (NYSE:TRV) moved markedly higher early last week, driven by a strong presentation by CEO Jay Fishman at Barclays Financial Services Conference. I recommend it for anyone with an interest in the company. Mr. Fishman brings a calm and methodical approach to bear, and the material presented is factual and informative.
After reviewing the data provided, I suspect that intrinsic value is higher than the market recognizes, because the bulk of the company's profits come from a very high quality fixed income portfolio.
Fixed Income Portfolio
From the presentation: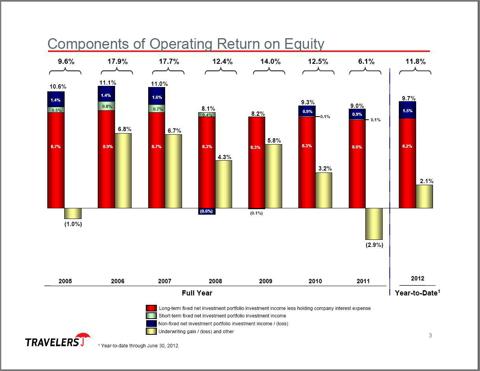 The largest and most stable contribution to ROE comes from the fixed income portfolio. ROE has averaged 12.9% over the past 7 years: 8.5% from long-term fixed income, 3.3% from underwriting profit, 1.1% from short-term and other. Underwriting results vary substantially year to year, driven by cyclical trends in pricing, unpredictable catastrophes, increasing hail and tornado losses, and loss reserve developments.
The bond portfolio produces an extremely stable flow of profits, and held steady in 2008-2009. Current low interest rates will have an effect, but not as severe as many imagine. Management has done a good job of quantifying this effect, looking out as far as 2015. It works out to a 0.4% reduction in ROE for the coming year. The logical conclusion is, that premium rates must increase to compensate, an issue that is being forcefully addressed, currently at 7% per year.
This gets back to Warren Buffett's thinking on the value of insurance company float. I did an article on the topic back in March this year, which drew a nice comment stream and discussion. Travelers is doing a very good job investing the float.
The company emphatically does not chase yield, and will not be moving into other asset classes in an effort to compensate for low returns. Asset maturities have been held somewhat shorter than liability maturities, in the interest of being prepared for increased rates.
Traveler's shareholders own a high quality bond portfolio, as the primary asset. The forward P/E of 11.0 seems low, when compared to the source of the earnings. Share buybacks have contributed to a steady increase in book value per share, 9.6% annualized since 2005.
Catastrophe and Returns
Catastrophes such as hurricanes and earthquakes present a separate challenge - tail risk. Modeling and pricing these exposures is difficult, to say the least. Allstate (NYSE:ALL) bought the farm on Katrina, due to the lack of reinsurance coverage.
Travelers buys reinsurance where it is cost effective, but does retain exposure to catastrophes. In the 10-K, the company presents model results for a 1,000 year loss, which they quantify at 25% of shareholders equity.
Catastrophe bonds have become popular as a substitute for reinsurance. These bonds pay a relatively high rate of interest, but the investor forfeits his principal in the event a defined catastrophe occurs. American International Group (NYSE:AIG) subsidiary Chartis issued US Catastrophe bonds maturing in 2015 to yield between 9.0 and 11.25 percentage points above three-month Treasury bills.
An investor in Travelers faces exposures similar to a catastrophe bond, for about 25% of the fixed income he receives.
Valuation
It's difficult to separate what the market will pay for a company's stock from its intrinsic value. According to the old aphorism, a stock is worth what someone will pay you for it.
Getting back to the idea that a Travelers shareholder owns a high quality bond portfolio, the historical P/E is low. If the market continues to discount the shares, buybacks will continue to create shareholder value. If at some future date, the market prices the shares consistent with the underlying assets, shareholders will get a nice bonus.
In a previous article, I suggested a price target of $70, based on recent historical average earnings and multiples. After thinking about the role of the bond portfolio in creating ROE, I see intrinsic value of $91 per share. Here's how I did the math: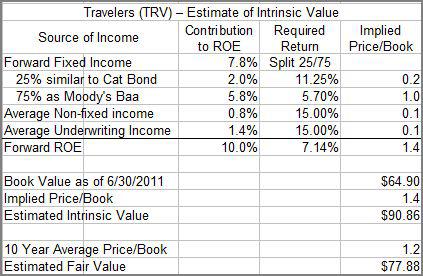 The underlying math is, ROE divided by required return = implied price/book. The 11.25% required for the catastrophe exposure was derived from the AIG/Chartis bonds mentioned earlier. The 5.7% yield for Moody's Baa is well above the current: it's my impression of what a "normal" yield would be. The 15% is a rule of thumb I use for speculative equity investments. The 1.4% underwriting income is a 7-year average, but does not include favorable reserve development, which has contributed 1.9% on average.
As a way of getting at the quality of the portfolio, here's a clipping from the 10-K: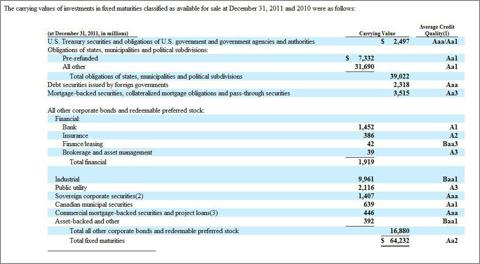 When consideration is given to Aa2 average credit quality, estimates suggest that Travelers is trading considerably below its intrinsic value. Most likely it will continue to do so.
Dividend
The dividend is 46 cents quarterly, yielding 2.68% at a recent price of $68.58. It was cut in March 2004, but since then has been raised on an annual basis, a 10% annualized rate. That's consistent with the increase in book value for the same period.
The stock is suitable for dividend or dividend growth investors.
Strategy and Tactics
At today's prices, buy and hold or dividend growth investors have a reasonable expectation of receiving an increasing flow of dividends, together with eventual share price appreciation. A better entry point may become available.
The stock is in the vicinity of 52-week highs, and the market has been hitting new multi-year highs. Investors who have opinions on the multiple macro issues confronting the market will govern themselves accordingly. By way of technical analysis, here's a chart: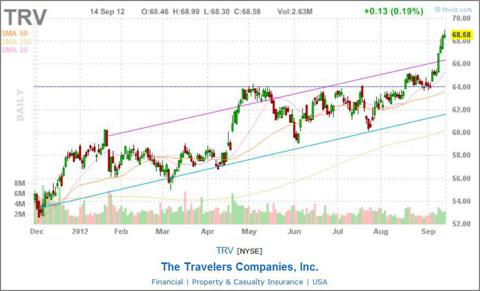 The pattern is a rising channel, logically consistent with the long-term 9.6% annualized increase in book value. A natural approach here is to try to buy the stock somewhere between the middle of the channel and the lower boundary.
Shares are optionable, including LEAPS. Open interest is concentrated at the 65 strike, with spreads running about 20 cents. Open interest on the deep in the money LEAPS that I prefer is small, and published spreads are very wide for the January 2014 expiration.
I've been expressing bullish views on TRV since April 2010, with a mixture of diagonal and vertical call spreads. IRR, if the shares are above $65 at the January expiration, will be 61%, for a 21-month trade. I'm pleased as punch. My upside is capped by the sale of Jan 2013 65.0 covered calls. I would welcome the opportunity to extend the trade if TRV will get down under $65 for a bit.
A Digression - Valuation and Bull Markets
Analysts have a bad habit and tendency to raise valuations and price targets to keep up with a rising market. In its worst manifestation, the offender, having been correctly bullish for months or years, issues a final moonshot call at the peak of a parabolic upturn. I'm thinking of $250 oil back in 2008.
My preferred valuation methods are market-driven, and rely on a combination of forward and historical information. Looking at forward metrics, I apply recent (five-year) historical average multiples to develop a target price and fair value. While logical, this approach has a recency bias, and presents problems when applied at market turning points.
The line of thinking presented in this article is logical, and food for thought. It can be applied equally well to Chubb (NYSE:CB), but not to other P&C carriers that I'm aware of. The problem is, most of them don't have the same quality fixed income portfolios. Realized investment losses in the 2008-2009 financial crisis, incurred by the likes of Hartford Financial (NYSE:HIG) and Allstate, preclude this type of analysis. Progressive (NYSE:PGR) writes primarily low limit non-standard auto, which is an underwriting cash cow, and investment returns aren't a primary driver of value.
My opinion on Travelers, after this exercise, is strengthened in the conviction that the company is a very-long term quality investment. If the market will consistently permit the investor to buy below intrinsic value, the best way to respond is to play along, buying on the dips and refusing to chase, while exerting a little caution about selling.
Disclosure: I am long TRV, CB, HIG. I wrote this article myself, and it expresses my own opinions. I am not receiving compensation for it (other than from Seeking Alpha). I have no business relationship with any company whose stock is mentioned in this article.