QR Energy, LP (NYSE:QRE) operates as an upstream MLP. It engages in the acquisition, exploitation, development, and production of crude oil and natural gas properties in the United States. Aside from its relatively small market cap, which some construe as risky, the company is taking steps to ensure revenue consistency and performance stability. QRE's assets are primarily onshore in the US. Also, an extensive hedging program, allows clarity on future revenues.
Assets:
Overall, QRE's assets are low cost and predictable, considering 89% of proven reserves and 85% of total production is based onshore in Texas and Lousiana. It is certainly attractive to have minimal exposure to the will of foreign governments and deep water wells by focusing on mainland drilling.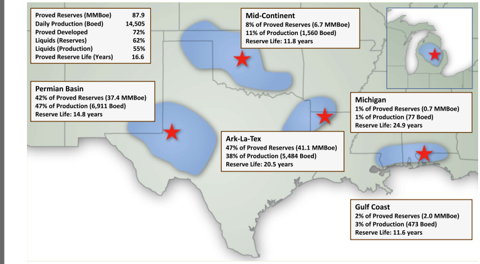 Production:
QRE is focused primarily on oil, but still has significant gas production due to favorable prices it has guaranteed through an extensive hedging program. 67% of 2Q'12 revenue was from oil, while 23% was from Nat. Gas, and only 10% was NGL's. QRE's volume of assets is also impressive, with an estimated life span of 16.6 years at current production rates.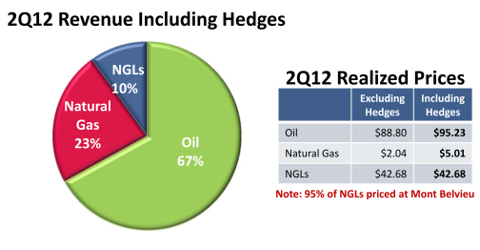 Hedges:
As shown above, QRE's hedges boosted prices for oil by 7%, and gas by a whopping 145%. If gas prices don't start to recover soon, there could be an issue, as hedges can't last forever - especially at 145% gains. However, this situation is prevalent among most producers. With this in mind, perhaps comparing QRE's hedges to competitors would be a useful exercise.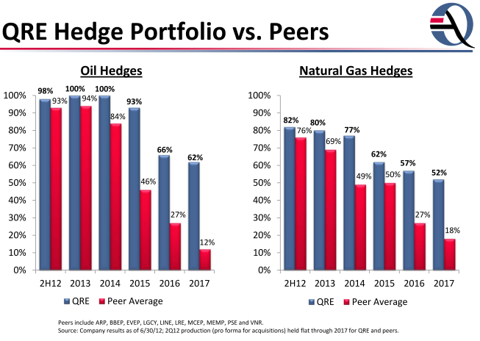 In my opinion, QRE's program is impressive, especially when compared to competing upstream MLPs: Atlas Resource Partners L.P. (NYSE:ARP), BreitBurn Energy Partners L.P. (BBEP), Legacy Reserves L.P. (NASDAQ:LGCY), Linn Energy, LLC (LINE), LRR Energy LP (NYSE:LRE), Mid-Con Energy Partners L.P. (NASDAQ:MCEP), Pioneer Southwest Energy Partners L.P. (PSE), and Vanguard Natural Resources LLC (NYSE:VNR). I calculated the average difference of QRE's hedges versus the average hedges of these formidable competitors, and found that QRE on average, has 27.5% more oil hedging, and 20% more gas hedging in place through 2017. It's difficult to ignore how QRE's management has fulfilled its promises of ensuring cash flow stability with a more than prudent hedging program.
Distributions:
Period
Amount
Annualized Rate Based on Today's Price (19.43/share)
Increase Since IPO*
4Q 2010
$.4125
8.492%
1Q 2011
$.4125
8.492%
2Q 2011
$.4125
8.492%
3Q 2011
$.4125
8.492%
4Q 2011
$.4750
9.78%
1Q 2012
$.4750
9.78%
2Q 2012
$.4875
10.03%
18%
*QRE IPO'd 4Q 2010
At QRE's current price of 19.43/share, its 10.03% dividend rate is eye catching, especially when we know it's solidified by QRE's hedges and reserve life for years to come.
Summary:
QRE strengths include a relatively low risk asset base, a rather remarkable hedging program, and a formidable history of dividend payouts since its IPO nearly 2 years ago. The company seems to value a lower risk approach to what can be a high risk business, especially when investors expect such rich distributions to continue and increase. In the spectrum of upstream MLPs with smaller market caps, QRE is definitely a worthy consideration.
Disclosure: I am long QRE. I wrote this article myself, and it expresses my own opinions. I am not receiving compensation for it (other than from Seeking Alpha). I have no business relationship with any company whose stock is mentioned in this article.