The following article provides an unconventional analysis of the major players in the U.S. steel market, with a special focus on end markets, cost structures, and expected future performances. We avoid recommending a position in the near-term, given the volatile market dynamics prevalent in the industry. However, some companies like Nucor Corp. (NYSE:NUE) and Steel Dynamics (NASDAQ:STLD) are relatively good steel players; there are also those that are poised for a greater upside whenever the industry rebounds, like U.S. Steel Corp. (NYSE:X).
Steel
The Steel Industry is currently going through a severe downturn as a result of weak steel demand, especially from construction end markets. Although the Architecture Billings Index (NYSE:ABI), a leading indicator of U.S. construction activity, rebounded slightly to touch 48.7, what needs to be remembered is that a figure below 50 still indicates dropping demand for design services. The automotive sector is another major end market of steel, and the fact that U.S. August auto sales showed a slow but steady recovery, as is evident from a 19.9% YoY increase in the seasonally-adjusted annual rate (SAAR), is a good omen.
China remains the major player in this market, being the largest producer and consumer of the commodity. However, with a crisis in Europe and sluggish economic growth in both the U.S. and China, the recovery phase has slowed down, despite the recent monetary stimulus measures by Europe and the U.S., along with the approval of more than $157 billion of infrastructure spending by China. We feel that unless the fundamentals improve considerably, a rebound is far from sight, at least before the end of Q4.
AK Steel (NYSE:AKS)
In 2011, the company derived 36% of its revenues from the automotive market, 40% from distributors and converters, and 24% from infrastructure and mining. As is clearly evident from its end markets' composition, the company is hugely dependent on the automotive sector, which is the main driver of its steel volumes. If the automotive sector maintains its upward momentum, it can help AKS come out of the poor financial phase that it is currently undergoing.
The company has to pay for iron ore (major raw material for steel) pellets, in sharp contrast to its peers, who consume their own pellets. In addition, the company has to purchase other raw materials as well, like carbon scrap, slabs, and coke. As a result, its cost structure is significantly higher than its competitors.
As a result of its double-digit shipment declines and a 14% dip in revenues, the company made losses in the recent quarter. The company has disclosed plans to suspend its quarterly dividend.
Recently, AKS disclosed its guidance for Q32012, according to which it expects to incur a loss of 60c-65c per diluted share. Its average per-ton selling price will see a QoQ reduction of almost 7%, due to reduced spot market prices for carbon steel products, as a result of the poor global macroeconomic conditions, lower raw material surcharges amidst lower raw material costs, and decreased percentage of value-added products in the total mix of shipments. This decreased percentage has been credited to market seasonality arising from factors like summer plant closures in the automotive industry.
Steel Dynamics Inc.
Indiana-based STLD is a diversified carbon-steel producer and metals recycler. The company derives its strengths from its highly variable cost structure and diversified product portfolio. In addition, its vertical integration means that it has self-sufficiency of iron for its steel mills.
STLD is gradually transforming from a steel company to a diversified metals company by making non-steel acquisitions. Recently, it tried to reduce its exposure to non-residential construction by diversifying into other markets as well.
As is evident from the following pie chart, the company is exposed to diverse end markets, with the most notable ones being construction (33%), other manufacturing (19%), automotive (14%), and energy (9%).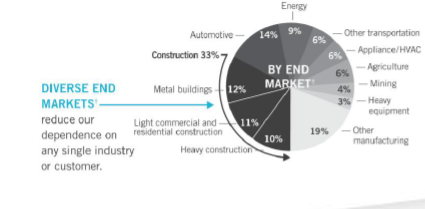 Source: Company's documents
Recently, the company provided guidance for its third quarter, according to which its earnings range is 1c-5c per diluted share. This range largely reflects the charges related to refinancing activities (worth 7c per diluted share) and impairment charges of almost 1c-2c per diluted share. Excluding these adjustments, the Q3 estimates are in a range of 9c-14c, lower than the average consensus estimate of 19c.
Nucor Corp.
Nucor has three main segments, namely steel mills, steel products, and raw materials. The company also produces Direct Reduced Iron (NYSE:DRI), which is used in its steel mills.
Besides the construction market, which has been suffering as of late, the company's other major end markets are energy, automotive, heavy equipment and general manufacturing, which are slightly improving. The company's use of electric arc furnaces to produce steel means it does not pile up inventories at a time when demand is low. Nucor's cost structure is highly variable, giving it the unique advantage of adjusting its costs according to the prevalent market dynamics.
The company's DRI technology has huge environmental advantages over the conventional blast furnace methodology, as its carbon dioxide emissions are one-third of the latter. Plus, its natural gas investment means that the company's per-unit iron ore cost ($324) is considerably cheaper than those who use blast furnaces (per unit iron ore cost = $406), which uses coking coal.
United States Steel Corp.
U.S. Steel Corp. is an integrated steel producer, based in Pittsburgh. The company has five main end markets: appliances, automotive, construction, energy and service centers. It has four segments: Flat-Rolled Product, U.S. Steel Europe (USSE), Tubular Products, and Other Businesses.
The company is expecting three of its main segments to yield positive results in the third quarter, but they are going to be below second quarter results. For a detailed analysis of X's last quarter earnings, click here.
Valuation & Conclusion
The following table shows the valuation components of these four steel companies.
| | | | | |
| --- | --- | --- | --- | --- |
| | NUE | STLD | AKS | X |
| Forward P/E (1 year) | 12.39x | 9.1x | 9.03x | 8.19x |
| Price/Book (MRQ) | 1.71x | 1.2x | N/A | 0.91x |
| Dividend Yield | 3.6% | 3.1% | 3.4%* | 0.9% |
| Share price performance (YTD) | 2.98% | -1.06% | -28.92% | -15.52% |
* AKS' dividend yield is not reflecting the recently-announced dividend cut
Source: Yahoo Finance
We believe that NUE is the best stock amongst steel companies, given its sustainable dividend yield, diversified product mix, and its recent acquisition of Skyline LLC, which resulted in an improvement in its distribution network and technical support. Please read our previous article to see why Nucor is our favorite steel stock.
Although STLD's guidance for Q3 earnings is below expectations, we feel that it is the best player for an investor who wants to target a recovery in the construction sector. Its dividend yield of more than 3% is also worth noticing.
AKS has a high auto exposure, but despite the improving automotive market, we remain cautious about the stock, citing its poor operating performance, which is expected to continue in the future. Like AKS, X is also one of the most levered players whenever the industry rebounds, due to its high beta; however, X is a good value investment as compared to AKS. Please click here to find why U.S. Steel has value for long-term investors.
Disclosure: I have no positions in any stocks mentioned, and no plans to initiate any positions within the next 72 hours.
Business relationship disclosure: The article has been written by Qineqt's Basic Materials Analyst. Qineqt is not receiving compensation for it (other than from Seeking Alpha). Qineqt has no business relationship with any company whose stock is mentioned in this article.