Since our last article, in which we gave a buy recommendation for Comcast (NASDAQ:CMCSA), the stock is up 10%. CMCSA gave a Q2 earnings surprise of 5%, and earnings showed an increase of 19% YoY. We think it still has some upside left, and therefore reiterate our buy rating.
Comcast provides communications services and owns cable networks and broadcast television networks like NBC. The company also has a filmed entertainment segment and runs theme parks. Some of the news that has affected CMCSA since our last article is:
The company gave an earnings surprise of 5% in Q2 2012. The consensus estimate for EPS was $0.48, while the company posted EPS of $0.5. Revenue met analyst estimates of $15.2 billion (6% more than the same quarter last year). Operating cash flows increased by 4.2%. Cable communications was the main driver of growth, despite seasonality, while NBC Universal

revenue

was flat for the quarter. The stock price went up nearly 4% in the week following the release.
CMCSA bought Microsoft's (NASDAQ:MSFT) share in MSNBC.com,

a joint venture that both companies had started in 1996

, and renamed it NBCNews.com.
Nomura, Wunderlich and UBS reiterated their buy recommendations for CMCSA over the last month. Oppenheimer reissued an outperform rating for CMCSA with a price target of $38.
The total debt-to-equity ratio is 57%. The interest coverage ratio is 4.5 times and operating cash flows are $15.2 billion (trailing twelve months). Total cash was $4.3 billion as of Q2 2012. The company said that CAPEX was reaching a stable number, as the company continues to spend in new areas for products and services, in addition to investing in the network. CAPEX was 1.3% more ($1.3 billion) for Q2 YoY.
The dividend yield is 1.8%, with a 30% payout ratio. The free cash flow yield (trailing twelve months) is 7.85%, which means that dividends are sustainable, and free cash flow generation is strong. The company has constantly raised its dividends since 2008. The dividend growth rate is 21% for the last 3 years.
The company also repurchases shares. According to an announcement in February, the company was to repurchase $3 billion of stock in 2012. $1.5 billion had already been repurchased as at the last quarter's results, leaving $1.5 billion for the rest of the year. The overall stock repurchase authorization was for $6.5 billion.
Valuation:
The stock is up 49% YTD and is setting new 52-week highs. The graph below shows the stock price performance of CMCSA as compared to its peers and the S&P 500 index over the last year.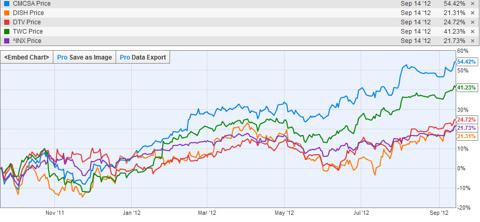 The company has a forward P/E of 16x, while the last 5-year average P/E is 18x. Peers like DIRECTV (DTV), Dish (NASDAQ:DISH) and Viacom (NYSE:VIA) have multiples of 10x, 13x and 13.5x, respectively. The consensus target price is $38. At the forward and average P/E multiples and consensus EPS estimates, the valuations for Comcast come out to be:

*2014 EPS is calculated by applying a long term growth rate of 14% on 2012 EPS.
We retain our buy rating for Comcast, as we think its strong fundamentals warrant more appreciation in the stock price. The company also offers a respectable dividend yield for income investors.
Disclosure: I have no positions in any stocks mentioned, and no plans to initiate any positions within the next 72 hours.
Business relationship disclosure: The article has been written by Qineqt's Consumer Analyst. Qineqt is not receiving compensation for it (other than from Seeking Alpha). Qineqt has no business relationship with any company whose stock is mentioned in this article.