The following chart from Nanex shows E-Mini futures trading in the minutes before the Fed's announcement last Thursday. The lower panel shows market depth. What is noticeable here is that in a split second, about 80% of the market liquidity was pulled. If the market had numerous participants (depth), one would expect this to happen gradually over a minute or two and not in one millisecond. This could imply that algos are all using the same program, and/or that there is a big whale in the market, or both.
Some have referred to this entity as the whac-a-mole algo, but that strikes me as a little tame. Regardless, it should suggest a glaring abnormality. Clearly, the E-Minis have become a thin market that can be easily manipulated. A relatively modest sum of money can rent a boatload of contracts that ramp up the market on a per second basis. I can't see how this could be construed as bullish at all. Inevitably, big sellers will arrive, and find themselves facing quick sand or a vacuum, without liquidity available to sell to.
(click images to enlarge)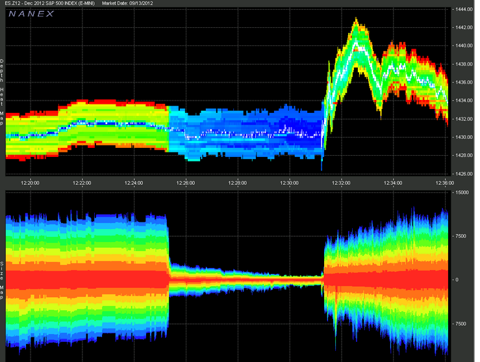 It is not at all clear what this "entity" has been programmed to do, but it seems to center around the Orwellian concept that bad economic developments are good. Bad is good because that kicks in the computers to play the central bank mega-bubble. In turn, the central bank mega-bubble is so flawed and bizarre, that its blow back brings about even more ill economic effects. So not only is the market liquidity completely transitory, but the premise or factors built in are deeply flawed. The combination could very well manifest itself in the form of "without warning" crash conditions. I offer no advice as to how to time such an eruption, except to say it is highly unstable.
I am sure most who participate in the market notice the strange closes. The market often drifts around all day on thin volume, only to be goosed right after trading in the futures market. This happened on Friday, September 14, when the market suddenly recovered 3 or 4 SPY points. Nanex shows the market depth at the close on Tuesday July 31, 2012 and how market depth completely evaporated in front of a larger than normal E-Mini sell trade. This should provide clues about liquidity should a more general or much larger exit get underway.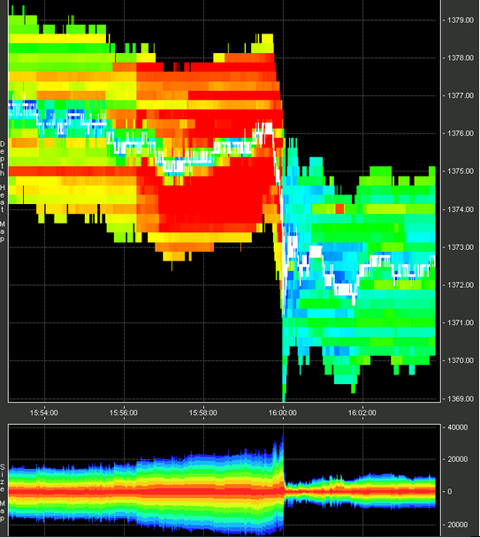 Disclosure: I have no positions in any stocks mentioned, and no plans to initiate any positions within the next 72 hours. I wrote this article myself, and it expresses my own opinions. I am not receiving compensation for it (other than from Seeking Alpha). I have no business relationship with any company whose stock is mentioned in this article.