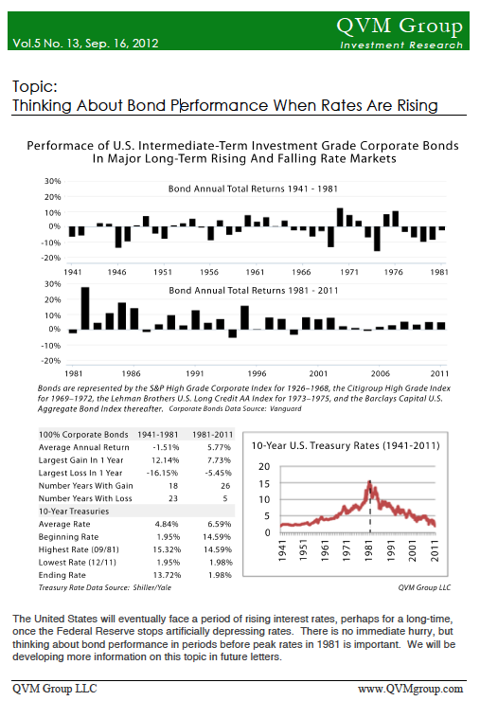 The page above is from a recent client letter, cover page reproduced below:
It may seem a bit out of place to be concerned about how corporate bonds will perform in a rising rate environment, just days after the Federal Reserve said it would keep short-term rates near zero until mid-2015 (almost 3 years from now). However, interest rates must eventually rise. Investors and nations will not be willing to hold bonds at negative real rates of return forever. Additionally, the bond market might begin to create its own forces at some point that the Fed cannot neutralize.
There was a period of about 40 years of rising rates peaking in 1981 (creating a headwind for bonds), and a period of about 30 years of falling rates from 1981 through today (creating a tailwind for bonds).
Most of what the majority of investors know about bonds comes from the last 30 years, and not the prior 40 years. Bonds have not only been helpful to reduce portfolio volatility in the past 30 years, but they have been favorable total return generators. How did they play in portfolios from 1941-1981 when they faced a headwind?
We will explore that in client letters over the coming year, to get you and us informed and prepared for the day the direction of interest rate changes reverses.
The following provides some good basic chart and tabular information about the differences between the 1941-1981 period and the 1981-2011 period. We will depart from and build from there in future letters.
Richard
Some Generally Related ETFs:
| | |
| --- | --- |
| Ticker | Fund Name |
| VCLT | Vanguard Long-Term Corp Bond Idx ETF |
| LQD | iShares iBoxx $ Invest Grade Corp Bond |
| CFT | iShares Barclays Credit Bond |
| CORP | PIMCO Investment Grade Corp Bd Index ETF |
| VCIT | Vanguard Interm-Tm Corp Bd Idx ETF |
| ITR | SPDR Barclays Cap Interm Term Corp Bnd |
| CIU | iShares Barclays Intermediate Credit Bd |
Disclosure: QVM has positions in LQD as of the creation date of this article (September 17, 2012). We certify that except as cited herein, this is our work product. We received no compensation or other inducement from any party to produce this article, and are not compensated by Seeking Alpha in any way relating to this article.
General Disclaimer: This article provides opinions and information, but does not contain recommendations or personal investment advice to any specific person for any particular purpose. Do your own research or obtain suitable personal advice. You are responsible for your own investment decisions. This article is presented subject to our full disclaimer found on the QVM site available here.