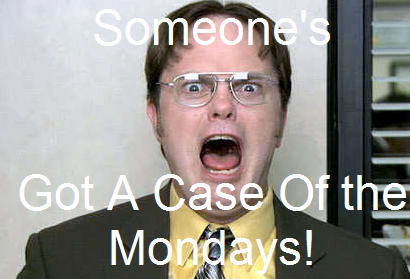 China stocks were hit hard yesterday, with Shanghai indexes weaker by 2-2.5% and down to levels not seen since 2009. Much of this has to do with leadership uncertainty as a changeover is at hand. The current government seems caught between stimulus, given weakening economic data and inflation concerns occasioned by food, energy and housing prices. This data, in turn, caused eurozone stocks to fall, which then hurt U.S. markets. In the U.S., the poor Empire State Mfg Survey results (-10.41 vs. -2.00 expected, and prior -5.85) continues to indicate economic contraction. For bulls, this may be QE friendly ("bad news is good" theme), but given the rally already experienced, caused some profit-taking.
We should remember previous QE programs haven't succeeded in solving the economy's primary problems -- unemployment and protecting the purchasing power of the dollar (energy and food). I would say the bloom isn't off the QE rose just yet, but markets were much overbought and needing a break with some reflection.
Not tolerating any break is the real U.S. stock market doing business as Apple (NASDAQ:AAPL), which continues to ignore its lesser members and rally. It's said nearly 2M new iPhone 5s were ordered already. Imagine all the new phone plans buyers have to negotiate. Many Americans previously tied down by car debt (and still are) now have cell phone provider debts to deal with as well.
Everything that was up last week begins this week lower and vice versa. There may have been some kind of trading event at the CME regarding crude oil, which dove sharply in minutes. That pulled other commodity prices sharply lower as well. Analysts were hard-pressed to explain it.
Volume Monday returned to its former light volume ways, perhaps highlighting a new normal. Breadth per the WSJ was negative relieving some short-term overbought conditions.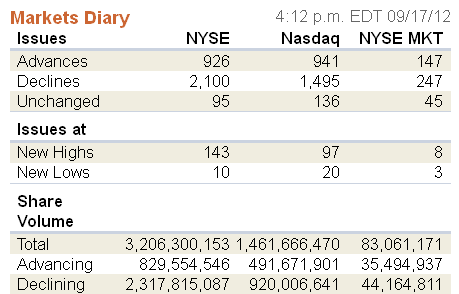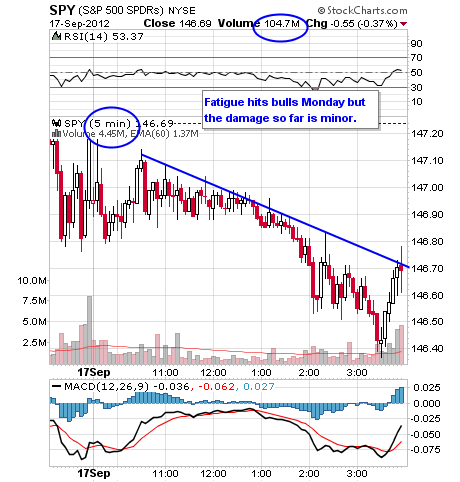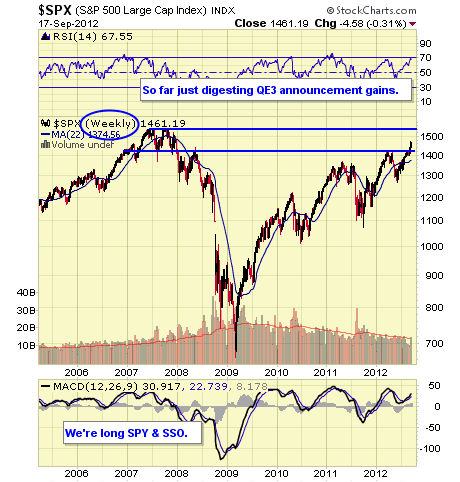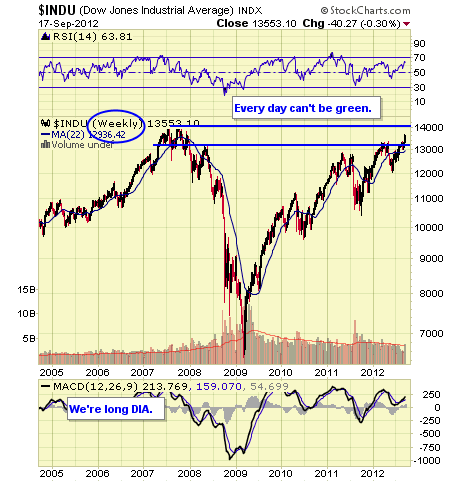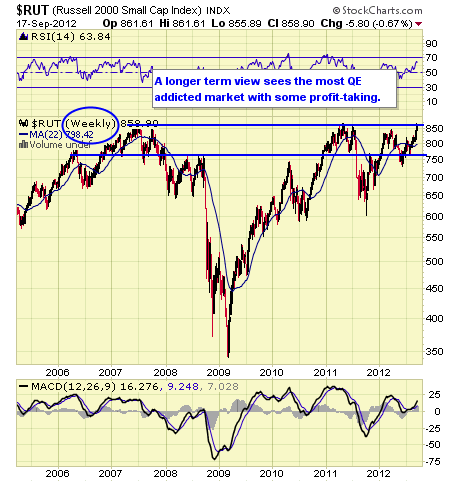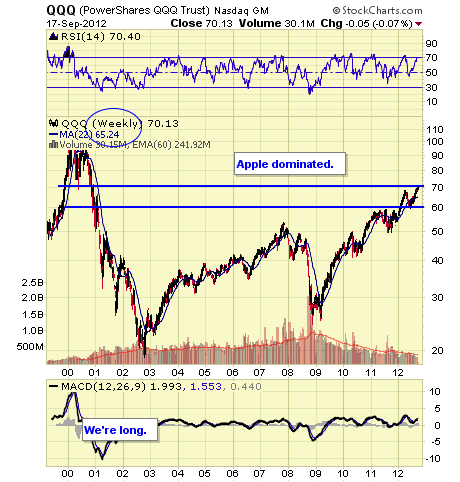 Continue to U.S. Sector, Stocks & Bond ETFs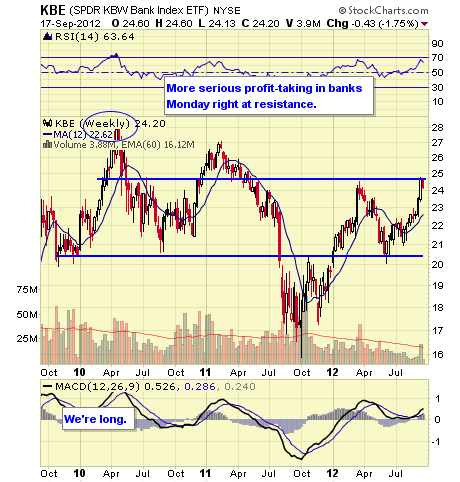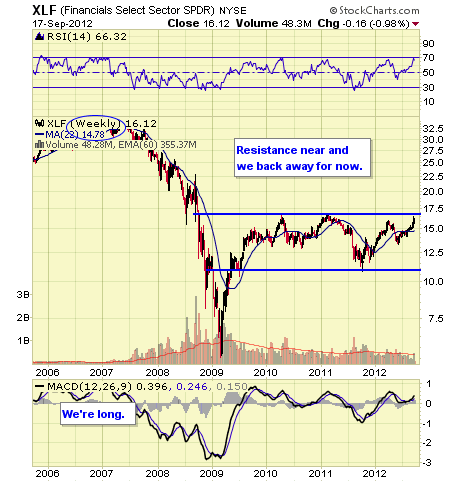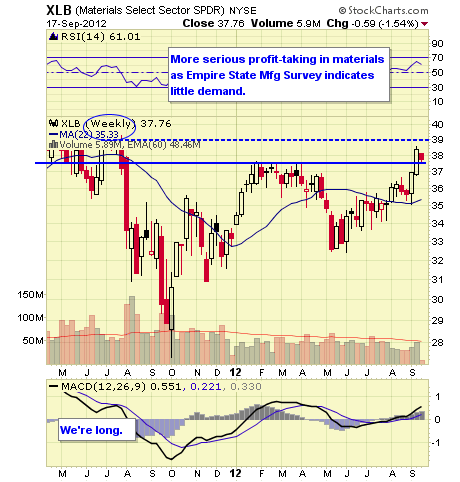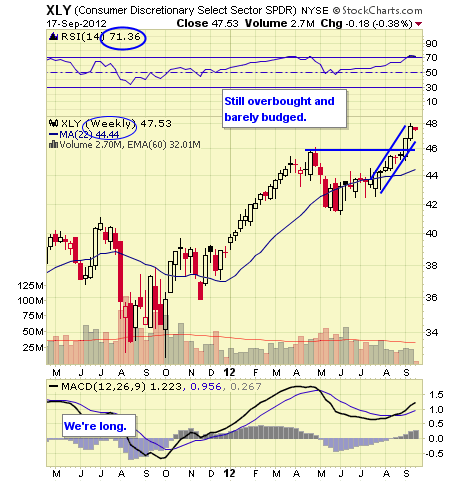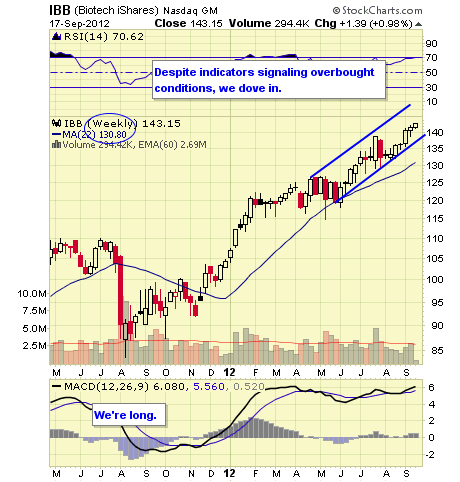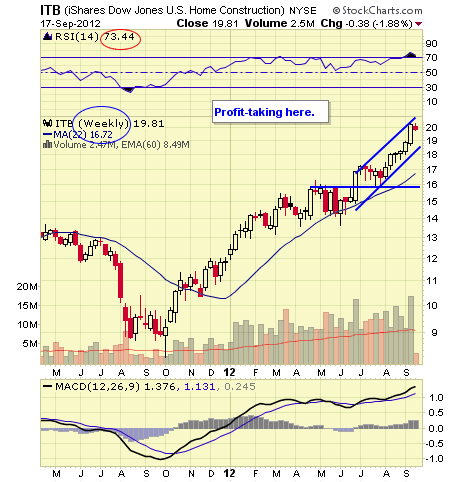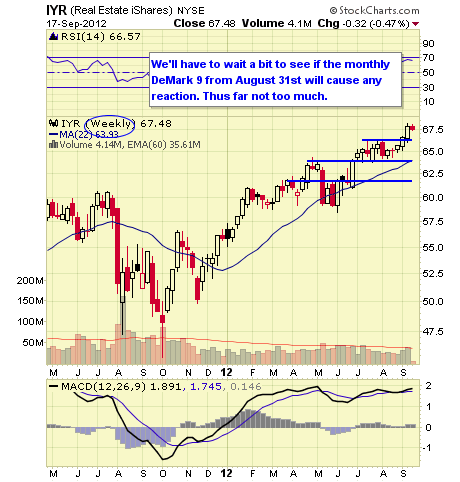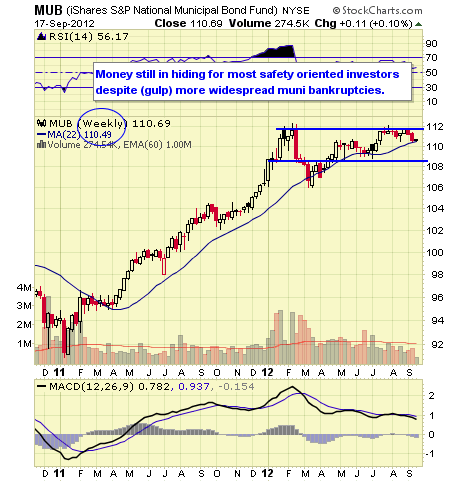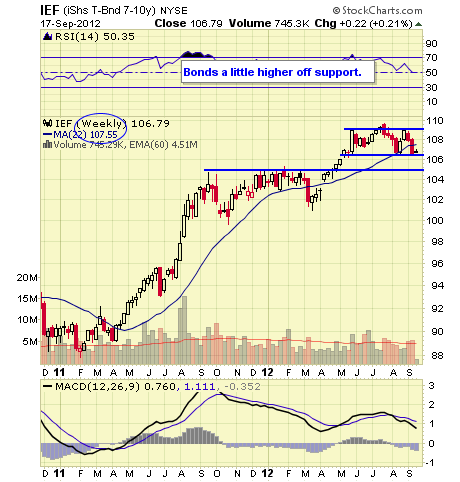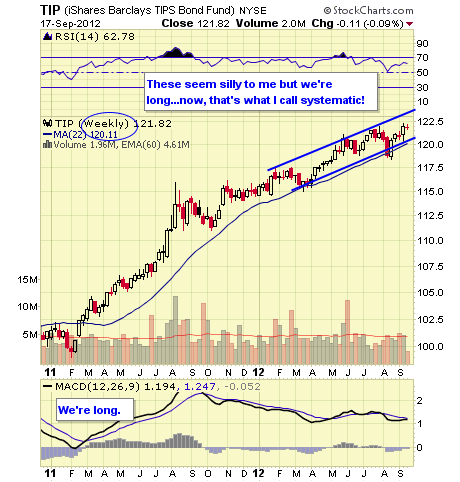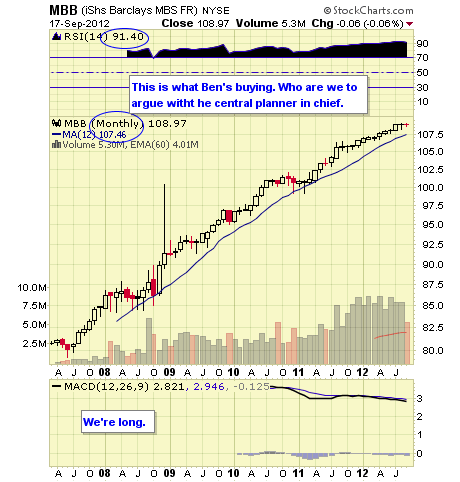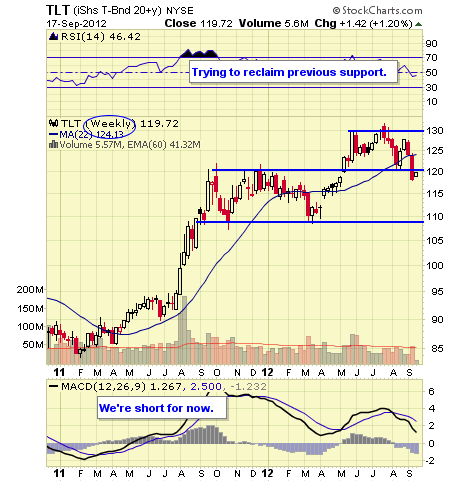 Continue to Currency & Commodity Market ETFs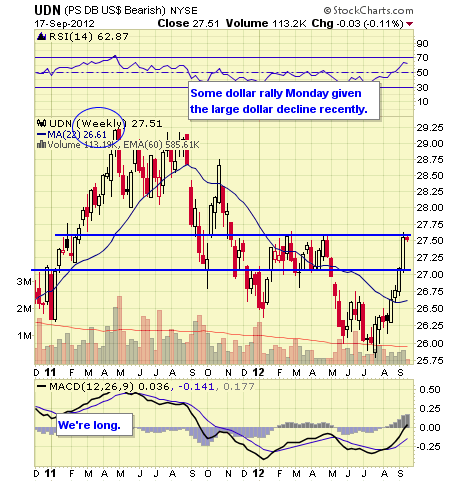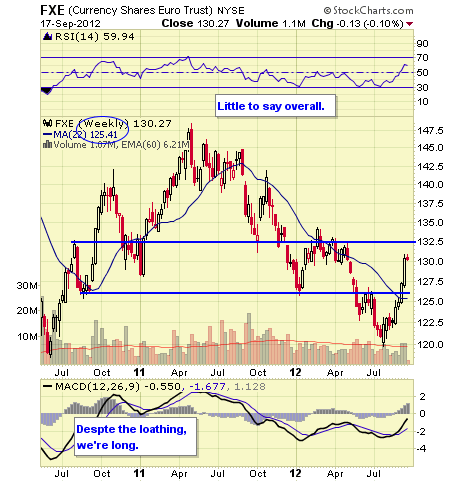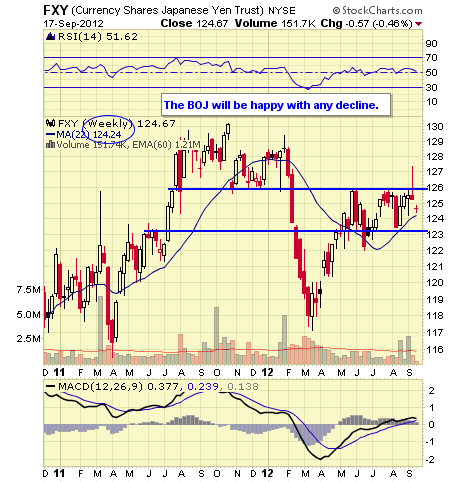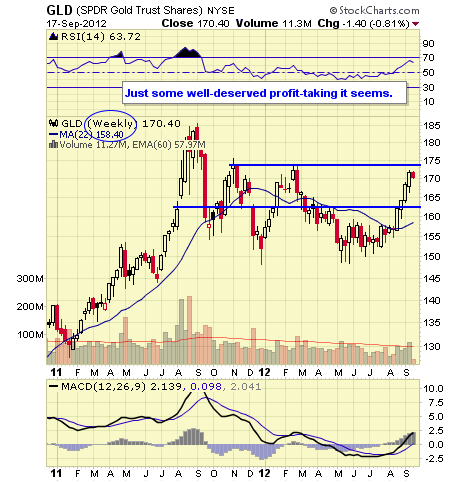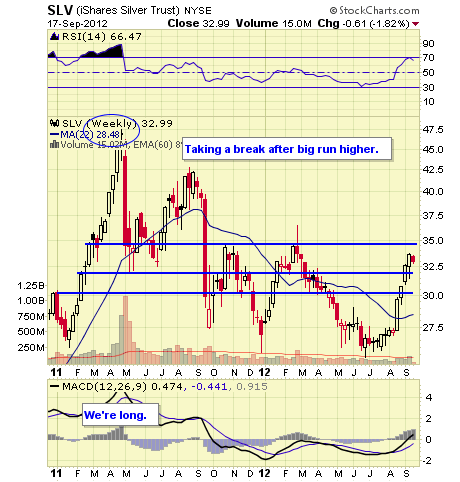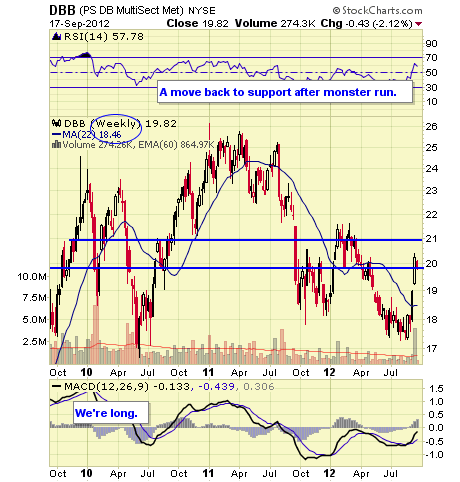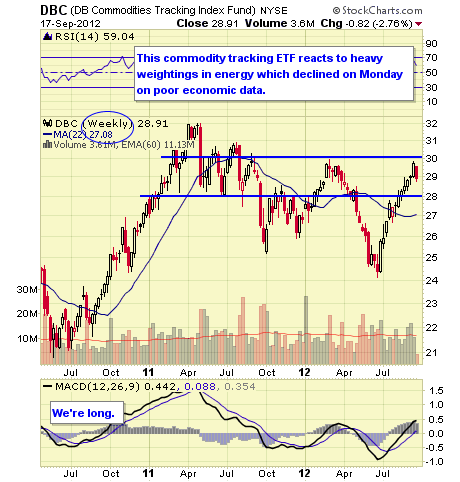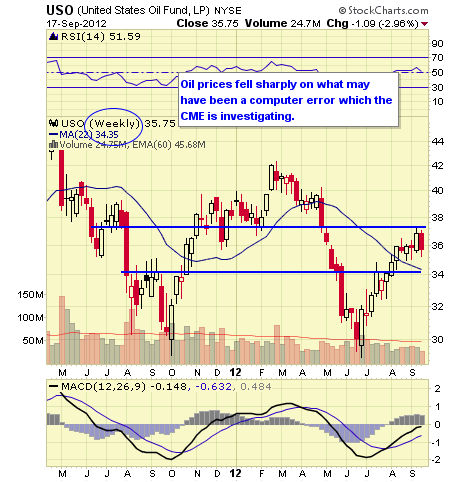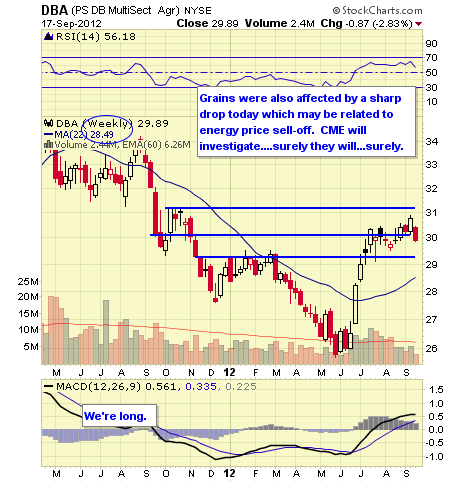 Continue to Overseas Sectors & ETFs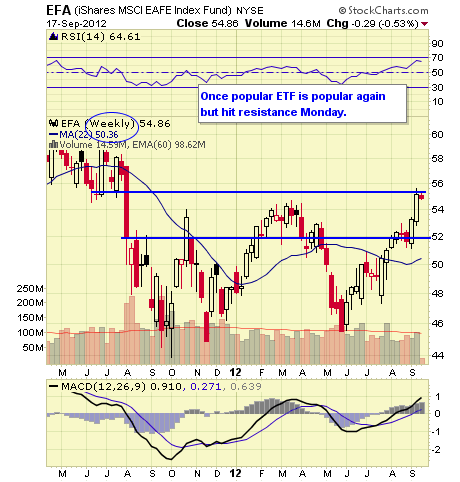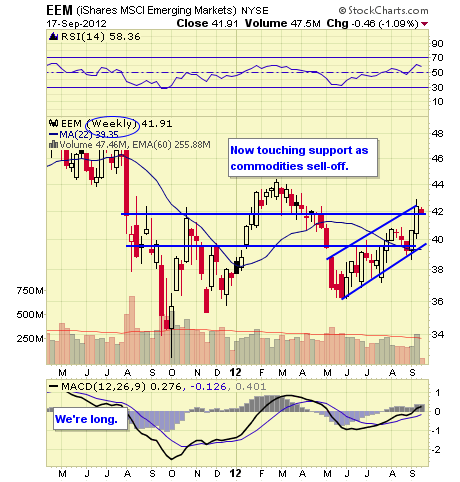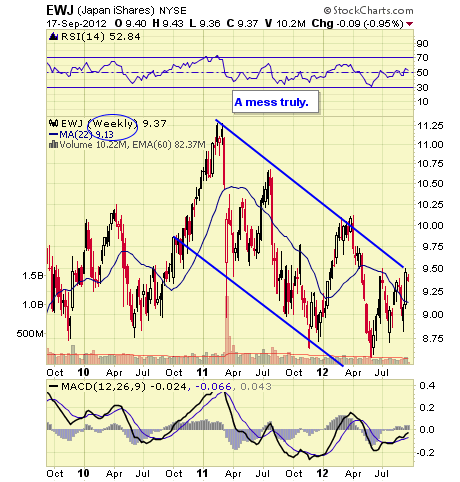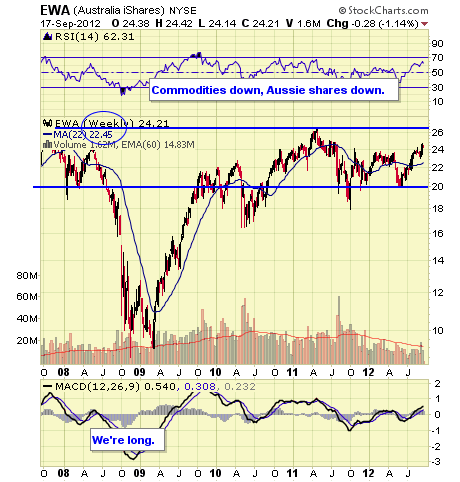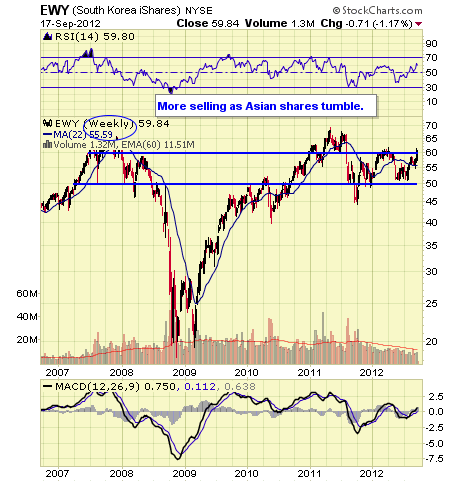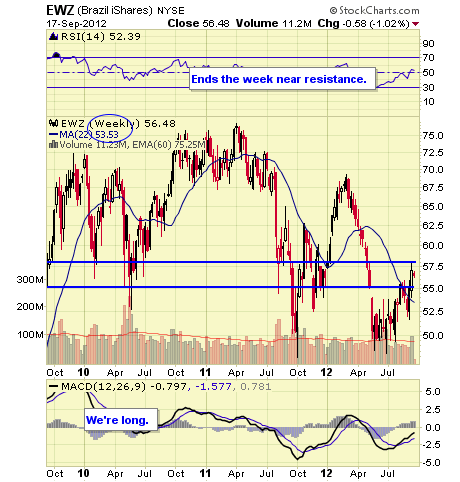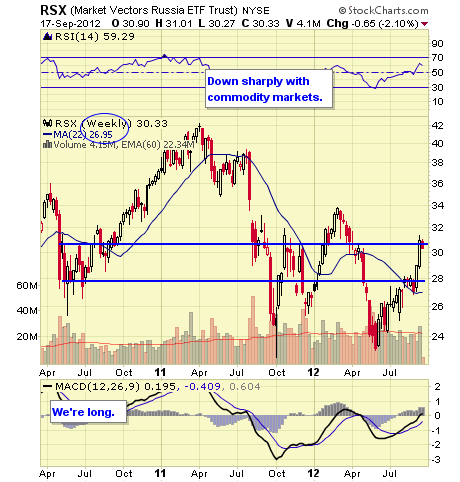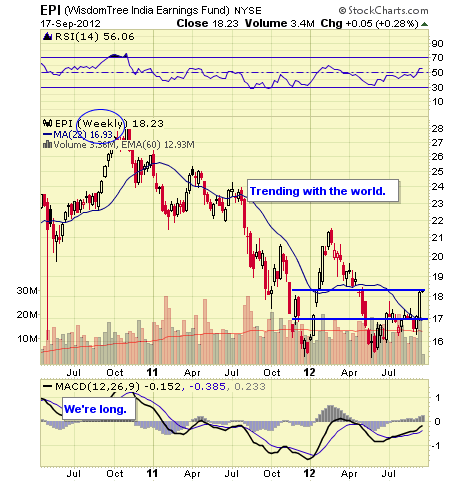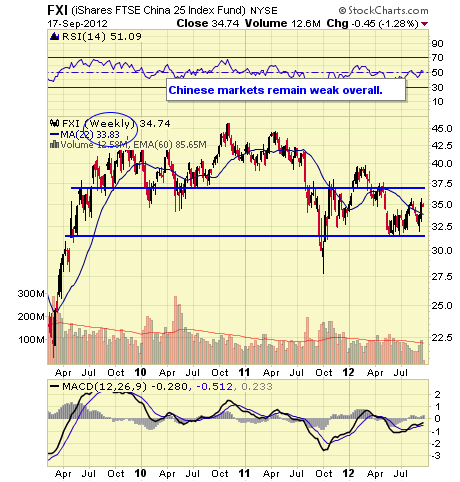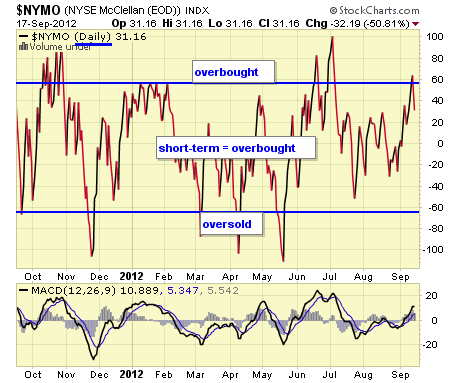 The NYMO is a market breadth indicator that is based on the difference between the number of advancing and declining issues on the NYSE. When readings are +60/-60 markets are extended short-term.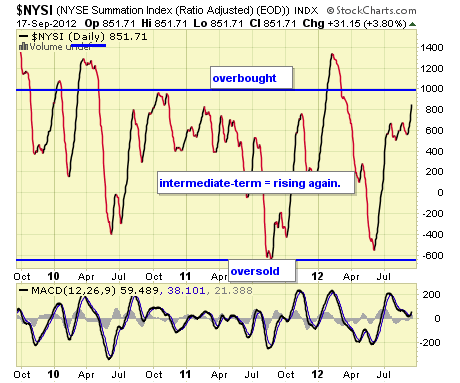 The McClellan Summation Index is a long-term version of the McClellan Oscillator. It is a market breadth indicator, and interpretation is similar to that of the McClellan Oscillator, except that it is more suited to major trends. I believe readings of +1000/-1000 reveal markets as much extended.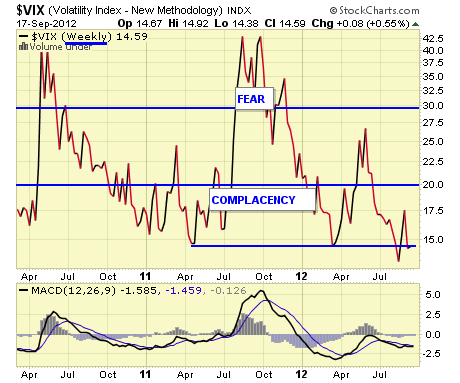 The VIX is a widely used measure of market risk, and is often referred to as the "investor fear gauge." Our own interpretation is highlighted in the chart above. The VIX measures the level of put option activity over a 30-day period. Greater buying of put options (protection) causes the index to rise.
There's no question something fishy happened in commodity market trading beginning with oil, and then moving on to grains. Oil prices dropped $5 in minutes on the CME, and the CFTC is investigating. However, it appears this move may have been stimulated by rumors the Obama administration would release oil from the SPR before the election.
Tuesday, we'll get more data from the Housing Market Index, which is expected to show further growth.
We'll be on the road late, causing us to miss any posting on Tuesday and perhaps Wednesday as well.
Disclaimer: The ETF Digest maintains active ETF trading portfolio and a wide selection of ETFs away from portfolios in an independent listing. Current "trading" positions in active portfolios if any are embedded within charts: Lazy & Hedged Lazy Portfolios maintain the follow positions: VT, MGV, BND, BSV, VGT, VWO, VNO, IAU, DJCI, DJP, VMBS, VIG, ILF, EWA, IEV, EWC, EWJ, EWG, & EWU.
The charts and comments are only the author's view of market activity, and aren't recommendations to buy or sell any security. Market sectors and related ETFs are selected based on his opinion as to their importance in providing the viewer a comprehensive summary of market conditions for the featured period. Chart annotations aren't predictive of any future market action, rather, they only demonstrate the author's opinion as to a range of possibilities going forward.
Disclosure: I have no positions in any stocks mentioned, and no plans to initiate any positions within the next 72 hours. I wrote this article myself, and it expresses my own opinions. I am not receiving compensation for it. I have no business relationship with any company whose stock is mentioned in this article.