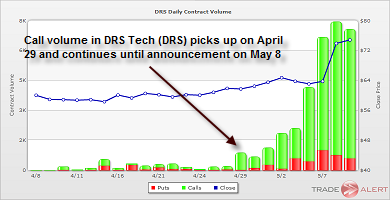 The Securities and Exchange Commission [SEC] is investigating suspicious trading activity that surfaced in Parsippany, NJ-based DRS Technologies (DRS) options shortly before it received a takeout offer from Italy's Finmeccanica SpA. According to regulators, some players in the options market bought call options on DRS based on inside information during the six trading sessions prior to the announcement. The actual takeover announcement was first made public on May 8, 2008 and official word from Finmeccanica came on May 12th.
Most of the suspicious activity seems to have been in the May 65, June 65, and June 70 call options. For example, from April 30 to May 8th, open interest, which measures the number of open positions in an options contract, in the May 65 calls increased from 206 to 3,701 contracts.
In the June 65s, open interest increased more than tenfold, from 344 contracts on April 29th to 3,824 on May 8th. In the June 70s, open interest rose from 71 contracts to 2,281 during that time.
By May 8th, total open interest in the May 65s, June 70s, and June 75s had risen to 9,806 contracts, which represents call options on 980,600 DRS shares.
The stock rallied $10.15, or 15.9 percent, to $73.89 on May 8th on news of the deal.
The surge in the share price was good news for DRS call holders. For example, the owner of the May 65 call saw the value of their options contract increase from $1.10 on May 7 to $8.80 on the 8th, for a one-day 700 percent gain. By May 12th, that contract was trading for more than $12.00.
The identity of the call owners in this case is still unclear. The Securities and Exchange Commission brought the case to a US District Court in New York against "one or more unknown purchasers". The SEC did identify an account at UBS. It now hopes to identify the owners, freeze the account, and possibly seize millions in profits from any illegal trading activity.
Disclosure: none