Binary events and important news events are part of the biotechnology investing landscape and, if played correctly, can offer the astute biotech investor (or trader) great rewards. As most people familiar with the market know, the potential for explosive rewards comes with increased risk. In addition to the binary event or news event, many biotechnology stocks are heavily shorted, which can add fuel to the fire if the company reports positive news or receives positive news. Savvy investors and pros will use a variety of techniques to mitigate risk while investing in binary events and significant expected news events. Rather than slogging through those various techniques in this article, today I'm going to identify three biotechnology companies that have important catalysts approaching that could significantly increase share value. I am personally invested in two of these companies and strongly considering putting a "dime" down on the third.
1) Sarepta Therapeutics, Inc. (NASDAQ:SRPT)
| | |
| --- | --- |
| Sector | Biotechnology |
| Market Cap | $335.91M |
| Short Interest (as of 8/31/12) | 3.385M shares |
| Percentage of Float Short | 15.76% |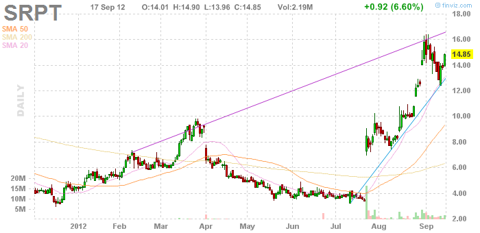 Sarepta therapeutics has stated it will be sharing key data from the recent 48-week trial for its Duchenne's Muscular Dystrophy (DMD) drug candidate eteplirsen at the International Congress of the World Muscle Society in a late-breaker session on October 13. I have written recently about Sarepta's prospects, which you can read about here. Sarepta recently presented 36-week data for eteplirsen during a conference call on July 25, 2012. To say the data was positive is an understatement. The stock rocketed from around $4 per share to over $16 per share. If the 48-week data is positive, as many expect, then I believe Sarepta will seek accelerated approval from the FDA to get eteplirsen to market and to DMD sufferers as soon as possible. One Wedbush analyst, Greg Wade, has already put a $26 price target on Sarepta and has written peak sales of eteplirsen "could conservatively reach $600 million in the U.S alone". Short interest has more than doubled since 7/31/2012 - this could make for an explosive situation come October 13 and one I will be watching with interest.
2) Amarin Corporation (NASDAQ:AMRN)
| | |
| --- | --- |
| Sector | Biotechnology |
| Market Cap | $2.08B |
| Short Interest (as of 8/31/2012) | 21.6M |
| Percentage of Float Short | 14.58% |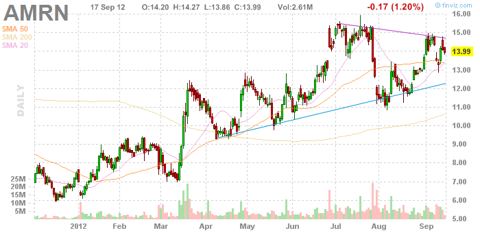 Amarin has developed an ultra pure (96% pure) fish oil with the commercial name of Vascepa. Vascepa was FDA approved on July 27, 2012. Amarin (or an acquirer) will be selling Vascepa into a multi-billion dollar market for triglyceride-lowering drugs like GlaxoSmithKline's (NYSE:GSK) Lovaza. Amarin has been successfully securing patent protection for their intellectual property, step-by-step over the last year, out to 2030. The news Amarin and its investors are awaiting is whether Vascepa will be awarded New Chemical Entity (NCE) status by the FDA. If granted NCE status, Amarin will get exclusive marketing rights for Vascepa over the next five years. It is believed that companies that might be interested in acquiring Amarin or acquiring rights to Vascepa would prefer that it receive NCE status to more accurately determine the value of the Vascepa franchise. Two "Orange Book" updates have come and gone (8/17 & 9/14) since Vascepa was approved in July and the FDA has still not made a determination on whether Vascepa will be granted NCE status. Many are expecting the October "Orange Book" update to have the final determination regarding Vascepa NCE status. Short interest is up 2.6M shares since 7/31/2012 - if Amarin is granted NCE status for Vascepa, this could make for an explosive situation and one I will be watching with interest.
3) Catalyst Pharmaceutical Partners, Inc. (NASDAQ:CPRX)
| | |
| --- | --- |
| Sector | Biotechnology |
| Market Cap | $47.65M |
| Short Interest (as of 8/31/2012) | 2.05M |
| Percentage of Float Short | 8.21% |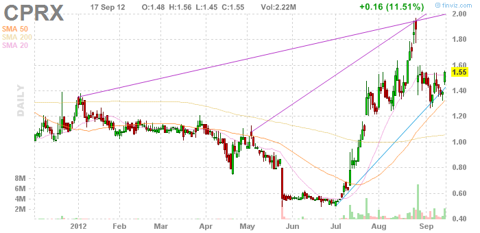 Catalyst Pharmaceuticals is getting ready to release top-line data from its phase IIb drug candidate, CPP-109 (vigabatrin), for cocaine addiction "around the end of September 2012" according to CEO Patrick McEnany per this news release from the company on July 12. The market for drug addiction therapy is enormous and considered an unmet need, so the FDA has granted Catalyst "Fast Track" status for cocaine addiction. Nearly 700,000 patients received treatment for cocaine addiction in 2010. Catalyst is also pursuing and testing methamphetamine, alcohol, and opiate addiction therapies with CPP-109 as well - more information on these indications can be found on the Catalyst website under "pipeline". Short interest currently sits at 2.05M shares as of 8/31/2012, up from 290,000 shares on 7/13/2012. If Catalyst reports positive outcomes from the phase IIb trial, supposedly coming in the next 2 weeks, it could make for an explosive situation - a situation I will be watching with interest.
Financial data, company information, and graphs sourced from FinViz.
Disclosure: I am long SRPT, CPRX. I wrote this article myself, and it expresses my own opinions. I am not receiving compensation for it (other than from Seeking Alpha). I have no business relationship with any company whose stock is mentioned in this article.
Additional disclosure: This article is informational and intended to spur thought and discussion. This article is NOT a substitute for your own extensive due diligence and does NOT qualify as investment advice. DO NOT BUY OR SELL STOCKS BASED ON THIS ARTICLE. I do not short stocks nor do I invest in options.I may initiate a position in AMRN in the next 72 hours