A simple predatory accounting policy provides windfall profits for banks at the direct expense of struggling homeowners.  Never before has this deceptive practice been more destructive than in the face of escalating home foreclosures and on the eve of the 3rd major down period in US history.  Recent reports suggest that foreclosures increased by 121% over the past year, and there's no end in sight. This banking practice increases the rate of home foreclosure and creates an avoidable strain on our economy.
The US economy and consumers specifically lose approximately $30 billion every year due to this ongoing predatory practice.  The persons most affected by this practice are the same persons who are already struggling to pay mortgages that were designed to put them in homes they normally could not afford. 
Debate aside, declining home prices and increasing adjustable rate mortgages are a reality for millions of our countrymen.  Our government is looking for ways of alleviating the resulting strain on our economy, but my simple approach has thus far gone unnoticed.  My approach would inject approximately $30 billion into our economy every year and add sustainable relief during the long term economic down cycle facing our economy.  That ongoing relief would be far greater than the proposed bailout of Fannie Mae (FNM), which is $25 billion, and would remove significant pressure from the rate of home foreclosure.
I am presenting this with a demand: Our government must take action against this practice immediately and alleviate the added strain on our economy.
Officials are not aware of this problem because they rarely experience it first hand.  In fact, when presented with the issue they usually disregard it altogether.  I hope that does not happen this time.
According to the investment rate [TM], whose chart is offered below, the US economy has already entered the 3rd major down period in US history.  Akin to the Great Depression and Stagflation of the 1970s, this major down period will result in severe economic weakness for the next 5-10 years at least.  We must do everything we can to protect the consumer during this downturn.  Consumers make up 70% of GDP.  They are the foundation of our economy, and the deceptive practice mentioned above and detailed below is a detriment to the consumer.
First, this projected longer term down trend is defined by the investment rate [TM].  This is a proprietary report, and the most accurate leading longer term economic and stock market indicator in history.  Although ARMS decline in 2009, the economic weakness will continue.  The entire report tells us that the risk of a Greater Depression [TM] is real, and the burden of increased severity lies on the shoulders of our government leaders and the policies they impose. The longer term cycles of the investment rate [TM] are defined in the chart below:
click to enlarge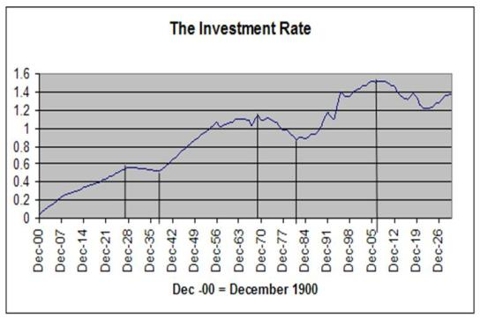 With the findings of the investment rate [TM] understood, my resounding demand for relief encompasses both the immediate burden of home foreclosure and the continued pressure on our economy as illustrated in the chart above. 
The Procedure:
This predatory banking procedure is an accounting practice, and a method of order - posting imposed by our nation's banks.  First, the banks claim they have the right to record transactions in any order they choose.  In reality, they use one posting method, which is to record transactions from largest to smallest regardless of the order those transactions were made.  The table below provides an example of this widely used accounting procedure: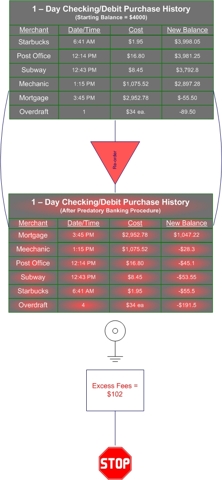 Rhetoric imposes yield to past scrutiny of this practice.  However, after careful evaluation of the impact that this practice has had on our economy in the past, that is currently imposes, and that it will levy in the future, detailed reconsideration is warranted.
First, we must realize the extent of this misconduct.  Individually, these small excess fees almost seem like a slap on the wrist for overdraft accounts.  However, after careful investigation I have found that overdraft fees are indeed a material source of revenue for major banks like Wells Fargo (NYSE:WFC), Bank of America (NYSE:BAC), JPMorgan (NYSE:JPM), and Washington Mutual (NYSE:WM), just to name a few.  Overdraft fees are never disclosed as a line item on company reports, but they are coupled with other fees and non-interest income to conceal their relevance.
After discussions with representatives from Wells Fargo (WFC), who wish to remain anonymous, I discovered that Wells Fargo processes approximately 500,000 overdraft fees per day.  The representatives also acknowledged that about 3/4 of the fees occur as a result of the firm's posting policy (largest to smallest).  This practice is an industry norm, and predatory by nature. 
The following example can be applied to all major banks.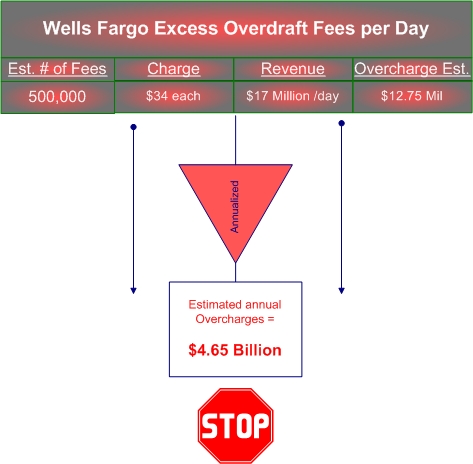 These estimates have been supplied by bank representatives, and they are not disputed by the investor relations departments of these banks.  The $4.65 billion in estimated annual excess overdraft fees produced from the predatory banking practices implored by our Wells Fargo, and similar excess fees charged by our nations largest banks, are adding tremendous pressure to our troubled economy.
The same people who bought creative mortgages from these banks are now facing problems as a direct result of this predatory practice.  With rising oil prices taking more money out of the general economy, the impact of a simple accounting procedure like this is severe.
Comparative estimates suggest that the combined annual cost of this predatory banking practice exceeds $30 billion per year. 
Our leaders need to take action and protect the consumer from the rapacious banks who handle their money.  In light of the risks that lie ahead according to the investment rate [TM], if we don't act now it may bee too late.  That applies to our entire economy.
My Demand:  Stop allowing banks to prey on the consumer!
Proper action will alleviate some of the strain on our troubled economy, it will help moderate the foreclosure rate, and re-propagate $30 billion into the system every year.