Gold is and probably will always be a controversial investment. One of gold's best known detractors is Warren Buffett, who wrote about it in his most recent shareholder letter. Mr. Buffett points out that you cannot really do much with gold. Its value depends solely upon what someone else will pay for it. To him, gold is not much different from tulips (which famously soared in value and then crashed in the mania of 1636-1637). It is better, in Mr. Buffett's mind, to invest in productive assets, including stocks, whose value can increase in real economic terms over time.
Demand for gold
In 2011, 43% of the demand for gold, according to the World Gold Council, came from consumers buying jewelry, especially in India and China. As per capita income in those countries has increased, so has the demand for gold jewelry.
Another 37% of gold demand came from investors who see it as a surrogate for money. Investment demand has increased over the past decade helped by the growing popularity of gold ETFs. Investment demand, measured in tonnes, has increased at a 19% compounded annual rate for the past nine years. Currently, by some estimates, gold ETFs hold 8% of the total gold investment stock of $1.6 trillion. This is equivalent to $129 billion or about 90% of 2011 production. Four years ago, ETFs held just 3.6% of the investment stock.
10% of gold demand currently comes from central banks. From 1990 to 2008, central banks were net sellers of gold, but they have been net buyers over the past three years to the tune of about 1,200 tonnes.
The remaining 10% of gold demand comes from industrial users, including electronics, computers, aerospace, dentistry and other medical uses.
Factors affecting the price of gold
For the past decade or so, investment demand has been the key driver of gold prices. This demand has been fueled by concerns that many countries, including the U.S., are debasing their currencies. Because gold is difficult to produce, its supply cannot be expanded rapidly (or at least, not nearly as rapidly as the paper money supply). Thus, it is seen as a good store of value.
Recent price increases have therefore been driven by concerns about future inflation, even though so far inflation has been subdued. Skeptics and conspiracy theorists argue that inflation is deliberately understated and point to commodity prices as proof. This may be so, but commodity prices fluctuate, often reversing a budding inflationary trend. Interest rates also have an inflation component, and interest rates for the world's most developed economies remain at or near historically low levels.
Of course, this low inflationary environment could conceivably change on a dime, which is one of the primary reasons that investment demand for gold has remained strong. Ultimately, however, support for the price of gold comes, as Mr. Buffett says, from what someone else is willing to pay for it. Those who are bullish on gold assume that if confidence in paper money evaporates, people will embrace gold as an alternative.
Gold Investment Alternatives
Within the two broad categories of physical gold and gold miners; there are a few different investment vehicles.
Physical Gold
In 2004, the Income Builder model portfolio established a position in American Eagle gold coins, which has turned out to be one of its best investments. Today, with an average cost basis of $383, those coins are now quoted at $1,840 each.
The primary risk with gold coins (or bars) is that they are less liquid. There are far fewer coin dealers than stock brokers. Dealers typically mark up the price of the coins by a modest percentage, usually around 5%. A good relationship with a dealer can help to ensure a fair price when it comes time to sell.
We chose gold coins back in 2004, rather than gold mining stocks, because of their relative simplicity. Gold miners have lots of moving parts - reserves, production, operating costs, hedging - that can affect the price of the stock and cause it to underperform the commodity.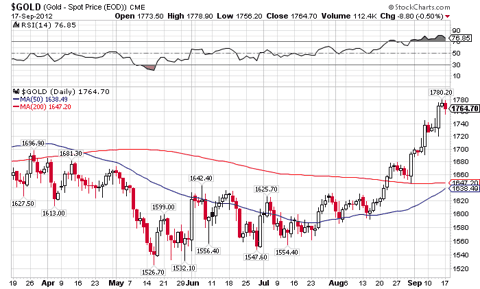 Recent Performance
After stabilizing through early and mid-summer, the price of gold (as shown in the chart above, courtesy of StockCharts.com) has rocketed higher since August 20. The yellow metal has risen 8.8% in about four weeks. Daily charts suggest that gold is overbought, with an RSI well above 70. From a longer-term perspective, gold is near the two previous peaks of $1,792.70 and $1,804.40, which represent resistance. A meaningful breakout above $1,800 would be considered bullish, but the price may need to consolidate near this level for a short time before mounting another advance.
Investment Vehicles
Gaining exposure through the purchase of a fund that invests solely in the commodity is another way to invest in gold. Here, a couple of choices come to mind. Among the various ETFs, the best known is SPDR Gold Shares ETF (NYSEARCA:GLD) which has nearly 42 million ounces of gold in custody currently worth $74.3 billion.
The Central Fund of Canada (NYSEMKT:CEF) is a closed-end fund that invests in gold and silver bullion. During its 50-year history, CEF has served investors as "the sound monetary fund." It holds at least 90% of its net assets in gold and silver bullion, at least 85% of which must be in physical form (rather than certificates). On July 31, 2012, 98.9% of the fund's net assets were held in gold and silver bullion and 99.6% of that was in physical form. The fund's performance has tracked the price of gold fairly closely. It typically trades at a premium to net asset value, but its recent premium of 5.55% is below its 10-year average premium of 8.18%.
Gold Miners
Over the past five years, gold has outperformed the gold miners. During the 2008 financial crisis, gold prices declined as the dollar strengthened, but shares of gold miners fell by a greater percentage, in line with the broader market. They recovered quickly in early 2009.
From 2009 until the beginning of 2011, gold miner shares kept pace with the steady advance in the price of gold. Since 2011, however, they have underperformed gold, until just recently.
The relative performance of the miners vs. the commodity was a hot topic at this year's Denver Gold Forum. The Forum, which was held from Sept. 10 to Sept. 12, featured presentations from more than 80 publicly-traded gold and precious metals mining companies.
CEOs of the largest gold miners gave their views on the performance divergence between gold and miners' shares. Some analysts have attributed the weaker performance of the miners to the popularity of the commodity ETFs, which they say have drawn investment funds away from the miners. Others point out that the growth of the commodity ETFs has helped push the price of gold higher, which has been a big benefit to the miners.
A few CEOs agree that miners have not operated as efficiently as they could. Some have pursued growth for growth's sake, paying little attention to return on investment. Like other minerals and fossil fuels, it is becoming more difficult to find rich deposits that can be mined at low operating costs. Political risks have also increased in many parts of the world. With the nationalization of YPF by Argentina and a Glencore mining company by Bolivia, mining companies are more cautious in their approach to opening new mines in South America and other places. Some still pursue these riskier projects, but they now typically focus only on the ones that have superior production potential.
At the same time, many miners have refocused their businesses to improve operating efficiency and returns on investments. That may not be evident in their most recent reported results, but they suggest that it will become so in the near future.
While the miners are contrite about their past performance and pledge to do better, they also want to see changes in the way that analysts view the industry. Many analysts apparently still assume that high gold prices will be short-lived, so the terminal values that they use in their cash flow and earnings projections assume, for example, that gold will drop back below $1,000 per oz. over the next 3-5 years. Those terminal values are an important determinant of projected investment returns. Gold prices have risen every year now for the past eleven. (They will have to get back above $1,924 to beat 2011's high.) Accordingly, the miners would like to see analysts assume, as they do now in the oil & gas sector, either that prices will rise steadily in the coming years or at least that the current prices will hold indefinitely going forward.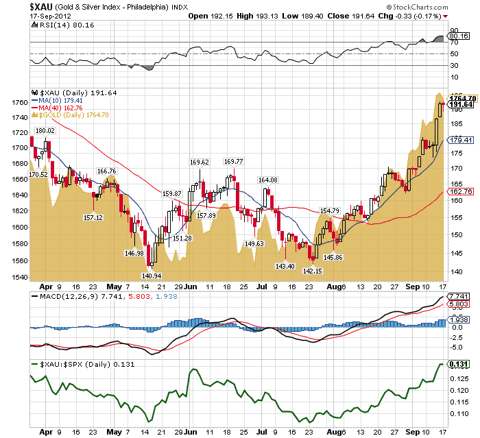 Recent Performance
The PHLX Gold Miners Index (XAU), which includes shares of 30 companies, has tracked the price of gold fairly closely in recent months and has significantly outperformed the S&P 500 (NYSEARCA:SPY). It too looks overbought near-term, but still has some catching up to do to make up for its relative underperformance earlier this year. A weekly chart shows the index climbing sharply out of a double-bottom and now hitting resistance from trading levels in late 2011. The XAU is still 18% below its all-time high of 232.72 achieved in December 2010.
Majors vs. Juniors
The majors are the industry giants with equity market capitalizations in excess of $9 billion. Examples include Barrick Gold (NYSE:ABX), GoldCorp (NYSE:GG) and Newmont Mining (NYSE:NEM). Juniors are those with market capitalizations below that $9 billion threshold, mostly mid-caps and small caps, but some micro-caps as well.
Besides their bigger equity market capitalizations, a distinguishing feature of the majors is their ownership of large mining projects which typically have lower operating costs and generate significant cash flow. The majors have the technical expertise and financial heft to take on big new projects in remote locations just about anywhere in the world. They are constantly on the lookout for new projects to replace and grow their operating base. Strong balance sheets combined with steady cash flow reduces risk for investors in their common shares.
Like the majors, juniors have projects that are both operating and under development, the primary difference being that the juniors rely on just a few projects. Some have no operating properties and therefore are dependent upon the eventual success of their properties under development. Typically, then, the juniors generate less revenues and cash flow and are more highly leveraged. The risks with juniors are greater, but so too are the potential rewards.
Since the investment performance of a typical junior often depends upon the success of a single (or just a few) project(s), getting a detailed understanding of the relative merits of specific properties is essential.
Many investors prefer to focus on the majors because they have more diverse and greater revenues and cash flow streams and stronger balance sheets.
ETFs
There are many ETF choices among the gold miners. The Market Vectors Gold Miners (NYSEARCA:GDX) and its sister fund, the Market Vectors Junior Gold Miners (NYSEARCA:GDXJ) are two popular choices. In theory, the junior gold miners are riskier "higher beta" investments that should perform better than the majors when the price of gold soars. They are supposed to carry greater risk, but also greater potential rewards. GDXJ, however, seems to defeat that purpose, by offering a more broadly diversified portfolio (83 stocks for GDXJ vs. 31 for GDX) that smoothes out its performance. Since its inception in November 2009, GDXJ's performance has closely tracked GDX.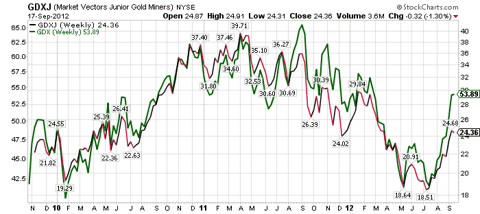 Individual Gold Miner Shares
This is our preferred approach, even though it is usually a tougher and more time-consuming way to go. Newmont Mining looks attractive here.
Newmont Mining
Based in Denver, Newmont is the third-largest gold miner by market capitalization. Roughly 90% of its sales and assets are distributed in four geographic areas: Australia/New Zealand, the United States, Peru and Indonesia.
Newmont operates mostly in areas that have less political risk (i.e. the U.S., Canada, Australia, New Zealand and perhaps Mexico). Some of its most promising development projects, like those in Peru and Africa are clearly risky, but management believes that it is approaching these projects in a way that reduces or limits the company's downside risk.
Newmont's 2012 performance has so far met management's expectations. Production and profits are down in the 2012 first half, mostly due to planned shutdowns. Operating costs have been slightly higher than expected, but management is sticking with its full-year guidance. Consensus estimates anticipate that adjusted (non-GAAP) earnings will drop from $4.39 per share in 2011 to about $4.00 in 2012, but then rise to $4.90 in 2013.
One of the primary attractions with Newmont is its dividend, which at $1.40 and a 2.5% yield is among the highest of the major gold miners. Newmont has linked its dividend to the price of gold, so that the dividend will rise to $2.70 per share, if gold goes to $2,000, and as high as $4.70, if gold goes to $2,500.
The company also has the highest per share level of gold production (measured in ounces) compared with its large-cap peers; so the stock should rise at a proportionately faster rate to the price of gold than most other miners.
Risks include those generally associated with mining operations, such as lower yields and snafus that cause temporary production shutdowns. As noted, there are political risks associated with launching new projects, especially in developing countries. Energy costs also account for 20%-25% of the total cost of production, so some of the potential benefit from higher gold prices could be offset by higher energy costs. Newmont seeks to hedge some of its operating risk with foreign exchange and energy futures contracts, but it does not hedge its gold and copper sales.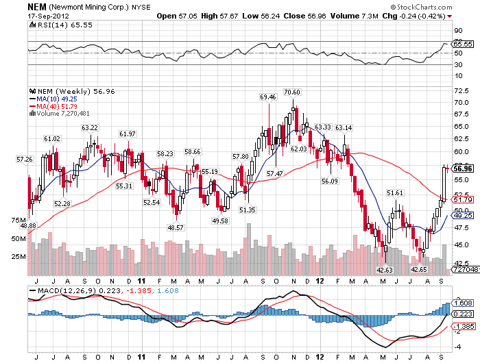 Gold miner stocks have run up sharply in recent weeks in response to renewed long-standing concerns about inflation and geopolitical risks. In particular, Newmont's share price has risen sharply, right through resistance to $56.96, which is near a six-month high. Yet, the stock price is well below its 52-week high of $70.60. After such a strong move, the stock may consolidate here a bit before moving higher. The stock looks suitable for purchase in the $55-$57 range, with potential upside beyond $70.60, depending of course upon how high gold prices go.
On balance, despite the validity of Mr. Buffett's opinions, gold prices in the weeks and months ahead will reflect concerns about inflation and geopolitical risk. An investment in gold or in the shares of gold miners represents a reasonable (but probably not the ultimate) hedge against these downside risks.
Disclosure: I have no positions in any stocks mentioned, but may initiate a long position in NEM over the next 72 hours. I wrote this article myself, and it expresses my own opinions. I am not receiving compensation for it. I have no business relationship with any company whose stock is mentioned in this article.