Everyone knows Nike's (NYSE:NKE) slogan "Just Do It" is one of the most catchy ones out there. But, does the company's dividend do it for the investors? Let us find out in this exercise.
Nike has now paid the same dividend of 36 cents per share for the past 4 payouts, which means a dividend increase is

in

the cards for the next payout, which is due in December 2012.
Nike has been paying dividends since 1984 and the dividends have been steadily increasing ever since as shown in the chart below.

(Source: Dividata.com)
The current yield is a paltry 1.5%, which might make investors wonder if Nike "does it".
The current payout ratio stands at a comfortable 30%, which gives the company some breathing space.
While the current yield is agreeably small, the dividend growth rate has been encouraging. The past 5 increases have averaged about 14.4% per year.
As in earlier exercises, the table below extrapolates the power of dividend growth for an investor who sets aside his/her money with Nike for a 10 year period.
The assumed dividend growth rate is about 10%, which might seem high but we must remember that Nike is still considered a (relative) growth story. The expected earnings growth rate of about 8%, combined with a low pay out ratio should make it possible for Nike to have double digit dividend increases.
We expect the new dividend to be at least about 40 cents a share based on this moving average.
As you can see, the dividends and yield on original cost almost triple for the patient investor, assuming Nike continues to pay out a good fraction of its earnings as dividends.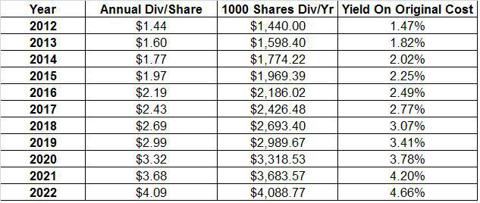 Conclusion: So, does Nike do it for you? We believe it does for investors with a long horizon. Sure, there are so many other companies that have a higher yield but Nike is perhaps one of the better "packages" you can find out there: great brand name but still with potential for more international growth, low but growing dividends and an industry leader. Starbucks (NASDAQ:SBUX) and Ross Stores (NASDAQ:ROST) are other examples that fall into this category. Any weakness coming out of Europe especially could prove to be a good buying opportunity on this stock. With the upcoming dividend increase, even a slight pullback in the stock price would suddenly yield us 2%.
Disclosure: I have no positions in any stocks mentioned, and no plans to initiate any positions within the next 72 hours. I wrote this article myself, and it expresses my own opinions. I am not receiving compensation for it (other than from Seeking Alpha). I have no business relationship with any company whose stock is mentioned in this article.