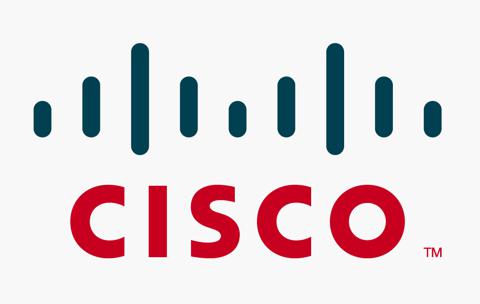 Cisco (NASDAQ:CSCO) is a large-cap information technology (IT) company founded in 1984 and headquartered in San Jose, CA. The company sells a diverse array of products, which comprise the hardware that enable data transmission across the Internet. Routers comprised 20.6% of net sales in 2011, while switches comprised 38.9%. The remaining sales came from new products such as data security and teleconferencing. The company's sales are geographically diversified across the world: 51.3% of 2011 sales originated in the United States and Canada, 20.9% came from Europe, while the Asian Pacific and emerging markets contributed 15.8% and 12.0% respectively.
Cisco has faced challenges in recent years with its key products. Sales growth for switches and routers was relatively flat in the past fiscal year, attributable to the continued transition of the product portfolio, lower public sector spending, and increased competitive pressures. However, a number of new products within Cisco's portfolio have continued to drive growth. Sales of collaboration products (such as teleconferencing) rose 31% to $972M, while data center products increased by 44% to $491M (total 2011 revenue was $46B). Cisco has never been a consumer products company and strategies to push growth in this segment have never been successful. The current corporate strategy of driving growth by catering to business communication through teleconference and data security is a better fit for the company. Thus, while Cisco's stock is currently priced to expect very low growth, the company is pursuing a sound strategy toward growth by focusing on areas in which it has key competitive advantages. The higher-margin world of business IT spending should be a very good fit for Cisco in the coming years, while growth in its core business should be driven from spending in emerging markets.
Valuation
Cisco has very attractive valuation at the present time and a wide margin of safety. Its trailing TM P/E is 12.8, with a PEG ratio of 1.28 and an EV/EBITDA of 5.44. Cisco is very cheap relative to its peer group (Aruba Networks (NASDAQ:ARUN), Juniper Networks (NYSE:JNPR) or Riverbed Technology (NASDAQ:RVBD)), which have an average forward P/E of approximately 20 versus Cisco's forward P/E of approximately 10. Cisco has historically generated a wide spread between its weighted average cost of capital and return on invested capital. This indicates future investment will be a strong driver of shareholder value for the foreseeable future.
The data in Figure's 1 and 2 were reproduced with permission from Valuentum.com. Their discounted cash flow model gives a precise picture of the value of future cash flows that can be expected from prospective investments. It is very helpful in narrowing down potential stock picks before performing further due diligence.
Figure 1: Historical Return on Invested Capital for Cisco.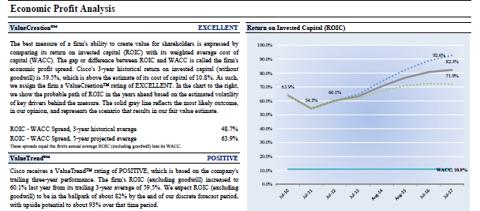 Even assuming very low growth for Cisco, there is a wide margin of safety present for its current discounted cash flows. The model shown below assumes 0.5% growth over years 6-20 and 3% growth in perpetuity thereafter, even though consensus earnings expectations for the 2013 fiscal year are $2.09/share - a 7.8% increase over this year's expectations. This would imply a fair value per share for Cisco of approximately 28 dollars per share - a level approximately 47% above the current market price. The current market price expects no growth for the company in perpetuity. While Cisco has had a challenging transition over the past year or two, the market outlook is far too pessimistic and does not correlate to the company's recent performance. As seen at the bottom of Figure 2, Cisco has generated nothing but earnings surprises over the past 18 months and has continued to grow its bottom line.
Figure 2: Discounted Cash Flow and Margin of Safety Analysis of Cisco .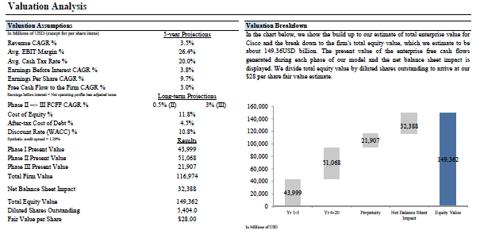 Adjusted Book Value
Calculation of an adjusted book value for Cisco is an approximation of the reproduction cost of the company. When a company can be purchased for near or below its reproduction cost it represents a significant barrier to entry for competitors and thus an added margin of safety protecting future cash flows. Competing companies will not enter the market if the cost of building a competing company roughly approximates its expected market value, thus Cisco should have a very strong corporate moat at the present time.
The adjusted book value of Cisco is calculated in the table below. The total shareholder equity of the company is its assets minus liabilities. I made one adjustment to the book value. Because a competing company entering the field would need to match Cisco's R&D spending to produce a comparable product, I added the total depreciated R&D spending of the last 10 years to the adjusted book value. Depreciation of the R&D spending by 8% per annum plus the assets on Cisco's balance sheet amounts to a value of approximately $78B. Given the current market capitalization of Cisco, it would cost 74 cents on the dollar to build a comparable company. To this value it should be noted that Cisco also retains a number of less tangible assets, such as the value of its brand, the market share and infrastructure it has built over the past 27 years, and the value of property and plant, which has been depreciated on the balance sheet from $12B to $3.5B, but would certainly cost far more to reproduce at the present date. Thus an investor in Cisco at the present time is buying the company for a small premium to the value of assets that the company holds.
Table 1: Adjusted Book Value of Cisco
2012

2011

2010

2009

2008

2007

2006

2005

2004

2003

Total Shareholder

Equity ($M)

47259

44285

38677

34353

31480

23912

23174

25826

28029

28656

Cash ($M)

44585

39861

35001

26235

22266

17814

16055

8669

8485

44585

R&D Spending ($M)

5823

5273

5208

5325

4598

4067

3322

3192

3135

5823

Depreciation

Adjustment ($M)

5823

4851

4408

4147

3294

2680

2014

1781

1609

5823

R&D Value ($M)

30607

24784

19933

15525

11378

8084

5404

3390

1609

30607

Adjusted Book

Value ($M)

77866

69069

58610

49878

42858

31996

28578

29216

29638

77866

Current Market

Capitalization ($M)

105000

Ratio

0.74
Shareholder Friendliness and Dividend Growth Analysis
One aspect of Cisco's behavior that has strongly changed my analysis of the company is its recent adaptation of a much more shareholder-friendly stance. Cisco has consistently bought back shares over the past several years, but recently it has also become an excellent dividend growth pick.
The firm recently raised its dividend from 28 to 56 cents per share per year. The payout ratio is approximately 28% giving ample room for future dividend increases. The company has stated that it intends to return 50% of free cash flow to shareholders. Given the strong cash position of the company and a current free cash flow of 10%, it should be safe to expect to collect Cisco's dividend and have one's shares concentrated by buybacks to the tune of 6% per year. A decrease in share count will easily drive 3% of future dividend increases, while a further 4% growth can be conservatively expected from increasing revenues.
Consider the formula: Value = Dividend/(R - Dividend Growth)
The value of CSCO at a current dividend of $0.56 and growth of 6.5% and an expected rate of return of 9% yields.
Value = $0.56/(1.1 - 1.07)
Value = 18.67
Thus the price of Cisco is fairly valued based on dividend alone. The stock buybacks that Cisco has instated and distributed over the past few years are an added perk. From 2008 until 2011 outstanding share count decreased from 6163M to 5563M, representing 10% of the company's float. Based on 10-year normalized earnings (currently 18.7), Cisco hit its lowest point in the past 15 years (including the 2008-09 bear market) this summer when the share price bottomed at $15.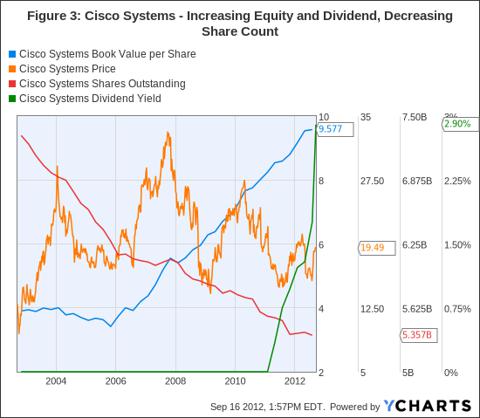 The Case for Cisco - Why Continued Growth is Very Likely
Over the next few years, it is anticipated that Cisco will reap the rewards of its current strategy toward business IT spending and further expand its business in emerging markets. While the market in the U.S. and Europe is largely mature in Cisco's core business, it is expected that the router and switching business in these markets will be maintained in developed economies and will continue to grow in emerging economies. The present time appears to be a very good entry point for the company: the shares are undervalued, the relative strength and momentum of the shares are strong, the company offers a wide margin of safety and the company's recent turn toward a more shareholder-friendly outlook is very encouraging. Thus, from the standpoint of a value, momentum, or dividend growth investor, Cisco shares are highly attractive. Because it appeals to a diverse range of possible buyers it is expected that the stock will continue on its upward trajectory. There should be much more upside potential than downside risk at the present time.
The big tech players from the 1990 tech bubble remind me of the old saying: "be careful what you wish for, you just might get it." By any reasonable set of expectations, Cisco has met the expectations of that generational stock market boom. The company is a free cash flow machine, but in the, "what have you done for me lately" world of Wall Street this isn't enough and the company has become unfairly undervalued. It is my contention that this undervaluation represents a compelling entry point for Cisco as an investment. While it is unlikely that Cisco will ever be as highly valued as they were in the late-1990s they will still create shareholder value and grow over the coming decade. I doubt very much a buyer today will be disappointed over a reasonable investment time horizon.
Disclosure: I am long CSCO. I wrote this article myself, and it expresses my own opinions. I am not receiving compensation for it (other than from Seeking Alpha). I have no business relationship with any company whose stock is mentioned in this article.
Additional disclosure: The article above represents my analysis of Cisco and should not be construed as a solicitation to buy the security. As always, perform your own due diligence before taking a long position in any stock.