Emerging markets are growing and every pharma major wants to share the pie. But these markets are so diverse that what works in one country may not work in the other. It's next to impossible to clearly say who will gain and who will lose. Pharma majors are working overtime to find their own strategy to grow in these markets and it has been a tough ride so far.
The term emerging market or emerging economies is itself a point of contention and different organizations have different definitions. But we all know that it has to be a growing economy with a market that is yet to mature. For pharma companies, developing economies such as Brazil, China, India, Russia, Mexico and Turkey offer the most potential. Some companies such as Sanofi include parts of Europe, as part of their emerging market group.
All these countries have one thing in common, a growing population with an insatiable need for better healthcare. These countries do not have the necessary infrastructure that can address the growing population's healthcare needs. The governments know that they are not in a position to source branded drugs to address the entire nation's needs. These countries don't have a choice; they don't have money to pay the price the big companies might demand. In most of the emerging economies, people spend out of their pocket to pay for medical expenses, making it absolutely necessary for them to look for cheaper products. Net Result: Governments want to control cost and they prefer generics.
IMSHealth expects emerging market sales to increase by $150 billion, reaching 28% of global spending by 2015. But here is the catch! IMS Health also says that only 20% of the additional spending will come from branded products. Most of the accelerated growth in the emerging markets will come from non-branded products or generics.
Why Drug Majors Need Emerging Markets?
India and China are the two most populous countries in the world. Together they have more than 2.5 billion people. Even if they grow at a 0.5% rate, they will add 12.5 million every year. Millions are added to the middle class every year. As these economies grow, it increases the per capita income of the working class, allowing them to spend more on healthcare.
The median age of Indian Population is 26.5 years and in China its 36 years. The healthcare needs of this population will explode as it ages and whoever gets established in these markets in the next 10 years will be able to reap the rewards for a very long time. The pharmaceutical market in these countries can grow for a very long time and there is no way pharma companies can keep away from them.
The Problem
There is a reason why these markets are growing at a rapid pace. It's because they are underdeveloped and have enormous room to grow. Emerging market citizens, earn a lot less than what their peers in developed countries earn and pay a lot less to address their health care needs. In most of the emerging market countries healthcare system is run by private practitioners and private hospitals. People pay out of their own pocket for medical expenses, which in turn limits their use of medicines that are priced above their ability. With local manufacturers selling generic drugs and copy cat versions at dirt cheap prices, choosing a cheaper alternative is not at all hard for the patients.
The other problem is the effectiveness of the judicial system in these countries. Pharma companies depend on patents to earn their rightful salary. It will be very difficult for big pharma to keep fighting against local competitors and generic manufacturers on one side and the policy makers on the other side. But nevertheless, pharma companies are going do their best against the local government's effort to water down patent laws.
Top 9 Pharma's Geographical Segments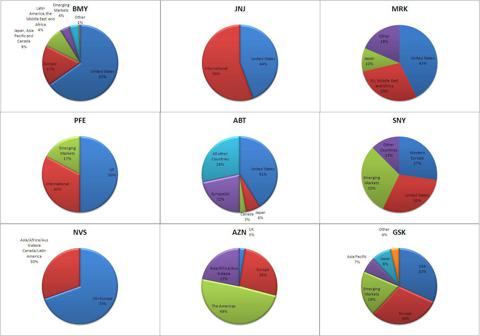 China
| | |
| --- | --- |
| Country | China |
| Population | 1.3 Billion |
| Median Age | 35.9 |
| GDP Growth | 9.20% |
| GDP Per Capita | $8,500 |
| Health Expenditure % of GDP(2009) | 4.5% of GDP |
| Pharmaceutical Market (2011) | 66.8 Billion |
| Pharma Growth (2011) | 22% |
Data Source: CIA Factbook, IMSHealth
If you are a Pharmaceutical major then China is always on your mind. The Chinese Pharmaceutical Industry is the third largest market by size and one of the fastest growing markets. The Chinese government is an active participant in the pharmaceutical market and its policies can make or break a company. Doing business in China is not that easy and Google learned the lesson the hard way. Improving healthcare access is very important for the Chinese government but it also wants to reign in the costs and have a control over what's happening in its mainland.
The Chinese government recently amended its patent laws to allow them issue compulsory licenses for marketing drugs. These licenses allow the government to water down patent laws and permit generic drugs to enter the market long before patent expiry. The government will issue such licenses whenever it finds branded drugs to be expensive for the population to buy.
Healthcare reform in China is an ongoing process and it will take time. The terrain is difficult and big pharma may have to sit out on some of the growth.
India
| | |
| --- | --- |
| Country | India |
| Population | 1.2 Billion |
| Median Age | 26.5 |
| GDP Growth | 7.20% |
| GDP Per Capita | $3,700 |
| Health Expenditure as % of GDP(2009) | 2.40% |
| Pharmaceutical Market (2010) | 11.1 Billion |
| Pharma Growth (2010) | 17% |
Data Source: CIA Factbook, IMSHealth
India is still not in the same league as China in terms of market size, but it does have a growing market. Plagued by an inactive government and bureaucratic delays in investment reforms, India could lose its investment rating soon. Trade deficit has widened, growth is slowing down and businesses are feeling the pinch.
The recent high profile case Bayer VS Natco Pharma changed the future course of big pharma in India. The Indian Intellectual Property Appellate Board found Bayer's Nexavar to be too expensive for the masses and granted a compulsory license to Natco Pharma for selling a generic version of the cancer drug. Bayer strongly condemned the Indian Government's action and has mounted a legal challenge against the license issue.
As a democracy the terrain might be a little easier for big Pharma to handle, but bureaucratic delays might make reforms a painstakingly slow process.
Russia
| | |
| --- | --- |
| Country | Russia |
| Population | 142 Million |
| Median Age | 38.8 |
| GDP Growth | 4.30% |
| GDP Per Capita | $17,000 |
| Health Expenditure as % of GDP(2009) | 5.40% |
| Pharmaceutical Market (2011) | 19 Billion |
Data Source: CIA Factbook, IMSHealth
The growing Russian market offers a very different challenge for Pharma Majors. Russia supports local pharma companies by providing funds for research and development and it has been pushing hard to develop it's local manufacturing capabilities. Russia made it clear that if you want to sell drugs in the country then you need to set up your base here. It does not encourage importing drugs into the country.
We will have restrictions for them on our market if there are no imports of manufacturing facilities and technologies - Mr Vladimir Putin, President of Russia
Brazil
| | |
| --- | --- |
| Country | Brazil |
| Population | 199 Million |
| Median Age | 29.6 |
| GDP Growth | 2.70% |
| GDP Per Capita | 11,900 |
| Health Expenditure as % of GDP(2009) | 9% |
| Pharmaceutical Market (2011) | 28.46 Billion |
| Pharma Growth (2011) | 23% |
Data Source: CIA Factbook, IMSHealth
Brazil is one of the fastest growing pharmaceutical industries in South America. The government prefers generics over branded drugs and took a series of policy decisions to that effect. Generics accounted for 20.6% of Brazil's pharmaceutical industry sales in 2011 and the marketshare will grow more and more in the next few years.
What Big Pharma can do?
Pharma majors will have to work with local companies, collaborate with government initiatives, bring some of the cost down and push towards higher volumes. They cannot just depend on branded products but balance it with generic products. If they can identify a pricing mechanism that addresses the purchasing power of the respective country, they will be able to protect their patents. But its easier said than done.
Companies that are best positioned for Emerging Market Push
Novartis - Novartis draws 30% of its revenue from emerging markets. Sandoz, the generic division of Novartis is already an established player.
Pfizer - Has been aggressively pushing for Joint ventures and deals with other companies to handle emerging markets.
Sanofi - Though the drug portfolio looks a bit weak, Sanofi seems to be serious about emerging markets and named it as one of its growth platforms. Emerging markets now account for a third of Sanofi's total sales, more than what Sanofi earns in US and Europe. Emerging Market revenues increased 10.4% in 2011, with generics accounting for 62% of sales.
Disclosure: I have no positions in any stocks mentioned, and no plans to initiate any positions within the next 72 hours. I wrote this article myself, and it expresses my own opinions. I am not receiving compensation for it (other than from Seeking Alpha). I have no business relationship with any company whose stock is mentioned in this article.