Last week I wrote a Seeking Alpha article that was centered on just one chart that could assist investors with intelligently acquiring REIT stocks. The chart (below) illustrates the five recessions including the "bottom out" years of 1974, 1981, 1990, 2001, and 2009. As you see, the US economy is clearly in the 56th month of the recovery period and we have not recovered 50 percent of the jobs that have been lost from the latest recession. The other recessions illustrated are more "v-shaped" recoveries and clearly not as significant as the "great recession" shown below. Source: Reis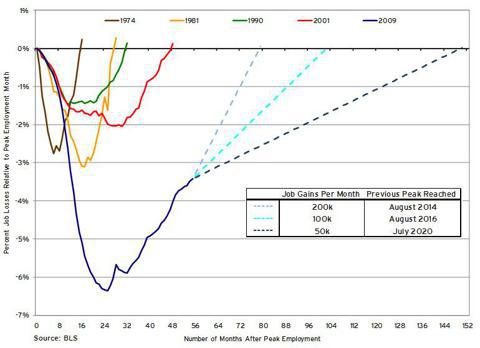 In my opinion, self-storage is one of the most durable and resilient real estate classes and the favorable supply and demand dynamics make the specialty sector worth considering. The fundamental drivers for the self-storage sector can be explained by Matthew Werner, CFA with Chilton Capital Management, LLC:
On the supply side, there is little to no construction due to the extended period of time it takes to lease up a storage facility (usually around 3 years). On the demand side, the decline of single family housing has caused folks to move into smaller living spaces, which may not be able to hold as much 'stuff' as the previous residence. By nature, the ownership of this 'stuff' has made self storage very resilient in recessions, as they need a place to keep it regardless of what is going on in the economy.
Extra Space: A Brand That Promises Scale
Extra Space Storage Inc. (NYSE:EXR), headquartered in Salt Lake City, Utah, is a fully integrated, self-administered and self-managed real estate investment trust that owns and/or operates more than 900 self-storage properties in 34 states and Washington, D.C. The company's properties comprise approximately 585,000 units and more than 64 million square feet of rentable space, offering customers a wide selection of conveniently located and secure storage solutions across the country, including boat storage, RV storage and business storage. The company is the second largest owner and/or operator of self-storage properties in the United States and is the largest self-storage management company in the United States.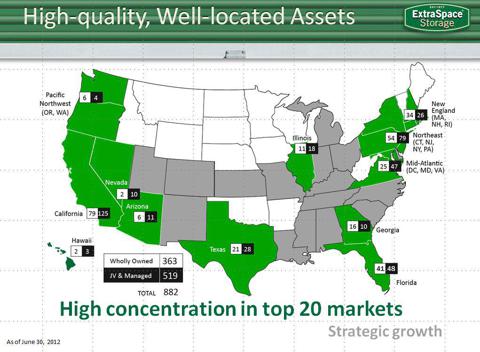 With a nationwide footprint of around 908 properties (owned and managed), Extra Space is over twice the size of its two smallest competitors (public-traded peers). The number two chain has a market capitalization of $3.631 billion - compared to the three public peers of Public Storage (NYSE:PSA), CubeSmart (NYSE:CUBE), and Sovran Self Storage (SSS).

The four combined publicly-traded self-storage REITs have a market capitalization of $31.52 billion or around six percent of the entire FTSE NAREIT All Equity market capitalization of $517.3 billion. The sub-sector led the way in total return (for all equity REITs) in 2011 with a full-year return of 35.22 percent. The year-to-date total return for the specialty sector is 15.85 percent and the average dividend yield for the sector is 2.9 percent (source NAREIT).
In terms of demographics, Extra Space leads the industry in high-quality, well-located facilities. This is evident by viewing the peer group's average 3-mile population radius. Extra Space enjoys an exceptional 136,806 average population radius: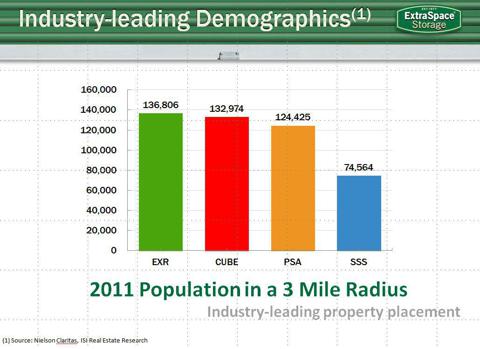 In addition, Extra Space leads the peer group in its average household income in a 3-mile radius.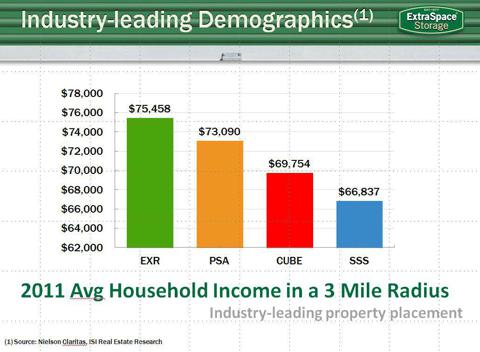 Extra Space: A Brand That Promises Results
Extra Space's strategy of owning and investing in high-quality self-storage properties is clearly working and the #2 brand is continuing to maintain its #1 position in same-store results. As the snapshot below indicates, Extra Space has maintained its brand consistency with 26 quarters of average same-store outperformance.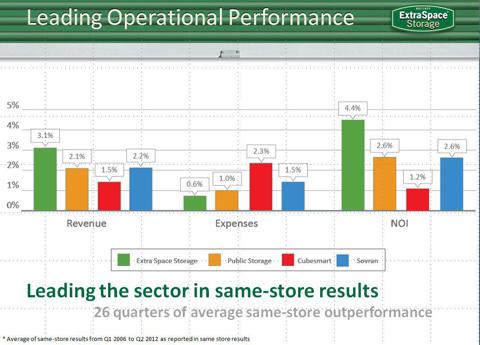 In addition, Extra Space leads the peer group in second quarter (2012) performance. In the latest reporting period, the #2 brand led the peer group in both revenue (up 6.7 percent) and NOI growth (10.2 percent).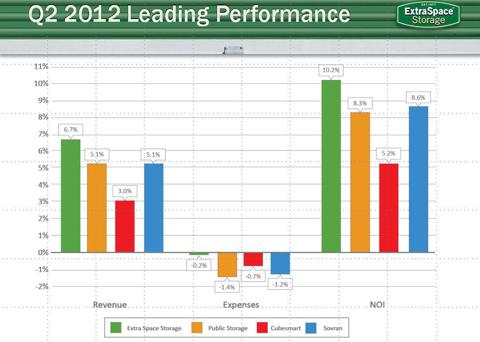 Extra Space achieved funds from operations ("FFO") of $0.33 per diluted share including lease up dilution of $0.01 per share and additional interest expense of $0.01 per share associated with the prepayment of debt, resulting in 32.0 percent quarter-over-quarter FFO growth compared to 2011.Spencer F. Kirk, Chairman and CEO of Extra Space Storage Inc. (and owner of more than 2.3 million shares and EXR's largest private individual shareholder), commented:
We are pleased with the performance of our properties and our execution on the fundamentals of our business. Our same-store revenue growth and expense control were excellent and we are entering the busiest part of the year in a good position. The previously announced acquisition of 36 assets from Prudential Real Estate Investors will propel our future earnings growth and help provide ongoing returns to our stockholders. We are delighted with the opportunity to grow the Company through our partner relationships.
The special ingredients of the Extra Space brand is also the recipe for successful REIT investing. The essence of the formula is described by Matthew Werner, CFA of Chilton Capital Management, LLC:
With the sector, the well-respected leadership team headed by Spencer Kirk has proven to be adept at capital allocation as well as operations. Thanks to several joint ventures, they (Extra Space) have a sizable pipeline of acquisition opportunities which they have been prudent tapping. Additionally, they have been able to grow NOI at an average rate through some revenue management ideas and strict cost controls. They have been able to increase rents on tenants faster than competitors by sending out notices after 9 months instead of the previous industry standard of 12 months. They have been able to keep expenses down by using similar 'trend-bucking' ideas.
Extra Space has one of the most innovative marketing platforms in the industry and the need-based business model is proven to be resilient in both good and bad times. The company's internet strategy has been a key differentiator for the #2 self-storage REIT as the company has invested considerable resources to position itself as a leader in technology.
Spencer Kirk, CEO of Extra Space, began his career when he co-founded Megahertz Corporation in 1985, which became the leading manufacturer of modems for laptop computers in the world. As the Chairman and Chief Executive Officer of Megahertz, Kirk helped grow Megahertz from a basement operation to the leading supplier of solution-oriented mobile data communications products. In 1988 the company was one of the first to offer third-party modems for the nascent laptop computer market. Megahertz went public in 1993 and the following year was acquired by US Robotics, which was later acquired by 3Com Corp.
Clearly there is a strong correlation to growing a self-storage REIT and the evolution of e-commerce technology. By owning some of the highest quality self-storage properties in the United States, combined with the adept experience of Spencer Kirk and his veteran management team, Extra Space is certain to continue delivering something special. This recipe for success can be best summed up by Warren Buffett:
Your premium brand had better be delivering something special, or it's not going to get the business.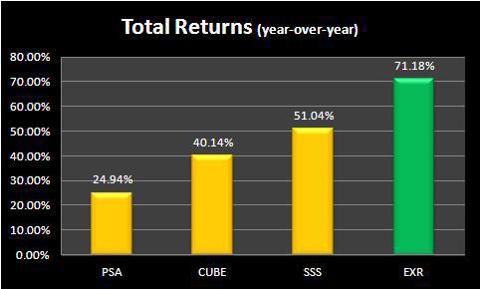 Sources: SNL Financial, Chilton Capital Management, Extra Space Investor Presentation. Reis Inc., and NAREIT.
Disclosure: I have no positions in any stocks mentioned, and no plans to initiate any positions within the next 72 hours. I wrote this article myself, and it expresses my own opinions. I am not receiving compensation for it (other than from Seeking Alpha). I have no business relationship with any company whose stock is mentioned in this article.