In August, we published our report analyzing AT&T's (NYSE:T) ability to pay its dividends to shareholders. We are aware of how dividends are not an ordinary and necessary business expense, which explains why such payments are not tax-deductible for dividend-paying businesses. At the same time, dividend-paying companies have an implicit obligation to shareholders to pay dividends because such cash flows belong to the shareholders. If the company can't invest said cash flows in projects that meet or exceed the cost of equity capital, and if the company is not facing a 1929 or 2008 macroeconomic shock, then it is duty-bound to return those cash flows to shareholders.
Based on the positive reception from our report evaluating AT&T's dividend-paying ability, we analyzed and evaluated AT&T's former subsidiary and current competitive peer Verizon Communications (NYSE:VZ). Based on the subsequent positive reception from that article, we are extending this series to analyze and evaluate CenturyLink's (NYSE:CTL) ability to pay dividends.
CenturyLink acquired a former AT&T subsidiary (Qwest Communications (Q) by way of US West) in 2011, acquired former operations from Verizon that it inherited from GTE in 2000-2002, and resells Verizon Wireless products and services.
We have seen that the telecom industry's legacy wireline business is in a mature and declining industry phase, and we are starting to see signs of maturity from the wireless communications segment as well. Signs of maturity we are seeing from the wireless communications segment include decelerating revenue growth, reduced numbers of new subscribers, and year-over-year reductions in capital expenditures. While this may not be the kind of news that growth investors who are primarily seeking capital appreciation want to hear, this is great news for income-oriented investors because we expect such trends to prompt companies to increase the proportion of free cash flows returned to investors in the form of dividends and share repurchases. Although CenturyLink does not have a wireless communications arm of its own, we hold a position in it because it resells Verizon Wireless's products and services and it is working on expanding its presence in the wireless backhaul segment with its fiber to the tower and fiber to the node initiatives.
We saw this trend manifest with AT&T this year as it repurchased $4.25B in net shares in the first six months of 2012, compared to last year where it was saving its cash in order to help finance the proposed $39B cash acquisition of T-Mobile USA from Deutsche Telekom (DTEGF.PK). Verizon did not repurchase any shares, but did make a special $10B dividend distribution from its 55% majority owned subsidiary Verizon Wireless to Verizon Communications in January. 45% of that dividend ($4.5B) was paid to Verizon Wireless's 45% Minority Owner Vodafone (NASDAQ:VOD). This dividend was declared last July by the board of Verizon Wireless and it was the first dividend declaration after a five-year hiatus on dividends from Verizon Wireless to Verizon Communications and Vodafone. Verizon also recently increased its dividend by 3% to $2.06/share annualized.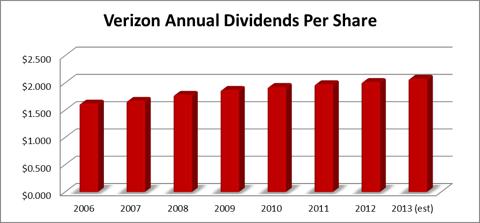 Source: Verizon Dividend History
CenturyLink's Dividends and its Debt Position: With $21.6B in outstanding debt as of Q2 2012, CenturyLink is most certainly not debt-free. However, CenturyLink is the US's third-largest telecommunication services firm by revenue and market cap, as well as the largest of the historically rural incumbent local exchange carriers. We like the fact CenturyLink is bound and determined to maintain its investment grade credit rating even when the sell-side community tries to coax it into accepting more debt and a lower credit rating so as to restart large-scale share repurchases and boost dividends. Because of CTL's prudence with regards to leverage in the face of sell-side pressure, we expect to see CenturyLink continue to have the ability to access the capital markets for whatever debt or equity it requires. CenturyLink paid $678M in interest expenses in the first half of 2012 on its $21.8B in outstanding debt for a weighted average cost of 6.21%. This is somewhat higher than the 5.58% dividend rate that AT&T paid and the 5.53% paid by Verizon. CenturyLink has a BBB credit rating by the three major credit rating agencies, which is not far from the A ratings of the AT&T Verizon/duopoly.
While CenturyLink's legacy wireline businesses are seeing erosion as customers worldwide are shedding wireline phones in favor of mobile phones, we believe that the free cash flows generated by CenturyLink can be utilized at a rate of return well in excess of the 6.21% pre-tax (3.73% post-tax) cost of debt financing that CenturyLink utilizes. If CenturyLink can't find investment opportunities that provide a return in excess of 6.21% pre-tax, it should be returning that cash to shareholders in the form of dividends and repurchases. Plus if CenturyLink wanted to devote all of its operating cash flows to paying down debt (at the expense of reinvesting in its network or returning excess cash flows to investors), it could pay it off completely in about 3.5 years due to its ability to generate $6B in operating cash flows annually since it acquired Qwest and Savvis in 2011. This was based on the $2.8B in OCF CenturyLink generated in H1 2012, which included an adjustment of $200M for working capital investment.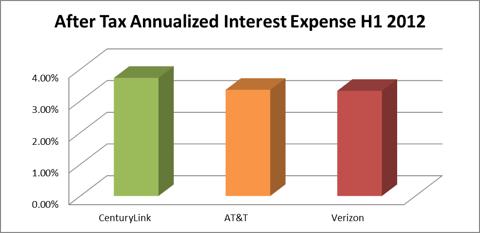 Source: Morningstar Direct
CenturyLink's Dividends and its Free Cash Flows: We are expecting CenturyLink to generate an average of $6B in operating cash flows annually and to spend between $2.6B and $2.8B annually on capital expenditures based on management guidance and adjusted results since the Qwest and Savvis acquisitions in 2011. This results in annual free cash flows of between $3.2B to $3.4B, which can be returned to capital stakeholders in the form of debt redemptions, share repurchases, and dividends. In the past 12 months, CenturyLink generated nearly $2.2B of free cash flows and paid $1.8B in dividends to shareholders. We can see that Verizon's trailing twelve months free cash flows exceeded its dividend payments in the same period by 20% and even though it was facing a number of non-recurring headwinds due to the Qwest and Savvis acquisitions as well elevated capital expenditures during the second half of 2011. CenturyLink issued $89M in net new shares for various employee stock compensation programs during this time period. CenturyLink's YTD Free cash flows were $1.6B and it paid $905M in dividends for a payout ratio of 56%, which we believe is more applicable to analyze CenturyLink going forward instead of the H2 2011 period where the company ran a free cash flow deficit due to the aforementioned acquisitions.
CenturyLink's Dividends and its (Equity) Capital Position: CenturyLink is expected to generate an average of $3.2B-$3.4B annually in free cash flows and also pays about $1.3B estimated annualized bond interest expense. The company has $21.5B in outstanding debt and $20.3B in shareholders' equity. Part of CenturyLink's book value is influenced by the $29.4B worth of goodwill and intangible assets on its balance sheet due to the acquisitions of Embarq, Qwest, and Savvis. While three multi-billion dollar acquisitions is something we take a critical look at, we are aware that the wireline communications segment is consolidating and CenturyLink made those acquisitions to bulk up its operating scale, harvest synergies to offset wireline revenue declines, and pursue strategic communications services like cloud computing infrastructure services and broadband internet services.
CTL generates a pre-tax free cash flow return on invested capital of 10.8% for 2012. CenturyLink has a solid capital base and generates adequate returns on invested capital in order to pay bond interest and dividends without needing severely dilutive secondary stock offerings. We expect that if the company cannot earn double-digit returns on invested capital with regards to its free cash flows, it will be duty-bound to return the excess cash flows to shareholders through dividends and share repurchases. We can make an exception for a company if it is seeking to steadily deleverage its balance sheet or bolster its liquidity to maintain or boost its investment grade credit rating because it is concerned about a 2008-style wipeout.
CenturyLink's Dividend Yield relative to AT&T, Verizon, S&P 500 and Barclays U.S. Aggregate: While CenturyLink's dividend yield of 6.85% is much lower than the 7.86% it saw in June, it certainly exceeds the 1.91% dividend yield of the S&P 500. Part of the reason why CenturyLink's dividend yield has moved down this year is because of the high demand from investors for any sort of income from high-quality investments.
CenturyLink's dividend yield of 6.85% is the sixth highest dividend yield of the companies in the S&P 500 and also significantly exceeds the 2.35% annual yield on the iShares Barclays (U.S.) Aggregate Bond Exchange Traded Fund (NYSEARCA:AGG). While an equity investment in CenturyLink, Verizon, or AT&T carries more ostensible risk than investing in bonds, we believe that an investment in the trio of telecoms offers a better risk-adjusted and tax-adjusted return prospect than the Barclays Aggregate ETF. With regards to taxes, investors outside of tax-advantaged investments accounts only have to pay a maximum tax rate of 15% on their dividends from the telecom companies or the S&P 500 versus ordinary income tax rates of up to 35% on their interest income distributions from the Barclays Aggregate ETF. Plus, the Barclays Aggregate ETF carries significant interest rate risk due to the rapidly increasing national debt. We are well aware that the Federal Reserve is holding down interest rates with its monetary easing program; however, even notable investors such as Bill Gross have tried their hand at shorting T-Bonds. While we cannot predict a tipping point for if and or when interest rates will increase, we believe that 2.35% is too low a return prospect, especially when it is subject to ordinary income tax rates.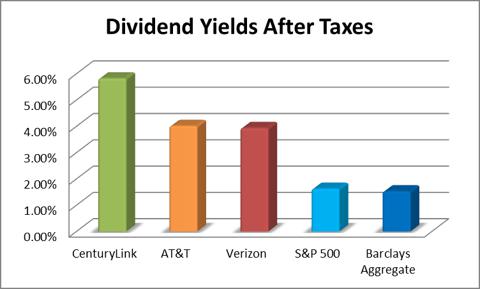 Source: Morningstar Direct
In conclusion, we can't argue with yield-hungry investors who have a long position in CenturyLink. CenturyLink is our first choice with regards to investing in the wireline segment of the telecom sector (and to get direct wireless exposure, we also have shares of Sprint Nextel (NYSE:S), the company that spun-off Embarq in 2009). CenturyLink is able to generate a free cash flow return on equity well in excess of its direct cost of debt capital and its indirect cost of equity capital. Because its traditional wireline business is being managed for cash, we believe that the company will continue to pay a dividend yield that is well above what the S&P 500 pays. In order to stabilize revenue, CenturyLink has been branching out into strategic communication services such as broadband internet, cloud computing infrastructure and reselling Verizon Wireless services. CenturyLink has been paying dividends since 1974 and has been paying $.70/share or greater since 2008. Based on the low-interest rates on bonds, as well as the risk of interest rates increasing once the Federal Reserve ends its ridiculous monetary easing programs, we believe that CTL offers a better risk/return prospect for income-oriented investors versus typical high-grade bonds.
Disclosure: I am long S, CTL. I wrote this article myself, and it expresses my own opinions. I am not receiving compensation for it (other than from Seeking Alpha). I have no business relationship with any company whose stock is mentioned in this article.
Additional disclosure: This article was written by an analyst at Saibus Research. Saibus Research has not received compensation directly or indirectly for expressing the recommendation in this article. We have no business relationship with any company whose stock is mentioned in this article. Under no circumstances must this report be considered an offer to buy, sell, subscribe for or trade securities or other instruments.