So the market is still in hangover mode from the rally to end all rallies on Thursday and Friday of last week. The weakness seen on Monday and in the pre-market today has seen some movement in volatility but overall they have been muted by the time the markets closed.
Most likely this is the just the market digesting the new reality that exists with the Fed committed to unending quantitative easing and we will see a new trend in volatility once we get past VIX futures contract expiration today and options expiration on Friday.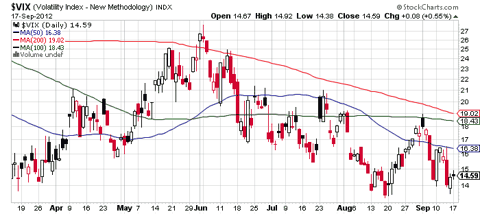 Taking a look at the trends in spot VIX we can see that while volatility dropped lower on Monday, we could be set for a brief uptrend as the market continues to react to the uncertainty created by the Fed's decisions.
Terms of Enrichment
Even if we believe that spot volatility will increase in the near future, we always have to check the term structure before making a trade recommendation.
Spot VIX: 14.59

September Contract: 14.96

October Contract: 16.84

November Contract: 18.05
So, with only one day left in the September contract, we can basically ignore it at this point. With that in mind, we can see that the term structure is fairly steep at the moment. Spot vs. October is sporting a 15.4% gap and the October vs. November gap stands at 7.2%. Since Spot vs. November represents our potential losses if we hold until November contract expiration, that gap is looming large at 23.7%.
While these gaps do represent a steeper term structure, we have to consider our absolute levels of volatility as well. In normal market conditions, any time spot VIX fell below 15 that would signal a "back the truck up" buying opportunity for long volatility positions. The problem is we are not operating under normal market conditions when QE is active. If you look at volatility during QE2, we saw a consistent downward trend that did not end until the QE ended and markets were allowed to trade freely.
Since this round of QE does not have an end date, we can't give an exact date as to when market volatility could return. The most likely scenario is a return of significant volatility due to events that overwhelm the $40B a month POMO. While natural disasters and the like can cause spikes, those are normally temporary and will not cause the backwardation that volatility traders look for. Instead, we can look forward into the future and see that while the next few months could introduce small technical surges, we won't see anything significant until the Fiscal Cliff, Debt Ceiling and Debt Downgrade comes to a head at the end of the year.
If we aren't expecting large spikes, should we ignore volatility all together? Certainly not, as the recent movements in volatility still provided profitable trades for those willing to play.
The trade idea that appeals to me currently is a play on the 50SMA of spot volatility. With it standing currently at 16.38, we could see around another test which should bring up the futures between 6 and 12%. VXX, UVXY and TVIX would go up along with the futures and anyone playing this trade would be advised to take at least partial profits on this test.
If we do see such a test, I still believe that volatility will remain depressed with the market under the effects of QE and would recommend switching to XIV on the inevitable collapse. Remember that if volatility remains in this structure, there would be 23% upside in holding XIV, but it is better to get in at attractive price points and for the short term I expect another test of the average level of volatility.
Disclosure: I have no positions in any stocks mentioned, and no plans to initiate any positions within the next 72 hours. I wrote this article myself, and it expresses my own opinions. I am not receiving compensation for it (other than from Seeking Alpha). I have no business relationship with any company whose stock is mentioned in this article.