There are two traditions in America that a person can set their watch to during the month of August. The first tradition is the Back-To-School period, which we used to dread when we were kids. The second tradition isn't as well known, but it is something that we have been looking forward to since 1999. This tradition is the annual dividend increase from Altria Group (formerly known as Philip Morris Companies). We have written about the long and proud tradition of Altria Group's (NYSE:MO) dividend increases, which takes into account adjustments for the Philip Morris International (NYSE:PM) and Kraft (KFT) spin-offs. Altria has increased its adjusted annual per share dividend 46 times in the last 44 years. Philip Morris has increased its dividends since its 2008 spin-off at a compounded annual growth rate of 13.1%. Kraft increased its quarterly per share dividend twice since its 2007 spin-off, by $.02 in September 2007 and $.02 in September 2008. While Kraft has not increased its dividend since 2008, we have noticed that it has bolstered its cash position from $239M in 2006 (when the spin-off was announced) to $4.643B in H1 2012 (Kraft's last quarter before its spin-off of Kraft Foods Group and its impending name change to Mondelēz).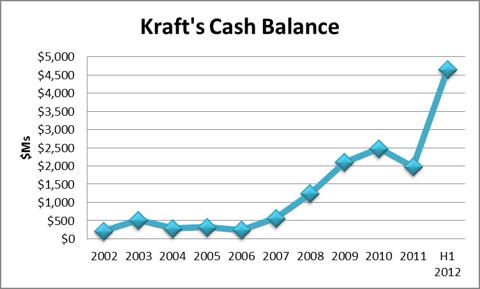 Source: Morningstar Direct
On August 24th, Altria increased its quarterly per-share dividend by $.03. In our June 11th report on Altria, we had implicitly predicted that the company would increase its quarterly per share dividend by $.03 based on our estimated annual dividend declarations of $1.70 per share for 2012 and our estimate of $2.21 in adjusted EPS for Altria. Our internal models projected that Altria would have a dividend payout ratio slightly under 77% for 2012 and Altria's Investor Relations Website informs investors that Altria targets an 80% dividend payout ratio. Altria's consensus estimated EPS for 2013 is $2.38 and we expect Altria to increase its quarterly per-share dividend by $.03 again for 2013. Based on the fact that we are estimating Altria's dividend payout ratio to decrease by 45bp in 2013 versus 2012, we believe that maybe Altria may want to consider increasing its dividend by a greater level than $.12/share annualized. Considering that Altria Group generated a return on beginning period shareholders' equity well in excess of 100%, we can see that PM can certainly afford to pay 80% of its annual profits to shareholders and leave plenty of available cash for marketing, research and development, growth CapEx, acquisitions, debt reduction and share repurchases.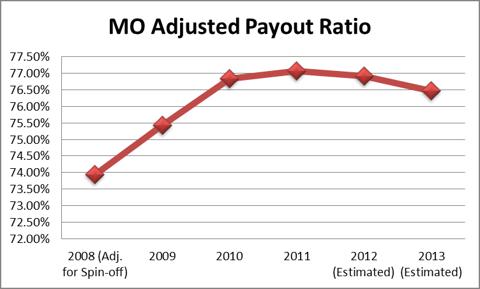 Sources: Morningstar Direct and Saibus Research Estimates
Philip Morris International announced a 10.4% dividend increase on September 12th. Philip Morris paid $3.08 per share in dividends to shareholders over the last 12 months and generated $5.04 in EPS during that time period. Philip Morris' quarterly dividend is now $.85/share ($3.40 annual). That represented a payout rate of 61% during the last 12 months and we are expecting it to remain at 61% for 2012 based on PM's 2012 consensus EPS estimate of $5.17.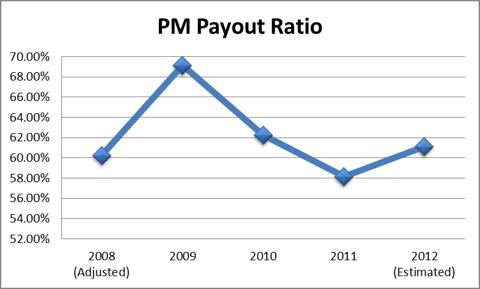 Sources: Morningstar Direct and Saibus Research Estimates
In conclusion we are pleased with the performance from Altria Group. Philip Morris International and Philip Morris USA (Altria Group) have each shown to be a solid high-dividend yielding company and a dividend growth champion in terms of quantity (44 years of consecutive dividend increases) and quality (8.7% CAGR since 2008 for Altria Group and 13.1% for Philip Morris International). One of the reasons why we are interested in the tobacco industry is a quote from Warren Buffett of Berkshire Hathaway. Buffett said "I like the tobacco business. It costs a penny to make. You sell it for a dollar. It's addictive and there's fantastic brand loyalty." We agree with Buffett wholeheartedly there. He got right to the point about why the tobacco business is a happy-hunting ground for investors who desire immediate income, particularly dividends. There's not a lot of gray area in that quote. We can certainly see that the Philip Morris Companies and its successors Philip Morris International, Kraft Foods and Altria Group can certainly generate superior returns in excess of the S&P 500 and use those mammoth cash flows to return cash to shareholders.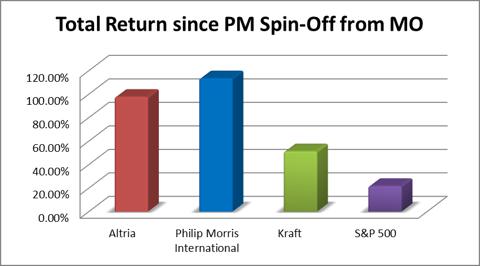 Source: Morningstar Direc
Disclosure: I am long MO, PM, KFT. I wrote this article myself, and it expresses my own opinions. I am not receiving compensation for it (other than from Seeking Alpha). I have no business relationship with any company whose stock is mentioned in this article.
Additional disclosure: This article was written by an analyst at Saibus Research. Saibus Research has not received compensation directly or indirectly for expressing the recommendation in this article. We have no business relationship with any company whose stock is mentioned in this article. Under no circumstances must this report be considered an offer to buy, sell, subscribe for or trade securities or other instruments.