Last week, Bloomberg ran a story entitled "Demetriades Says ECB May Never Need To Buy Government Bonds." For those unaware, Panicos Demetriades is an ECB Governing Council Member and he, like many others, believes that the mere threat of central bank bond purchases will be enough to keep periphery borrowing costs sustainable. Specifically, Demetriades said that
"No one will speculate against the unlimited firepower of a central bank. This is what stabilizes currencies of countries where investors know that. One wouldn't gamble against the Federal Reserve, for example."
There are a couple of amusing things to note here. First, when he isn't hanging out with the Governing Council, Demetriades keeps himself busy heading the Central Bank of Cyprus. Cyprus, the third smallest economy in the eurozone, was forced to request a Troika-backed bailout in June after the country ran through the last of a 2.5 billion euro loan from Russia and its banks, hammered by excessive writedowns of Greek sovereign debt, announced huge regulatory capital shortfalls (they should have just taken the ECB approach and marked the debt as "held to maturity").
Since June, the amount needed to stabilize the tiny country's banking sector has ballooned to around 12 billion euros according to Demetriades. Keep in mind when assessing that number that the nominal GDP of the entire country of Cyprus was only around 18 billion euros in 2012. Demetriades took office in May, so the obvious question here is what kind of central banker must his predecessor have been to make such a debacle possible. The answer is at once both hilarious and disturbing. Demetriades was preceded by Athanasios Orphanides who earned his PhD in economics from M.I.T. the same place as both Mario Draghi and Ben Bernanke, after which time Mr. Orphanides served as Senior Advisor in the division of monetary affairs to the Fed's Board of Governors.
All in all, it is a very bad position that Cyprus has found itself in these days and as such it isn't any wonder Demetriades expresses such optimism towards the omnipotence of central banks. That is, one hopes he is confident in the ECB's ability to shore-up struggling nations as his nation is among those struggling.
But Demetriades seems to be forgetting that the market does challenge central banks. The ECB has always stood behind the indissoluble nature of the euro and that has never stopped periphery spreads from widening in the past. Indeed, it hasn't stopped Spain's 2-year borrowing costs from rising 50 basis points since last Wednesday.
Perhaps the most disturbing quote from Demetriades to appear in the Bloomberg piece, however, was this:
"In the current circumstances even if the ECB were not able to sterilize, I don't think it would make any significant difference."
It does make a significant difference for a number of reasons, the most obvious of which is that if the ECB cannot attract one-week term deposit bids to match the amount of bonds it buys, the new program is simply unadulterated quantitative easing. Recall that the ECB "sterilized" its sovereign debt purchases under its previous bond buying program (SMP) by offering banks one week term deposits to soak up the cash injected into the system. The market began to worry when, on November 29 of last year, the ECB failed to attract enough bids to fully sterilize its purchases.
In a note dated December 2, 2011, JPMorgan downplayed the ECB's failure to sterilize its purchases noting that, 1) sterilization doesn't shrink the ECB's balance sheet unless it is done through asset sales, so balance sheet expansion is taking place anyway, 2) the impact on liquidity in the banking system is the same regardless because an illiquid piece of sovereign paper has been replaced with cash even if that cash is tied-up for a week, 3) the idea that bond purchases discourage periphery countries from instituting fiscal reforms and could also stoke inflation expectations is merely theoretical and 4) the effect is negligible.
In reference to the third point, JPMorgan said that
"...the Bundesbank's opposition to SMP purchases is almost entirely about moral hazard. It worries that the purchases themselves reduce government bond yields in the periphery and hence eases the pressure for necessary fiscal consolidation and economic reform. And, it worries that SMP purchases can thereby facilitate unsustainable fiscal policy through monetary financing. This could, at some point, lead to inflation, most likely through the channel of destabilizing inflation expectations."
That was in December. Nine months later and what used to be Bundesbank "worries" are now simply eurozone realities. ECB intervention (be it verbal or otherwise) has indeed delayed economic reform and facilitated unsustainable fiscal policy.
As for inflation expectations, it seems entirely reasonable to assume that the jump in eurozone consumer inflation expectations from 21.6 in July to 26.1 in August was at least partly occasioned by expectations of ECB bond buying. Now, with inflation expectations on the rise, the ECB could ill-afford what JPMorgan called the "presentational" problem of a failure to sterilize the full amount purchased.
Furthermore, it should be noted that though the ECB may be prepared to purchase an unlimited amount of periphery debt, banks may not be willing to bid for unlimited one-week term deposits. As indicated by last November's failure to launch, the limit as far as demand goes may be around 200 billion euros: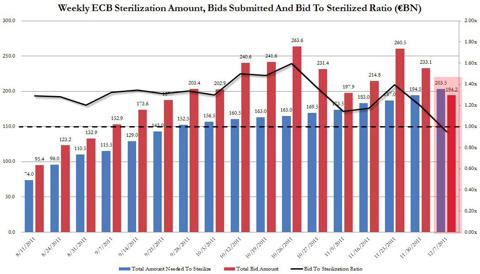 Chart: ZeroHedge
As you can see from the black trend line, the bid to sterilization ratio was falling precipitously before the program was largely abandoned (the ECB hasn't bought bonds in six months). Even before November 29, the ECB failed to sterilize its purchases on numerous other occasions: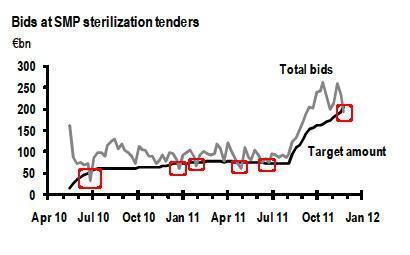 Source: JPMorgan Economic Research
Coming full circle now we can see that contrary to comments from the head of the Central Bank of Cyprus, it is critical that the ECB sterilize its bond purchases if for no other reason than maintaining the air of invincibility that Demetriades himself claims is the key to the success of the bond buying program.
Perhaps more important, however, is the notion that the ECB must neutralize its purchases to avoid being accused of implementing outright quantitative easing under cover of sterilization. Consumers are likely to be particularly sensitive to the issue (indeed the jump in eurozone consumer inflation expectations proves this) in the wake of all the media attention the Fed has received in recent days courtesy of its new iteration of QE.
Furthermore, the ECB can ill afford for inflation expectations to come unanchored when inflation is already running above the central bank's target rate. Contrary to Demetriades's bold prediction, the ECB will most likely be tested by the market and it will probably be forced to intervene the closer Spain comes to falling short of the cash it needs to meet 15 billion euros in redemptions coming due in October. Once Spain applies for aid and the bond purchases are made, it will be critical for the ECB to succeed in sterilizing the purchases for the sake of preserving the credibility of the OMT, keeping inflation expectations anchored, and ensuring that the program will continue to enjoy the popular support it needs to make it effective going forward.
In my opinion, this will not go as smoothly as planned. The euro has enjoyed a nice rally of late, and in light of the fact that I believe inflation expectations will indeed rise at the very first sign of an inability on the part of the ECB to fully sterilize its purchases, it seems the time is right to bet on a resumption of a slide in the euro (NYSEARCA:FXE). As an aside, I would note that any pressure on the dollar occasioned by QE3 could offset any near-term pressure on the euro - at least as measured against the dollar. Ultimately, however, I simply cannot imagine that the euro doesn't test its lows sometime in the foreseeable future and I believe a failure to sterilize could be a major catalyst.
Disclosure: I have no positions in any stocks mentioned, and no plans to initiate any positions within the next 72 hours. I wrote this article myself, and it expresses my own opinions. I am not receiving compensation for it (other than from Seeking Alpha). I have no business relationship with any company whose stock is mentioned in this article.