As stated simply by Joel Greenblatt in You Can Be A Stock Market Genius, "you can make a pile of money investing in spin-offs." There is good reason for this -- we'll get to that.
But first, let's get through the formal information. Kraft Foods Inc. (KFT) is spinning off its North American grocery division on October 1st to shareholders of record at the close of business on September 19th (i.e., tomorrow). The North American grocery business will then trade under the name "Kraft Foods Group Inc." and have a new ticker symbol of "KRFT."
Kraft Foods Inc. will then change its name to Mondelez International. The old "KFT" ticker will be retired and replaced with "MDLZ." The spin-off was first formally announced on August 14th, 2012. Here are the important dates again:
| | |
| --- | --- |
| Record Date | September 19th, 2012 |
| Distribution Date | Oct 1st, 2012 (5:00 pm) |
Because the name "Kraft Foods Inc." is so similar to "Kraft Foods Group Inc.", I will use their tickers to distinguish them. Kraft Foods Inc., the parent, will be referred to as "KFT." Kraft Foods Group Inc., the spin-off, will be referred to as "KRFT."
The company will distribute one share of the new KRFT for every three shares of KFT.
If you have fractional shares, the company will sell the fractional shares at prevailing prices send you the cash. KFT is currently trading around the $40 level: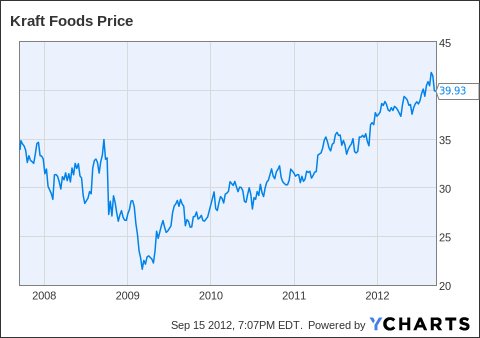 The Split
KFT is being split into two groups which management believes will perform better separately than together. The information packet cites the following reasons:
"The Spin-Off will allow each company to focus on its distinct growth profile, product categories, distribution systems and strategic priorities, with customized cultures, organizational structures, operating models and financial targets that best fit its own business markets and opportunities.
An additional reason for the spin-off is that the international segment, almost entirely left with Mondelez, will likely grow at a faster rate than the North American food and beverage market. One can see the past growth in the segment revenue contribution figures in the KFT's 2011 10-K. The Mondelez portion of its business -- Kraft Europe and Kraft Foods Developing Markets -- has grown from representing 31.5% of KFT's revenue in 2009 to representing 45.3% of their revenue in 2011: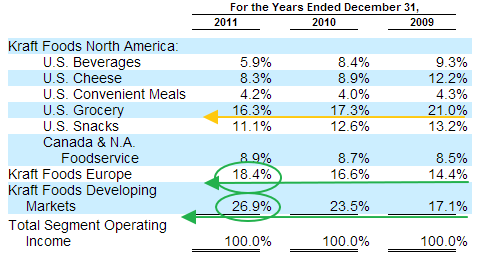 You can also see the decreasing importance of the U.S. Grocery segment.
Given that KRFT will be left with the North American Grocery segment, it is believed that the spun-off company will have greater revenue stability and recurrence. That is, groceries are purchased in weekly intervals, and snacks and candy -- some of the units left with Mondelez -- are purchased at irregular and intermittent intervals. So while Mondelez will have a better growth profile than KRFT, the latter will likely offer more stable revenues and cash flow than Mondelez.
The two different businesses have different operating models, different focuses, and a different future of growth. Hence, the break up.
Kraft Foods Group Inc.
When the information packet breaks out the segment reporting for the future KRFT, we can see the size of the various businesses in the spin-off relative to each other: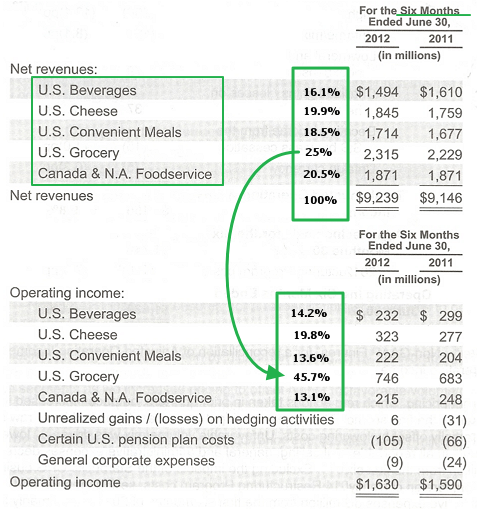 As the arrow points out, the important and profitable U.S. Grocery segment [1] makes up nearly 45% of operating income while representing only 25% of revenue.
Kraft Foods Old Dividend
According to the information packet page 47:
"[Kraft Foods Group Inc., KRFT,] anticipate[s] paying a highly competitive dividend. We are currently expecting that the equivalent of $0.64 of the existing $1.16 annual dividend per share paid by Kraft ParentCo would be attributable to us. The timing, declaration, amount and payment of any future dividends to shareholders will fall within the discretion of our board."
Or in other words, KRFT's share of the dividend works out to about 55% of KFT's old dividend.
Spin-Offs In General Or Why We Should Care - Greenblatt style
"1. Spinoffs, in general, beat the market...

3. Certain characteristics point to an exception spin-off opportunity:

a. Institutions don't want the spin-off (and not because of the investment merits)

b. Insiders want the spin-off

c. A previously hidden investment opportunity is uncovered by the spin-off transaction (e.g., a cheap stock, a great business, a leveraged risk/reward situation)…

5. Paying attention to "parents" can pay off handsomely…

7. Oh, yes. Keep an eye on the insiders." - Joel Greenblatt [2]
Let's work through these points. (I've skipped a few of his points for simplicity, coincidentally all happening to be even.)
On #1, Greenblatt quotes a study which suggests that spun off companies beat the market by some 10% over the first three years. (I've quoted the entire relevant passage in footnote 3 for those interested.)
On #3, it seems that insiders do want the spin-off and are participating in the spin-off. Why do we care? "The thinking is that if insiders own a large amount of stock or options, their interests and the interests of shareholders are closely aligned" [4]. What are insiders doing this time around? In the information packet they illustrate the size of the compensation to KRFT's new CEO W. Anthony Vernon. One can see that "Long-Term Incentives" -- read stock options and restricted stock -- is larger than the average for the peer group.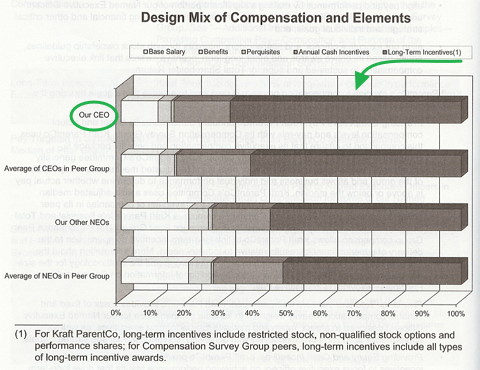 Notice, the base salary is also relatively small compared to Kraft peers, which include the likes of Pepsi (NYSE:PEP), Cola-Cola (KO), and Unilever (NYSE:UN).
That is quite a bit of restricted stock and options, but "the more stock incentive, the better" [5]. What about the directors? They currently own stock in KFT and they too will be distributed 1 KRFT share for every 3 KFT share they hold: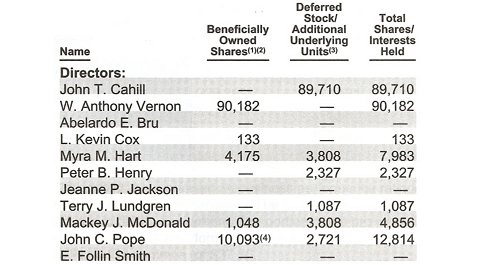 Satisfactory, I suppose. More importantly, what about the executive officers?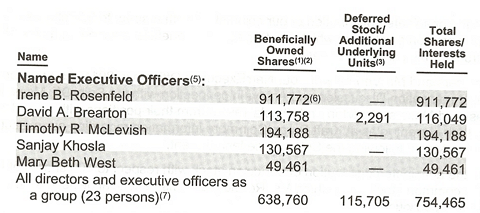 That is a fairly representative group. The insiders are not running scared.
As for #5 -- "paying attention to parents can pay off handsomely" -- the growth of the future Mondelez International ought to be watched in its own right.
But Why Do Spin-Offs Pay Off?
First, there is a human nature argument. In theory, the proper incentivization allows for the "unleashing" of entrepreneurial energy. This fuzzy concept is meant to communicate is that if capital allocation is allowed to fall in the hands of individuals closest to the consumer, it will allow for a more refined and flexible capital allocation process. And the more refined and flexible, the better the use of the capital in the business, and the more value which accrues to shareholders.
Further, by spinning off the subsidiary company you cut out (at least) one bureaucratic layer -- and the most powerful bureaucratic layer to boot. IBM's (NYSE:IBM) Thomas Watson Jr. decided that they would never have more than four layers from the chairman of the board to the lowest level in the company -- and it paid off. Flexibility to allocate resources -- with the proper incentivization -- is key.
The second reason is of more importance for us however. After spin-offs there is frequently selling from large institutions who simply don't want, or can't, hold the shares. In fact, Kraft Foods warns of this in the information packet on page 31 (quoted in full, emphasis mine):
"Substantial sales of our common stock may occur in connection with the Spin-Off, which could cause our stock price to decline.

Kraft ParentCo shareholders receiving shares of our common stock in the Distribution generally may sell those shares immediately in the public market. Although we have no actual knowledge of any plan or intention of any significant shareholder to sell our common stock following the Spin-Off, it is possible that some Kraft ParentCo shareholders, including some of our larger shareholders, will sell our common stock received in the Distribution if, for reasons such as our business profile or market capitalization as an independent company, we do not fit their investment objectives, or -- in the case of index funds -- we are not a participant in the index in which they are investing. The sales of significant amount of our common stock relating to the above events or the perception in the market that such sales will occur may decrease the market price of our common stock."
In the case of KRFT and Mondelez International, the companies will both still be pretty large, at least enough for some institutional shareholders to continue to hold. That might put us in the slightly disadvantageous situation where, "the big guys are actually paying attention."
However, KFT is being kicked out of the Dow Jones Industrial Average (and being replaced by United Health (NYSE:UNH)). Indexes and funds which track holdings of the DJIA will be forced to sell-starting KFT shares next Monday (the 24th), or earlier.
Conclusion
Both businesses are attractive in their own right. The consolidated shares of KFT, as they stand today, are fair to overvalued. I would wait till October and watch for an irrational sell-off by the institutional holders. If such a sell-off happens, we may get an opportunity to pick up shares on the cheap.
Addendum
Below is a historic time-table of brands from the North American Grocery segment which will fall under the new Kraft Foods Group Inc.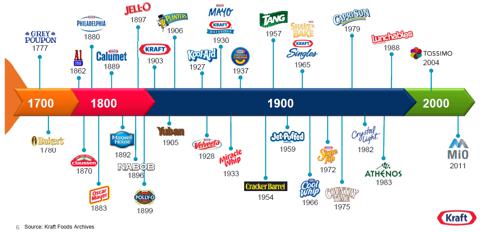 Notes:
The U.S. Grocery segment includes specifically: "Jell-O dry packaged desserts; Cool Whip whipped topping; Jell-O refrigerated gelatin and pudding snacks; Jet-Puffed marshmallows; Kraft and Miracle Whip spoonable dressings; Kraft and Good Seasons salad dressings; A.1. steak sauce; Kraft and Bull's-Eye barbecue sauces; Grey Poupon premium mustards; Planters peanut butter; Shake N' Bake coatings; and Baker's chocolate and baking ingredients." (Kraft 2011 10-K, p. 3)
Greenblatt, Joel. "Chips Off The Old Stock." In You can be a stock market genius: uncover the secret hiding places of stock market profits. New York: Simon & Schuster, 1999. 57. 127.
"One study completed at Penn State, covering a twenty-five-year period ending in 1988, found that stocks of spinoff companies outperformed their industry peers and the Standard & Poor's 500 by about 10 percent per year in their first three years of independence. The parent companies also managed to do pretty well -- outperforming the companies in their industry by more than 6 percent annually during the same three year period. Other studies have reached similarly promising conclusions about the prospects for spinoff companies." Ibid.
Ibid., p. 107.
Ibid., p. 70.
Disclosure: I have no positions in any stocks mentioned, and no plans to initiate any positions within the next 72 hours. I wrote this article myself, and it expresses my own opinions. I am not receiving compensation for it (other than from Seeking Alpha). I have no business relationship with any company whose stock is mentioned in this article.