Introduction
Shoe Carnival, Inc. (NASDAQ:SCVL) is a footwear retailer offering a wide variety of footwear for men, women, and children. The company focuses on providing customers with products from name brands such as Skechers (NYSE:SKX), Nike (NKE) and Disney (DIS), and footwear-related accessories at attractive prices. Over the past 12 months, the stock has experienced a nice run of about 50% from near $16 to its current price of around $24. Although there was a dip to the $13 range, this run included a 3:2 split and the initiation of a small dividend. Numbers such as this could indicate that it is time to take the profit and move on. However, there are some positive indicators that show there is still room for additional growth.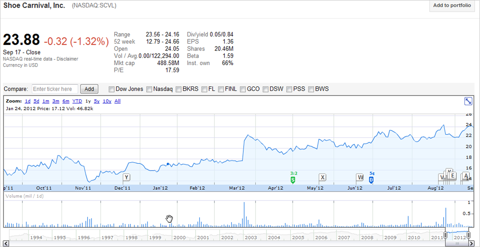 Analysis
An examination of the balance sheet for the past three years shows an encouraging uptrend of cash and equivalents from $44 million to over $70 million while interest-bearing short and long-term debt remains at zero. The TTM P/E stands at 17.5. However, with the anticipated future growth in earnings the future P/E for fiscal year ending January 2014 is only 13.7, indicating that if the market continues to value the stock similarly going forward, the price could reach the $30-$31 range in the next 15 months. The dividend, quite honestly, is a nice gesture but does not mean much at under 1%.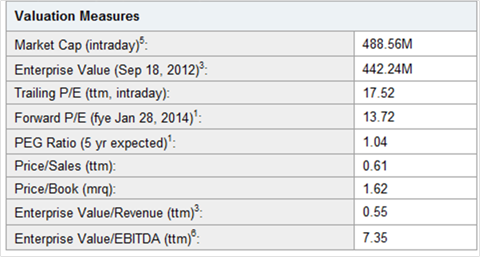 The analysts covering the company have a more muted expectation for Shoe Carnival, with price targets ranging from $23 to $28 and a mean target of $27, which only represents a 12% increase over the next year. This may be due to the large increase in share price we have seen over the past 12 months, or there may just be a delay in analysts who will ultimately raise their 12-month target.

The overall analyst consensus, however, is positive, with every single analyst action over the past three years being positive. This would indicate that we should at least consider the possibility that there is room for continued growth despite the recent run.

Conclusion
Although Shoe Carnival recently initiated a small dividend payment, any real hope for future gains will come as a result of appreciation in the price of the stock. Earnings are expected to grow at a moderate pace over at least the next two years, so assuming the valuations remain generally in line with the current picture there should be a similar increase in share price. Although it is unlikely that this stock will experience a breakout, the ratios of debt to cash on hand demonstrate management's desire to operate the business in a responsible manner while increasing value.
Disclosure: I am long SCVL. I wrote this article myself, and it expresses my own opinions. I am not receiving compensation for it (other than from Seeking Alpha). I have no business relationship with any company whose stock is mentioned in this article.