The winter months may be fast approaching, but springtime appears to be coming in the budding housing recovery. When the residential housing market collapsed in 2007, homeowners were left holding the bag. Not only were their homes worth far less than many had paid, the recession that ensued wiped out many years of savings and investment returns. Essentially, main street shouldered the pain for years of irrational price gains in the housing market. Many bought at the top of the housing bubble in 2006. Nationwide home prices fell by roughly one-third from peak to trough. In some places, such as Phoenix, prices fell by more than 50 percent.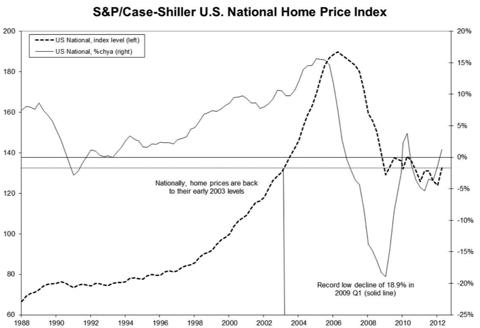 Much of the Great Recession can be blamed on the collapse in home values and the fear that ensued. As Warren Buffett has described, while the economy was in recession housing was in a depression. By no means is this an understatement. The economic pain that the housing collapse caused was immense. According to the U.S. Bureau of Labor Statistics from 2001-2006 non-farm payroll employment in residential construction increased by more than 29%. From 2006 through 2009, employment in residential construction fell more than 36%. The pain was not limited to construction. During the same period employment in mortgage and non-mortgage loan brokers and real estate credit fell 54.5% and 44%, respectively. Also experiencing steep employment losses, concrete product manufacturing fell more than 24% and wood product manufacturing fell 35%. It is estimated that every new home constructed provides gainful employment for three people. Despite what we hear from politicians, the largest benefit to U.S. employment growth would be a sustained recovery in residential housing.
Signs are undoubtedly pointing toward a sustainable recovery taking hold. Though slight compared with the losses that occurred, the uptick is real. Three weeks ago a release showed prices in the S&P/Case Shiller Composite 20 City Index popped 2.3% in June over May. The Case-Shiller National Index showed second quarter gains of 6.9% over the first quarter. The July gains were the best in six years. The annual rate of existing home sales in July was 10.4% higher than a year ago. Tightness in the existing home market is driving growth in the construction of new homes. According to the U.S. Census Bureau, July housing starts were 21.5% higher than a year ago and housing completions were 5.4% higher than a year ago.
Invest In The Recovery Now
The benefit of a sustained recovery in housing to the economy cannot be understated. A recovery will drive job growth, consumer confidence and spending, and investment gains. Investors can invest in the nascent recovery today. An obvious way to invest in the housing recovery is to go out and buy a single family home and wait for the price to appreciate. If you're like most Americans, you already own a home and buying another one for investment is unrealistic. There are much easier ways to invest in the recovery. Companies that directly benefit from growth in new home construction are Toll Brothers (NYSE:TOL), D.R. Horton (NYSE:DHI), Lennar (NYSE:LEN), Pulte Group (NYSE:PHM), and Hovnanian (NYSE:HOV). These builders are tied the most to any recovery in housing, but most are already up more than 100% in the past year. In addition, any hiccups in the recovery could cause big losses for investors in these companies.

A more indirect play is to invest in a broad economic recovery. Since a real recovery in the U.S. economy is dependent on a recovery in housing, investors could consider consumer discretionary companies and retailers. Instead, I prefer to invest in companies that are indirect beneficiaries of a housing recovery but are sustainable businesses outside of housing. Investors may want to consider these four companies.
Berkshire Hathaway (NYSE:BRK.A)
Berkshire Hathaway, run by Warren Buffett, is often lumped into financial stocks. In fact, there is no one category to place the company since its portfolio companies consist of everything from insurance to candy. But Berkshire has direct exposure to the housing market. It is the parent of home builder, Clayton Homes and carpet manufacturer, Shaw Industries as well as other companies that have ties to housing. The stock is up about 16% year-to-date while Buffett continues to increase the book value of the company through his shrewd investing prowess. Over the last three years Berkshire Hathaway has increased earnings at an annualized rate of more than 24%. A recovery in the housing market would only help boost that growth.
Weyerhaeuser Company (NYSE:WY)
Weyerhaeuser, a real estate investment trust, grows and harvests trees for use as lumber, building products, homes, and pulp and paper. As a REIT, Weyerhaeuser passes the majority of its income directly to shareholders through dividend distributions. Currently the dividend distribution stands at 2.2%, but has plenty of room to be raised in future quarters. If the nascent housing recovery takes hold permanently, as I think it will, Weyerhaeuser could raise its distribution by 50% or more over the next two years. The stock is up 45% this year, but future earnings growth in a housing recovery will give it a long runway for growth. More than 80% of Weyerhaeuser's business is tied to the housing market. Weyerhaeuser's P/E ratio appears abnormally high, but this represents trough earnings. In addition, some analysts estimate that Weyerhaeuser's net asset value stands at more than $16 billion versus a market cap of $14.6 billion. Weyerhaeuser owns about six million acres of timberland which is currently undervalued. It's all about future earnings and current assets with this company.
Home Depot (NYSE:HD)
Every new homeowner makes a trip (or two, or three, or four) to Home Depot. This may be one of the most obvious beneficiaries of a housing recovery - one reason the stock is at a 52-week high and is up 41% year-to-date. Home Depot has weathered the housing depression better than peer Lowe's (NYSE:LOW). Home Depot has posted three year annualized earnings growth of 21%. As housing recovers and homeowners buy fresh paint, patio furniture, and light fixtures, Home Depot should continue posting nice earnings gains. Home Depot's P/E ratio of 21 is on the high end of retailers and is well above the S&P 500's multiple, but investor's should consider the prospect of higher future earnings as the housing recovery blossoms. Home Depot yields nearly 2%.
Pier 1 Imports (NYSE:PIR)
If you've never been in a Pier 1 store, you're missing out (and you may lack stylish home decor). The specialty retailer sells stylish home goods, small furnishings, and seasonal decor. A recent trip to a Pier 1 store showed me what I had been missing, a good investment. The store was brimming with customers sifting through its thousands of items. New homeowners tend to take on a decorator's mindset and buy new furnishings for their abode. Over the last three years in this moribund economy, Pier 1 has increased sales at an annualized rate of 5.1%. Imagine what they can do in a real recovery. The stock is trading at a forward P/E ratio of 17, but a recovery in housing could make earnings projections too low. Pier 1 is up 42% year-to-date, but will have more room to run as housing recovers.

These four companies are tied, some more than others, to a sustained recovery in the housing market. Recent rebounds in home prices and new home construction appear to be real. For one, they aren't goosed by one-time stimulus such as the home buyer's tax credit in 2010.
To be sure, there are still risks to the recovery. As political wrangling continues, the so called fiscal cliff could become a reality. Failure to resolve those issues could send the economy straight off the cliff and in turn severely damage the budding housing market. Other risks include an unlikely spike in inflation and interest rates. As always, the risks are out there and they are real. The more likely outcome, in my opinion, is that the U.S. will resolve the fiscal cliff after some scary moments and the recovery in housing will continue on a somewhat bumpy path. These four companies should reap the benefits of a real recovery. Now that's something investors can really build on.
Disclosure: I am long BRK.B, WY. I wrote this article myself, and it expresses my own opinions. I am not receiving compensation for it (other than from Seeking Alpha). I have no business relationship with any company whose stock is mentioned in this article.
Additional disclosure: I may initiate a long position in HD and/or PIR within the next 72 hours.Disclaimer: Mr. Constantino is a proprietary investor and does not provide individual financial advice. The stocks mentioned in this article do not represent individual buy or sell recommendations and should not be viewed as such. Individual investors should consider speaking with a professional investment advisor before making any investment decisions.