Recently, the Japanese government undertook the purchase of a group of small islands from a private Japanese landowner. The Chinese call these islands Diaoyu and the Japanese call them Senkaku,. This has launched an immense firestorm of riots and protests in China, with the Chinese government pleading for people to be calm, aggressively stationing military around the islands, and discussing potential economic sanctions on Japan. Japanese factory owners are stopping production as the Chinese attack Japanese auto dealerships. One of the easiest outcomes to predict from this conflict is that Japanese car sales will suffer greatly in China, which is a large and fast-growing auto market. In particular, Nissan (OTCPK:NSANY) earlier this year (YTD April) had the #2 position in car sales, Toyota (NYSE:TM) was #3, Honda (NYSE:HMC) was #7, Suzuki (OTCPK:SZKMY) was #14, and Mazda (OTCPK:MZDAF) was #20. All of these brands are expected to suffer significant loss of market share on the back of Chinese anger towards Japan. Together, these Japanese auto makers represent 21.1% of the automobile market share in China. Whether 25%, or 50%, or even 100% of this share will be lost in 2013 ,I cannot say, but it seems as if some will be.
I would predict these companies to suffer an earnings loss in absolute terms relative to the size of their current market share, with Nissan and Toyota being hit the worst. Conversely, the Japanese automakers' loss will be other automakers gain.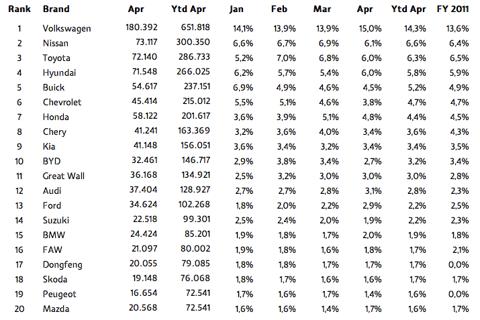 Chart Source: focus2move.com/item/105-china-car-market...
If we assume that the non-Japanese automakers will gain Chinese market share relative to their current market share, we can make some predictions about next year's sales. Obviously, such predictions don't take all factors into account, so they may not line up exactly, but we can get an idea of what to expect for the future. Assuming that Japanese market share is cut in half as a base case, a total of 1.4 million annualized 2012 extra car sales will be up for grabs. This means an extra 350,000 autos in Q4 sales can be sold by non-Japanese automakers. I got this number by assuming 3X YTD April sales = 2012 annualized sales. This gives us 13.7 million total auto sales for 2012 in China. Since auto demand in China is predicted to increase 8.5% in 2013, we can estimate total sales to be 14.8 million. If the Japanese auto market share in China declines 50%, this is an extra 1.56 million vehicles that can be sold in 2013 by the non-Japanese automakers.
So what do our predictions say? Volkswagen (OTCPK:VLKAY) has 14.3% of the total auto market, General Motors (NYSE:GM) has 9.9% between Buick and Chevy, and Hyundai (OTCPK:HYMLF) has 5.8%. If we convert these market shares to non-Japanese market shares, we get 18.1% share for Volkswagen, 12.5% for GM, and 7.4% for Hyundai. Thus, all else being equal, we can predict that assuming a 50% loss of Japanese market share lasting through 2013 due to possible Chinese economic sanctions against Japan and generalized horrible sentiment towards Japanese brands in China.
Volkswagen is likely to sell an additional 50,000 vehicles in China beyond projected estimates in Q4 2012 and an additional 278,000 vehicles in 2013, on top of pre-Diaoyu estimates. With global sales volume around 8 million in 2011, this can be predicted to roughly correspond to a 3% increase in EPS on this factor. A total Chinese embargo on Japanese products could push this up to a 6% increase in EPS, due to this factor.
General Motors sold 4.76 million autos in 2011, and would be predicted under the above methodology to see a 4% increase in EPS, and 8% under a total embargo on Japanese products in China.
Hyundai sold 4.05 million autos in 2011, and would be predicted under the above methodology to see a bit under 3% increase in EPS, and a bit over 5% under a full embargo.
Thus, I would expect General Motors, Volkswagen, and Hyundai to benefit from this political crisis, in that order, while Nissan, Toyota, and Honda would be predicted to suffer the most, in that order. Chinese sales are obviously not the only factor in future share prices, as there are both other markets to consider and the macro growth trend to take into account. The amount of loss of market share suffered by Japanese auto companies over this dispute will be critical in determining losses for them and gains for the three non-Japanese companies I highlighted. I recommend that you do your own due diligence before investing in any security.
Disclosure: I have no positions in any stocks mentioned, and no plans to initiate any positions within the next 72 hours. I wrote this article myself, and it expresses my own opinions. I am not receiving compensation for it (other than from Seeking Alpha). I have no business relationship with any company whose stock is mentioned in this article.