We have held a long position in Limited Brands (LTD) and its predecessor Intimate Brands since 2000. We doubled our position in February 2002 when The Limited announced it was reacquiring the minority interest in Intimate Brands that it did not already own. We were originally attracted to Intimate Brands because it was the strongest performing division of The Limited because it contained Victoria's Secret and Bath and Body Works and we were able to get direct exposure to that business without being exposed to the mediocre performing department store brands of The Limited and Lane Bryant.
We were pleased that The Limited had sold off Lane Bryant to Charming Shoppes (NASDAQ:CHRS) in 2001 and despite facing a challenging FY2001, we decided to expand our position in Intimate Brands in February after The Limited announced the reacquisition of the Intimate Brands minority interest and the subsequent renaming of the company to Limited Brands. Even after it sold The Limited to the private equity firm Sun Capital Partners, it still kept the name Limited as part of its corporate brand name. While Limited Brands may be the corporate name of this company, there is nothing limited about its powerful, high-performing retail brand concepts. The company is the leader in the women's intimate and other apparel, personal care and beauty categories.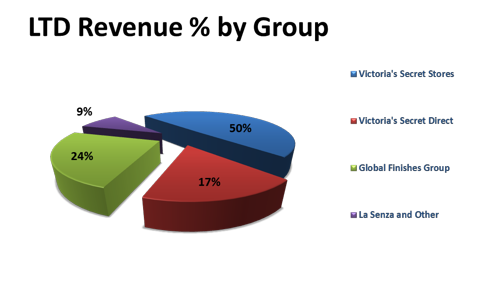 Source: Limited Brands Q2 Earnings Presentation
Despite suffering significant negative headwinds from December 2006 to March 2009 during the financial crisis and the bursting of the housing bubble causing significant weakness in the company's share price and financial performance, we have been pleased with our investment in Limited Brands. Overall, our investment in Limited Brands has generated strong total returns from our initial investment in December 2000 to the present day, as well as our follow-up investment in February 2002. We have benefited from the strong financial and operating performance of the legacy Intimate Brands businesses Victoria's Secret and Bath & Body Works. We have also benefited from its efforts to streamline its business unit portfolio and to return the cash to shareholders in the form of dividends and share repurchases. Since we have held the shares, LTD's per share dividend payment has increased from $.30 annually in 2002 to $1 in 2012. We have also benefited from $9.23 per share in special dividends from 2004 to 2012.
Limited Brands has performed well since bottoming out in 2009 and it is continuing this trend so far this year. In the first half of 2012, it has seen its comparable stores sales increase by 8% versus prior year levels. The Victoria's Secret Division continues to lead the way for Limited Brands. Victoria's Secret generated an 8.36% increase in its YTD revenue growth on the strength of a 10% increase in its same-store sales base and a 4% increase from Victoria's Secret Direct. During the second quarter Victoria's Secret opened its first store in the United Kingdom. Victoria's Secret saw no change in its net store count based on the opening of 12 stores in the US, 1 store in Canada and the British store, less 14 stores closed in the US. The strong operating leverage Victoria's Secret enjoys with its strong comp-store sales increases and its 9.7% increase in YTD sales per square foot resulted in its H1 2012 operating income increasing by 10.33% and its divisional operating margin increased by 30bp year-over-year.
Bath & Body Works saw its revenues increase by 6.8% YTD and by 8.2% in Q2 2012. This was due to a 7% increase in its comparable stores sales base. Revenue saw a slight headwind due to the fact that Bath & Body Works reduced its store count by 6 stores (10 stores closed, 4 stores opened) during the first half of the year. Operating income increased by 19.35% in H1 2012 versus H1 2011 and by 25.7% in Q2 2012 versus Q2 2011. Operating Margin increased by 140bp in H1 2012 versus H1 2011 and by 190bp in Q2 2012 versus Q2 2011. Average Sales per Selling Square Foot increased by 7.4% YTD and by nearly 8% in the second quarter.
La Senza and Other saw its revenue decrease by 52% YTD and 51% in Q2 2012 due to the sale of its thirty-party Apparel Sourcing Business. Excluding the impact of this divestiture, revenue was flat as a 6% increase in Q2 Sales per Average Selling Square foot was not enough to offer the closing of 33 La Senza stores.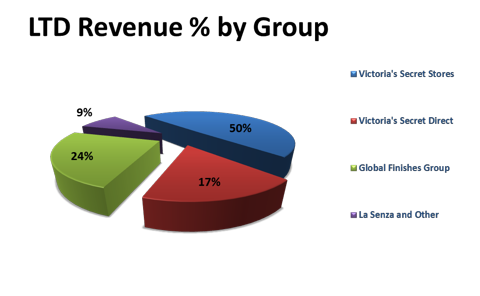 Source: Limited Brands Q2 2012 10-Q
We were pleased to see Limited Brands continue its impressive and consistent streak of growth. Adjusted EPS of $.50 in Q2 2012 grew by 4% versus prior year levels. Last year's results were influenced by LTD's $113M charitable contribution to its corporate foundation of LTD's minority ownership interest in Express, Inc (NYSE:EXPR), one of its former department store operating subsidiaries. This charitable contribution resulted in a non-recurring increase to net income of $80M in Q2 2011. Corporate revenue decreased by nearly 2.5% in the quarter due to the reduction of 33 stores in the La Senza store base as well as the sale of its Third Party Apparel Sourcing Business Mast Global. Net Income declined but this was due to the aforementioned corporate transactions and this was more than offset by a ~6% decline in average shares outstanding. YTD results were influenced by the same trends and were similar to Q2 results.
For a company with the name of Limited Brands, it seems to have an unlimited ability to generate cash. Then again, it sells amazing products that people just have to have. The company operates with a seasonal revenue and cash collection model as it generates a disproportionate share of its revenue, net income and free cash flows in the fourth quarter of a given year due to the Winter Holidays of Chanukah and Christmas. LTD repurchased $604M worth of stock year-to-date on a gross basis ($468M net of ESOP share issuance). The company maintained or increased its dividend every year since 1985 and its dividend of $1 represents a 5% yield on original cost for us due to the fact that we had purchased it in 2000 at the prevailing prices at that moment in time. On a trailing 12 month basis, Limited Brands generated over $600M in free cash flows. Limited Brands has also paid five special dividends totaling $9.23/share, which represents 40% of our original cost basis. We like that not only does LTD offer a decent 2.06% dividend yield, but it has increased it by 233% in the 12 years that we first bought in back in 2000 and we believe that Les Wexner is looking for ways to unlock shareholder value through special dividends and share repurchases.
In conclusion, we can see that there is nothing limited about Limited Brands. Considering that Limited Brands has sold The Limited and its other department store chains and focused its resources on Intimate Brands (Victoria's Secret, Bath & Body Works and La Senza), we think LTD should change its corporate name to Intimate Brands. We can see why Roy Raymond was so full of regret after he sold Victoria's Secret to Les Wexner's Limited Inc for $4M in 1982. We can see why Victoria's Secret performs better than Maidenform (NYSE:MFB) or Playtex (acquired by Energizer). Victoria's Secret products have a well-earned reputation for classy, elegant intimate apparel and accessories. Maidenform and Playtex's products seem to be more utilitarian in nature. This explains why Victoria's Secret is able to generate strong levels of free cash flows and to use the free cash flows for share repurchases and special dividends.
Limited has also been utilizing the low cost debt markets to swap out equity for debt. We also like the fact that the founder Leslie Wexner and his wife own over 21% of the stock and their stake in the company is worth $3.2B. We once considered investing in Delia's but not after seeing the performance of Victoria's Secret, including its Pink sub-brand that targets late-teen and college girls. Pink sells age-appropriate intimate apparel, beauty products and accessories with the goal to transition customers to Victoria's Secret as they mature. Unlike Delia's, Victoria's Secret has its own products. Unlike Maidenform and Playtex, LTD operates its own distribution channels.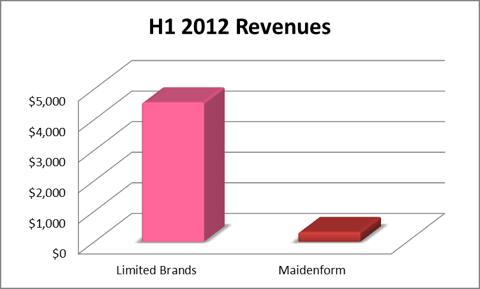 Sources: Q2 2012 reports for Limited Brands and Maidenform
Disclosure: I am long LTD. I wrote this article myself, and it expresses my own opinions. I am not receiving compensation for it (other than from Seeking Alpha). I have no business relationship with any company whose stock is mentioned in this article.
Additional disclosure: This article was written by an analyst at Saibus Research. Saibus Research has not received compensation directly or indirectly for expressing the recommendation in this article. We have no business relationship with any company whose stock is mentioned in this article. Under no circumstances must this report be considered an offer to buy, sell, subscribe for or trade securities or other instruments.