"So you're saying, that if I follow your teachings and I'm successful, you're right but if I follow it and fail, I'm not doing it correctly and you're right still?!" -High School Friend
Unprecedented moves by the ECB and the Fed prompted a revision of my capital market outlook over the next few months. Those of you who read my previous articles: Harvest Your Apples, Winter is Coming and Hey SPY, Don't Vex VXX: Winter Is Coming, would know that I held a bearish outlook for equities, specifically Apple stock (NASDAQ:AAPL) and the S&P 500 ETF (NYSEARCA:SPY). While I acknowledged that equities were relatively cheap from a price earnings (P/E) perspective, the upward price momentum in securities AAPL and SPY appeared to be overdone. Therefore, after accounting for seasonality in the equity markets, I drew the conclusion that 'Winter is Coming'.
However, when Mario Draghi announced an unlimited bond buying package (similar to a Fed's QE) and the Fed unloaded unlimited QE, I revised my expectations for AAPL & SPY and adopted a Buy the Dip (BtP) strategy in preparation for a light Winter. More specifically, in the next few months I have assigned a 75% probability for a light winter, where pullbacks on securities may occur between 5% to 7% from their highs. I believe that there is still a 25% chance of a morose, Game of Thrones-type Winter where there is a correction (more than 10% decline) in securities prices from their highs. This Winter could be precipitated by prolonged sub-par growth in China, along with the intensification of geo-political risks in the Middle East and North Africa. With expectations for AAPL and SPY to pullback by 7% and 4% respectively, this would give investors an opportunity to increase their positions in their aggressive equity portfolios.
Current Temperature
The two major economic themes investors focused on in 2012 were below trend GDP growth in China and the EU slowdown, with the latter being much more magnified in the media. Similar to 2010 and 2011, rising borrowing costs in Europe were expected to cripple growth and the then existing fiscal policies would have proven to be inadequate, resulting in the tightening of credit in the EU and the capital markets have to endure a harsh winter. During that time Mario stepped in and heated things up, utilizing monetary policy tools such as cutting the benchmark rate to historical lows. More recently the ECB entered into an unlimited bond purchasing programme, with the objective of purchasing short term sovereign debt. The purchases will be sterilized through increased ECB deposits, labeled as the OMT (Outright Monetary Transactions). Also Germany adjusted the thermostat through the German Constitutional Court, which closed a lawsuit against the ESM (European Stability Mechanism). Furthermore, across the Pond, the Fed's Ben Bernanke, stepped out with a flamethrower - an infinite, unlimited, bond purchasing programme. The entitled QE3 would see the Fed purchase mortgage backed securities in quantities of $40Bn per month, and a termination date was not stated. The effects of these monetary measures proved to be positive, with Spanish and Italian CDS spreads returning to their lows of the year and most international equity markets nearing their 12-month highs, as seen in the charts below. Given the extraordinary monetary policy tools by both the ECB and the FED, I was forced to reconsider my Winter theme.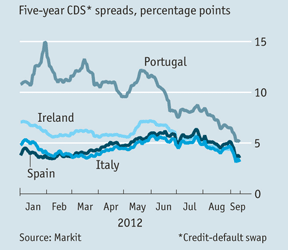 Five-Year CDS* spreads, percentage points, Source: The Economist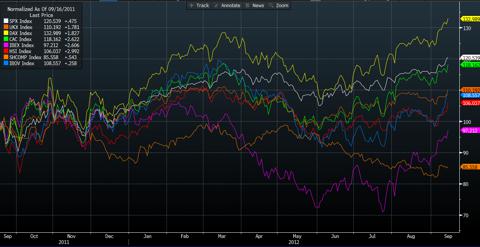 Normalized 1-Year International Equity Indices, Source: Bloomberg Terminal
Weather Conditions - AAPL & SPY
Despite YTD returns exceeding 65% and 15%, Apple and SPY are still cheap from a price earnings (P/E) perspective. Currently AAPL and SPY have P/Es roughly 16 and 15 times respectively, which are still below their 1 year highs, as seen in the chart below. Dividend yields also look attractive with AAPL and SPY producing 12-month yields of 1.53% and 1.83% respectively, while 10-Year Treasuries yield 1.87%.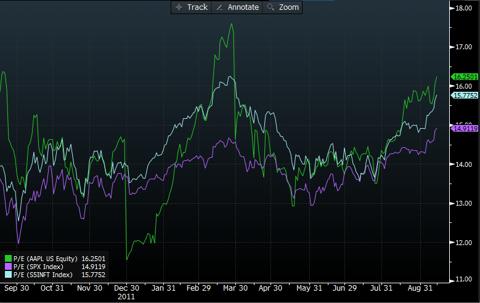 AAPL and SPY TTM P/E, Source: Bloomberg
Notably, Apple released its new iPhone 5, which is due in stores near the end of September. Eight million iPhones are expected to be sold in the 4th quarter of 2012. Furthermore it has been suggested that the iPhone 5 could add as much as $3.2Bn to US GDP. The VXX, which is an ETN for short-term VIX futures, are at historical lows. Currently VXX has a YTD return of -73.51% which could lead one to conclude that, in the short-term, there is limited risk in the equity markets. Technically AAPL and SPY remain in an uptrend but are heading towards their overbought positions on the daily chart. The VXX remains in a downtrend but just bounced from its oversold position and seems to be making a lower high. The Daily Charts of AAPL, SPY and VXX can be seen below. Considering the macroeconomic and market conditions, the Buy the Dip (BtP) Strategy is favoured in the short term (up to 3 months).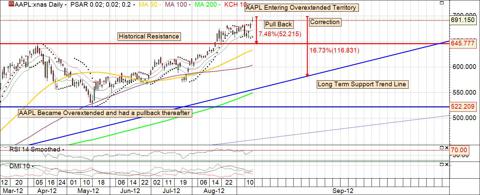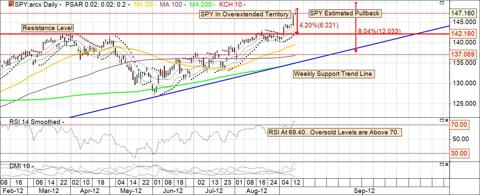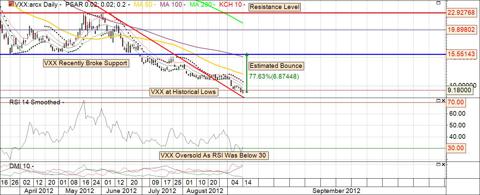 BtP Strategy
The BtP Strategy involves maintaining an aggressive equity portfolio. The portfolio allocation comprises 65%to 75% of equity securities that have an uptrend which generate dividend yields of 2% or more. A portion of the assets, 10% to 20%, will be in high beta stocks, the remainder will be in cash and the VXX ETN. In the event of any pullback or correction in the market, gains should be crystallized in the VXX and reinvested in the equities, maintaining the original asset allocation. If Winter does not arrive in the short-term, continue to dollar cost average down across all securities, maintaining the suggested allocation.
Disclosure: I have no positions in any stocks mentioned, and no plans to initiate any positions within the next 72 hours. I wrote this article myself, and it expresses my own opinions. I am not receiving compensation for it (other than from Seeking Alpha). I have no business relationship with any company whose stock is mentioned in this article.