RBC Capital is out with a major call on Palm (PALM) saying Palm's Q4/F08 Smartphone backlog (disclosed Friday in its 10-K) may lead to a Q1 (end Aug.) upside revenue surprise above Street estimates. Palm reports Q1 in late September.
According to the firm, Palm's disclosed Q4 backlog is $238M, (vs. $185M Q4/F07, $121M Q4/ F06). Past precedents (Q1 Smartphone rev = 1.9x-1.6x Q4 backlog for past 2 years) suggest Palm's Q1/F09 Smartphone results may be $380M+ (1.6x Q4 backlog), or est. $413M+ total revenue, well above $324M street, with implied EPS at ($0.04) vs. ($0.18) street.
Short-Term Trade Opportunity.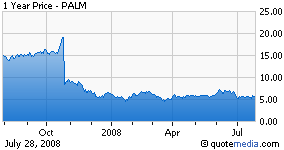 Expectations of the upside revenue surprise (if true) may boost short-term valuation, particularly given low valuation at 0.7x EV/S ($139M net debt) below peers at 2.0x, particularly following disappointing Q4 results.
The firm maintains its Sector Perform rating saying that in their opinion, upside/downside scenarios remain, and Palm remains a "show me" story. They would become more bullish if new, unannounced products suggesting improved competitive position. Palm delivered strengthening financial results and consistent execution, proving it can overcome its challenges. Visibility to positive catalysts and recovering financial performance. They are maintaining their Q1 estimates pending completion of checks; will update in their Q1 preview.
Notablecalls: I expect to see a 10%+ move in PALM following this tid-bit. The expectations in PALM are so low that anything positive (a positive revenue surprise) will send shorts covering faster than you can say presto!