Refineries are looking at a choppy week, as analysts have punched out competing opinions, some bullish and some bearish. Is the recent run up in refining shares all there is before they correct? Will the refining stocks continue upward?
I ran the measure over four mix-and-match companies in their field, Valero (NYSE:VLO), Phillips 66 (NYSE:PSX), Sunoco (NYSE:SUN) and HollyFrontier Corp. (NYSE:HFC). Their price history looks like this: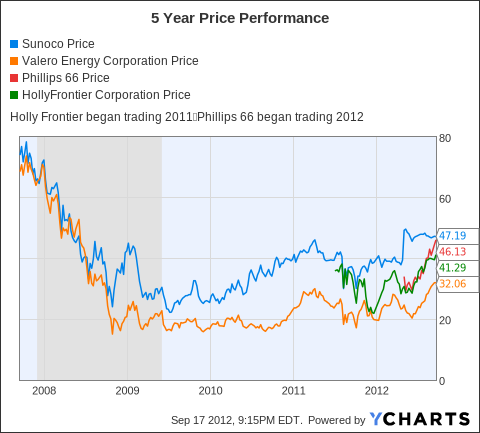 Although Sunoco has been fairly flat, the other three have charged upwards the last six weeks, with Phillips 66 leaping forward on last week's Fed QE3 announcement. It is a new week, though, and Credit Suisse and Citi have sent out warnings that refining stocks may have topped out. As reported in the Market Watch Web Page of The Wall Street Journal:
"While we believe the U.S. refining fleet will have certain structural advantages for some time to come, we believe current valuations already discount these advantages over the long-run. Furthermore, it appears the market has become overly excited with what we believe will be a banner third-quarter earnings season for refiners," Citi analyst Faisel Khan wrote in note to investors.
Are we at a top? Hard to say. I am starting to think most people are looking at the wrong map. We may be on the next ridge over. Let me explain.
Firstly, refineries have traditionally been considered the poor brothers of the oil world. These are businesses with high Cap Expenditures (MUTF:CAPEX), while crack spreads are generally very tight. Worse, refineries get very little advantage when the price of crude goes up like oil producers do. It simply means that the refiners feedstock is more expensive. Cash intensive, razor thin profit margins, well there is nothing much to get excited about here, right? They can throw off a lot of free cash flow, but so can a water utility...
Yet, as I reported in this article, there have been several key economic changes in the world of refining. Refiners are not playing under the same rules as before. Profitable crude spot pricing has opened up a number of mid-American oil plays and a host of oil producing companies are falling all over themselves to ramp up production. Nontraditional oil fields like the Bakken (North Dakota and Alberta) Utica (Ohio) and the Canadian Sands are seeing drilling activity expanding exponentially, along with other traditional fields like the Permian (West Texas).
Local infrastructure to transport the crude to the refineries is lacking, and continuing to fall behind the output. As I noted in this article, the one time premium crude benchmark of West Texas Intermediate is now trading $15-$20/bbl less than the European benchmark Brent. Other spot prices, like North Dakota Sweet, are coming in at $30-$40 under Brent. Mid-America has a regionalized production glut.
Many refiners such as the ones on this list have the resources to buy the cheaper crude and sell their output at higher prices: their traditionally razor thin crack spread has exploded by as much as $5-$7 higher a barrel.
There have been efforts by refiners to bring in thousands of leased rail cars and ramp up pipeline installations, and Citi and Credit Suisse are banking on these efforts to cause the crack spreads to close this winter. However, I expect the infrastructure to come in slower than others plan and will not be able to match the increased production.
It looks to me like most analysts see the refineries as having simply a transitory bump in prices and have not really processed that economic conditions have changed and have been changing. The trouble is we may be entering a new world due to the continuing tightening of refinery capacity. While Oil production in the US only increased 3.6% annually from 2001-2011, refining capacity has only inched up by 0.8%. Phillips 66, for example, was running at 93% capacity in 2Q 2012. Good old Economics 101 told me that when demand outstrips supplies then prices will rise. If the need for refining processing outstrips the refining infrastructure, then crack spreads will broaden.
Another point is that the new QE-Infinity, with promises of low interest rates through 2015 makes a huge difference on high CAPEX organizations. Companies with massive infrastructure requirements generally ride a lot of debt. Many have been able to sharply cut debt. For example, HollyFrontier was able to recently redeem a set of 8% bonds with its roaring cash flow. Slashing interest rates will set these companies up for strong performance for years, if not decades.
Finally, how pricey are these refinery stocks? Let's look at the good old fashioned PE:
| | |
| --- | --- |
| COMPANY | PE RATIO |
| Sunoco | NM |
| VALERO | 11 |
| Phillips 66 | 6 |
| HollyFrontier | 5.8 |
The industry average is hovering around 11, but Phillips 66 and HollyFrontier are still reasonable. Sunoco's is Not Meaningful because of negative earnings of -$8.54. Sunoco was the one stock in this screen that hadn't seen a rise in share price. Oops, well you can't expect all of them to be great.
So while many other pundits are laying out warning calls, saying refineries are at the top, it looks to me we are two ridges over, with still a lot more to climb, at least for some smart issues.
What do you think?
Disclosure: I am long PSX, HFC. I wrote this article myself, and it expresses my own opinions. I am not receiving compensation for it (other than from Seeking Alpha). I have no business relationship with any company whose stock is mentioned in this article.